Disclosure of Material Connection: Some of the links in this post may be "affiliate links." This means if you click on the link and purchase an item, I will receive an affiliate commission. Disclosure in accordance with the Federal Trade Commission's 16 CFR, Part 255. This site is a participant in the Amazon Services LLC Associates Program, an affiliate advertising program designed to provide a means for sites to earn advertising fees by advertising and linking to Amazon.
A child's first birthday is a monumental occasion. The last twelve months have been non-stop learning and growing, and baby has gone from a helpless infant to a child who plays, laughs, feeds himself, has pretend "conversations," and maybe even walks. The first birthday is the last of a baby's milestones, so parents are right in wanting to plan it carefully.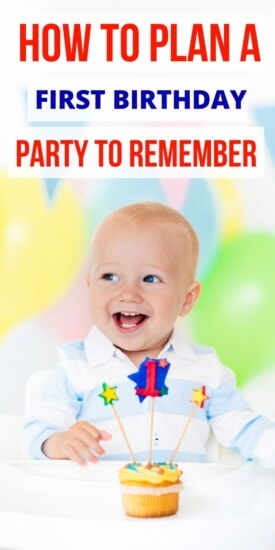 Elaborate Versus Simple Party Planning
First birthday parties run the gamut from a modest affair with just the parents in attendance to an extravagant and expensive theme party with an extensive guest list. Since the birthday boy or girl really doesn't have a preference at this point, it depends mostly on what the parents want in a party.
Special Considerations in Planning a First Birthday Party
Time of the Party
Time is probably the most important factor to consider, especially if you'll be inviting guests to the party. Schedule the party between naps, and plan to have cake and open presents first in case the baby gets tired earlier than usual.
Number of Guests
Babies can be overwhelmed by too many people or too much noise; especially, the party is held somewhere unfamiliar. But every baby differs in temperament, so rely on your own judgment to determine an acceptable guest list. Nobody knows a baby's thresholds better than the parents.
Baby's Birthday Cake
Many parents have worked hard to restrict their baby's intake of sweets and don't want to undo all their hard work on the baby's first birthday. For a healthier alternative, many parents choose to bake a carrot cake. Some parents like to give baby an entire 9×13″ cake and watch him or her dig in, and others offer a small cupcake instead.
Themed Birthday Parties for Babies
Although a first birthday party certainly doesn't need to have a theme, many parents like to orchestrate a themed party. Some popular themes include:
Care Bears
Baby Einstein
Cars
Butterflies/Bugs
Family Parties for Baby's First Birthday
As excited as parents are about their baby's first birthday, grandparents, uncles, aunts, and cousins are probably excited too. Celebrating a first birthday with immediate and extended family is an option that most parents choose.
Friend Parties for First Birthdays
At one year old, babies are still too young to have "friends." But many parents like to invite friends and neighbors with young children and play games that the birthday boy or girl will enjoy. Good games include:
Action songs or rhymes like "Itsy Bitsy Spider" and "This Little Piggy"
Peek-a-Boo
Mom-and-baby dancing
Letting babies explore a variety of crinkly or brightly-colored objects
Filling a sensory table with water and letting babies splash
A "baby race" where babies crawl from a starting line to a parent at the finish
Baby parachute, where babies are placed in a circle while parents hold the corners of a sheet and raise and lower it over the babies' heads.
No matter how parents celebrate their baby's first birthday, it's sure to be a special day. Make sure to consider all aspects of a first birthday party from the time to the guest list to the cake. A baby's first birthday party is a fun event that only happens once, so plan accordingly.