Disclosure of Material Connection: Some of the links in this post may be "affiliate links." This means if you click on the link and purchase an item, I will receive an affiliate commission. Disclosure in accordance with the Federal Trade Commission's 16 CFR, Part 255. This site is a participant in the Amazon Services LLC Associates Program, an affiliate advertising program designed to provide a means for sites to earn advertising fees by advertising and linking to Amazon.
When kids hit the toddler age, I'm often at a loss for what birthday or other event gifts to give that aren't just plastic crap that will be tossed when the next novelty item pops up. Books are a favorite go-to gift but they can be harder to pick out when you don't have a clue what's already in their libraries, and/or their bookshelves rival a small city library's!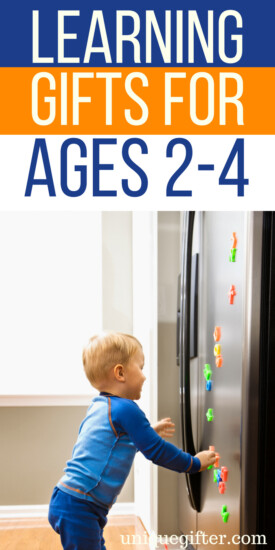 For a bit of a personal touch, we try to give toys that are both entertaining and educational.
Unique and Helpful Learning Gifts for Ages 2-4
100-Bead Abacus
Tactile learners will enjoy click-clacking their beads along this abacus as they learn their numbers up to 100.
Write & Wipe Demonstration Clock
This is the right age to start grasping the concept of time, and how the hands on a clock work.
Mathlink Cubes for Counting
A great visual and tactile way for kids to learn counting by units and even expand into simple multiplication principles.
Wooden Building Blocks
We started playing with building blocks very early on but it's clear when the mind of a preschooler starts to work on the blocks problem. It's much less haphazard, and more intentional.
Solid Magnet Building Tiles
These building tiles appear to be the very best of the best toys that also teach hand-eye coordination and building concepts. Set a kid loose on a huge pile of these and see what they create.
Shape Outline Magnetic Building Blocks
These are different from the solid blocks – they're more challenging and help build manual dexterity.
Interlocking Plastic Disc Set
Encourage spatial thinking development with these plastic "flakes".
Alphabet Flash Cards
These flash cards are excellent for road trips – portable and easy to tuck into a big pocket or little backpack for safekeeping.
Interlocking Geometric Building Pieces
Plum shape blocks work a bit differently than the flat flakes.
Math Keyboard
This is such a neat way to model the multiplication tables for kids just learning the basics of arithmetic.
32 Piano Keys
This isn't the most portable gift but watching kids figure out they can make music, or play really simple songs, just by figuring out the right order of keys to press is awesome.
Flutophone
These were a staple at our schools when we were younger, Some parents would call me crazy for giving a kid a noisemaker but if your child has a musical bent and at least a little impulse control, they could have a lot of fun learning on this flute!
Kids First Science Laboratory Kit
This Level 1 science kit comes with a storybook manual that encourages kids to ask and answer basic hypothesis questions.
Amusement Park Engineer Kit
A carrying case full of easy for small hands building pieces for kids to design their own amusement park. This may or may not save the parents from a request for a trip to a real amusement park.
GeoSafari Jr. Jungle Crew Lab Set
This animal-themed lab set introduces kids to basic chemistry with ten hands-on activity cards.
Washable Crayons
For the age group, coloring, drawing, and writing is most fun with crayons – though it's arguably more fun after they've peeled the paper off the crayon first.
PlayFoam
This is a pretty incredible invention – all the fun of squishy play-doh, none of the sticky gross mess. And it doesn't dry out, either!
Dab and Dot Markers
A truly washable marker is hard to find but preschoolers and parents alike will appreciate this set.
Let's Play House
Uncoordinated as they are, kids adore mimicking their parents around the house – that definitely includes mopping and sweeping! Always let the kid "clean" and build those responsibility muscles if they want to!
Stencils Set
A full art set in a handy carrying case, this stack of stencils gives kids tons of launching pads to explore their creativity through art.
It might not seem like they're learning much when they're banging around making noise, but toddlers are little sponges at this age. Give them a leg up with a toy that develops their hand-eye coordination, or their ear for music.