Disclosure of Material Connection: Some of the links in this post may be "affiliate links." This means if you click on the link and purchase an item, I will receive an affiliate commission. Disclosure in accordance with the Federal Trade Commission's 16 CFR, Part 255. This site is a participant in the Amazon Services LLC Associates Program, an affiliate advertising program designed to provide a means for sites to earn advertising fees by advertising and linking to Amazon.
If you're on the hunt for a gift ideas for the letter P (or maybe the letter O?), look no further! Within this list, you'll find twenty of the coolest, funkiest, most brilliant presents that are perfectly P-themed.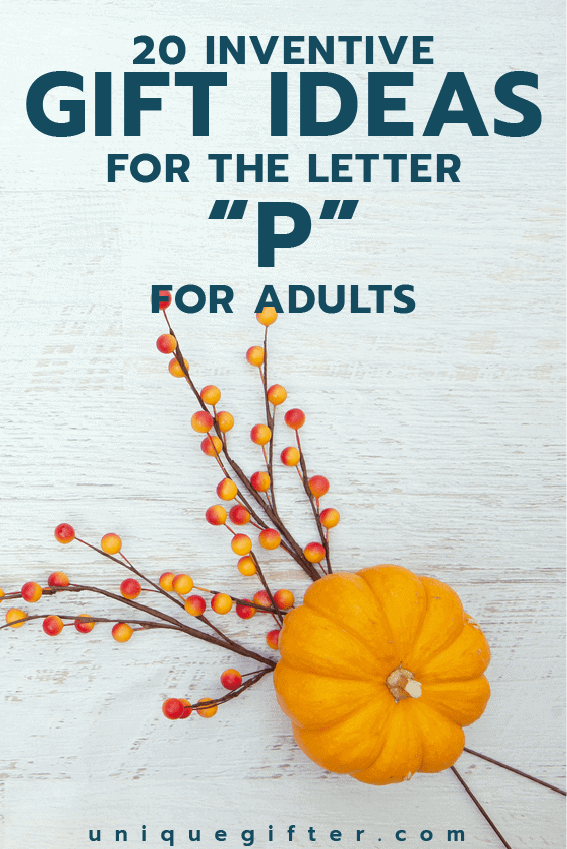 Gift Ideas for the Letter P
Whether you're creating a themed scavenger hunt, looking for unique letter P gift ideas, or just wanting to impress someone named Pete we've got you covered. These are the most inventive Letter P gift ideas around. We also have more gift ideas for letters like this one.
Ping Pong Set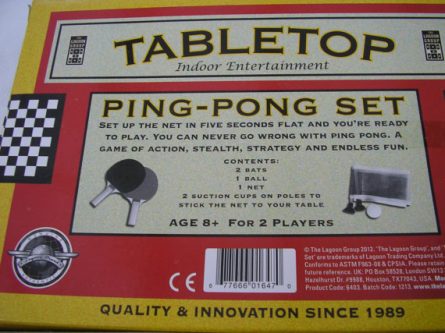 Ping pong is one of those games that never loses its entertainment factor. If your friend doesn't have room for a full-sized ping pong table, however, never fear! This retro tabletop version will fit in any home.
Pineapple Coasters
Pineapples are super trendy right now, and these cool coasters are no exception. They are ceramic and come in a set of four, so coffee cup marks on your friend's table will be a thing of the past.
Pen Case
This hand-stitched red leather pen case is not only gorgeous, but functional too – it will protect your pens and protect your pockets from ink stains. The recipient's initials can be stamped on to the leather too for a really personalised touch.
Pancake Pin
In the wise words of Ron Swanson, "Breakfast food can serve many purposes." One of those purposes being looking insanely cute in pin form. Let your friend show off their love for their favourite breakfast food with this fab stack of pancakes!
Pocket Square
If the person you're buying for is hip and stylish and into all things trendy, this cool pocket square might be just the thing you're looking for! Made from 100% cotton and hand-sewn, it's the perfect gift for a dapper gent.
Pizza Phone Case
It's incredibly hard to trust someone who doesn't like pizza. It's one of those foods that can be eaten for every meal, and for every occasion. Pay tribute to the humble pizza with this groovy phone case!
Pottery Plant Pot
Surely this is already a winner – check out how many P's are in the name! Not to mention how stinkin' adorable this little plant pot is. Team this planter with a succulent for a ready-to-go gift!
Pearl Necklace
Pearl jewellery is classic and timeless, and this necklace brings a slightly modern twist to the age-old trend. Reasonably priced and beautiful, this floating pearl would look chic and stunning on anyone.
Pillow Spray
If your friend is always on the go, this pillow spray would make an awesome present. Made with six different essential oils to promote calmness and sleep, simply spray the blend onto a pillow a few minutes before bedtime. They'll be sleeping like a baby in no time!
Portrait
Honestly, it doesn't get much sweeter than this. This hand-painted, totally personal and unique portrait would make an incredibly thoughtful gift. Each portrait can include up to five people (or more for a slightly higher price), so it can feature those that mean the most to your friend.
Pom Pom Garland
Add a funky pop of colour to your friend's home with this sweet felt garland. Available in a range of lengths, it is sure to brighten up any room!
Pressed Flower Ring
This stunning forget-me-not ring is made from high-quality resin, real pressed flowers, and dried moss. It's delicate and beautiful, and would make a truly thoughtful P-themed gift.
Peppermint Soap
I don't know if you've ever used peppermint soap before, but it is quite the experience! It leaves you feeling fresh and your skin tingles, making you feel awake and alert. Share the experience by gifting this gorgeous soap!
Penguin Slippers
I would be lying if I said I didn't want these. Channel your inner Happy Feet with these incredible slippers that will make your feet look just like a penguin's. Perfect for chilly evenings, crisp mornings, or any time really.
Paperweight
Paperweights needn't be a boring present. This lovely brass snail will guard important papers with his life, minus the slimy trail. Genuine vintage, this paperweight would make a really unique present.
Phone Stand
These days, people use their phones for everything – reading, watching movies, and accessing recipes, just to name a few. This phone stand will make all of those activities easier by propping the phone up in the perfect position for hands-free entertainment!
Pencils
If these aren't the coolest pencils you've ever seen, you're probably lying. They're made from real twigs, and are seriously eye-catching. I, personally, have a set of these, and can vouch for their quality 100%!
Periodic Table Wall Print
Bacon. Need I even elaborate?
Playing Cards
There are an infinite number of awesome card games to play, and this deck will make them all that much better. They're a vintage souvenir set from Washington DC, in completely unused condition.
Popcorn Seasoning
Whether or not you end up buying this as your P-themed present, you need to know this stuff exists. This tub of seasoning will make your popcorn taste like freshly bakes potatoes topped with sour cream, bacon, chives, butter, cheese, salt, and pepper. I am not joking.
Have you found the perfect P-themed gift? Or maybe you've sneakily found something for yourself instead? (We won't tell!) Let us know if you purchase any of these awesome items! We're @uniquegifter on Instagram and @ugifter on Twitter.
For more inspiration, here is the ultimate list of gifts that start with every letter of the alphabet.