Disclosure of Material Connection: Some of the links in this post may be "affiliate links." This means if you click on the link and purchase an item, I will receive an affiliate commission. Disclosure in accordance with the Federal Trade Commission's 16 CFR, Part 255. This site is a participant in the Amazon Services LLC Associates Program, an affiliate advertising program designed to provide a means for sites to earn advertising fees by advertising and linking to Amazon.
Finding a Mother's Day gift for Nan might not be the most straightforward task in the world. With all of the presents for grandma, nana, and the like, it is challenging to find one specifically for 'Nan.' That's where this list comes in. While not all of these gifts are specific to Nan, they are all lovely gifts that she will love receiving for Mother's Day this year.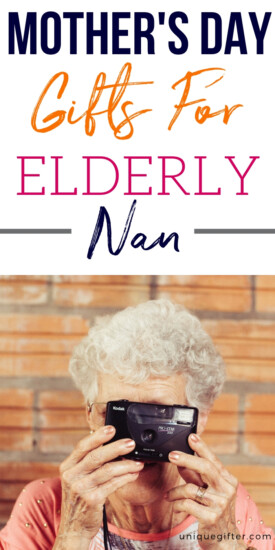 Thoughtful Mother's Day Gifts For Nan
Give Nan a gift that she is going to love this year!
Morse Code Leather Bracelet
Give her a special message on her bracelet that only she knows, because not everyone can read or understand morse code. Even a simple "I love you, Nan" will mean so much!
"Chicken Whisperer" Shirt
If your Nan has chickens, she is a chicken whisperer.
"This is what an awesome NAN looks like" Mug
She is undoubtedly an awesome Nan!
Monogrammed Journal
A monogrammed journal is great for whatever journaling purpose, prayer journaling, gratefulness journaling, or just having somewhere to keep notes.
Natural Lip Balms
Every Nan needs natural lip balms to keep her lips from getting dry or chapped!
"Nan" Birthstone Bracelet
Get all of her grandkids' birthstones put on this bracelet and she can keep you all close to her whenever she wears it.
"Nan" Scrabble Letter Frame
This "Nan" Scrabble letter decor is so pretty, and your Nan can put it wherever she likes in her home to remind her how much she is loved.
"A lovely lady and a grumpy old man live here" Cushion
If your Nan jokes about being married to a grumpy old man, she really needs this cushion!
Coconut Vanilla Soap
Keep her bathroom, or her hands, smelling lovely with the coconut vanilla soap!
Nan Definition Print
She is the one who listens to you, gives you hugs, and loves you always.
"It' always happy hour when I'm camping" Shirt
If she has a passion for camping, then that is most likely her happy place!
Custom Sound Wave Art Print
Your voice sound wave saying "I love you, Nan" is so simple, but so meaningful!
Handwriting Keychain
Handwrite a short, but loving note to your Nan so she can carry that note with her wherever she goes.
"Always my nan, forever my friend" Heart-Shaped Plaque
She is always your Nan, and forever your friend! She is the one you lean on the most!
"This awesome mom belongs to…" Personalized Shirt
Besides being a Nan, she is also a mom. Get her own children's names put on this shirt so that she can proudly say she belongs to them.
"I heart you lots" Personalized Mug with Name and Picture
Put your picture and name on this mug, or your picture and her name, it could work either way. Each time she drinks her coffee from it, she will be reminded of your smiling face and love for her.
"The greatest Nan in the world" Hat
She is the greatest Nan in the world, after all!
Custom Family Illustration Portrait
Even if her family consists of her and her furbabies, that is her family! Or, you can put her kids and grandkids in the picture as well, it is customizable!
"For a special Nan" Mother's Day Frame
She is a special Nan and this Mother's Day frame tells her all the reasons why she is so unique to you.
"Mother, Mama, Mommy, Madre, mom" Shirt
She was a mother first before she became a Nan, which is why this shirt is so sweet. Take her back to her roots as a mother.
Your Nan is one of the most special people in your life, and now you have so many beautiful gifts that you can give her for Mother's Day!