Disclosure of Material Connection: Some of the links in this post may be "affiliate links." This means if you click on the link and purchase an item, I will receive an affiliate commission. Disclosure in accordance with the Federal Trade Commission's 16 CFR, Part 255. This site is a participant in the Amazon Services LLC Associates Program, an affiliate advertising program designed to provide a means for sites to earn advertising fees by advertising and linking to Amazon.
Look at you big spender. A whole ten bucks on the woman who gave birth to you?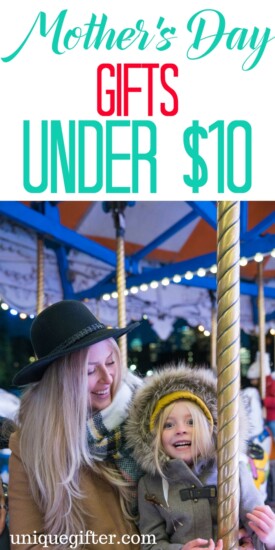 Just kidding, that's all my mom's getting too. Here's some gift ideas that make it look like you're still a loving kid all for under $10.
Mother's Day Gifts Under $10
Really Accurate Mug
You know and she knows that mom is always right. Now she can remind them as she sips her morning coffee.
Mug Warmer
You know who's coffee always gets cold? A mom's. Get her a mug warmer so she can keep it toasty warm as she does a thousands things other than enjoying a cup of coffee.
Picture Frames
There's a lot of choices for frames out there so get something you think she'll like. Make sure to put in a photo of you two together, yourself, or maybe the grand kids.
Beauty Products
If you don't know what kind of stuff mom uses (and most of us don't) get something like this gift set so she can pamper herself.
Flour Sack Towel
Lots of choices so your mom will have something as unique as she is. What's great about getting something handmade is it's not going to be something everyone else has.
Infuser Water Bottle
It's notoriously hard for moms to make the time for, or spend the money on, self care. Something thoughtful like this water bottle is a great gift idea, especially for a mom who has everything.
Mom Pillow
The comfiest way to say "Happy Mother's Day" you can get for under $10.
The Mom Appreciation Book
Hello, have you appreciated your mom lately? Well maybe getting an entire book dedicated to appreciating one of the most important women in your life would be a good start.
Mom Bracelet
It's fashionable and comes in a trendy colour. Much better than those tacky beaded bracelets you made for her as a kid.
Anti-Stress Coloring Book
This adult coloring book is made especially for moms. Give her some time to relax with it or come by with a bottle of wine and color together.
Love Necklace
This makes a great gift from a baby or child to mom. She'll appreciate the cute saying "I love you to the moon and back" and cherish it always.
Wine Socks
If your mom is like my mom then she's definitely going to enjoy wearing these socks.
Mother Daughter Gift
There's a little gift for the both of you with this one. Or grab this for your adult daughter and wife as a special double Mother's Day surprise.
Apron
When was the last time mom got an apron? Or maybe she doesn't have one at all! There's lots of cute designs out there for less than $10.
MOM Concrete Letters
These mini concrete letters are so cute and mom is absolutely going to love them. They can really fit in with any decor style, too.
Hidden Message Candle
She'll think it's just an ordinary candle… Until she burns it to reveal the hidden message.
Scarf
Mother's Day is in May so get mom a light scarf to compliment her spring wardrobe.
Personalized Oven Mitt
If mom likes to bake, she'll love this personalized oven mitt. What's better is if she then uses it to bake goodies for you.
Wooden Sign
Something from the kids, maybe! Mom will appreciate it even more because it's personalized.
Family Cookbook
Get those family recipes corralled in one place with this keepsake. Maybe even pre-fill a few of your own favourite recipes before handing it over.
Just remember that whatever you get mom for Mother's Day, even if you are on a budget, that it comes from the heart. She'll love anything from her kids!