Disclosure of Material Connection: Some of the links in this post may be "affiliate links." This means if you click on the link and purchase an item, I will receive an affiliate commission. Disclosure in accordance with the Federal Trade Commission's 16 CFR, Part 255. This site is a participant in the Amazon Services LLC Associates Program, an affiliate advertising program designed to provide a means for sites to earn advertising fees by advertising and linking to Amazon.
So, Mother's Day is rolling around and… You're broke. That's no excuse! Mom is important and by golly, you're going to buy that woman a gift. Here's some affordable ideas to show mom that you care.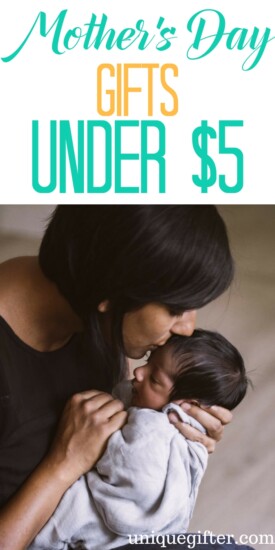 Mother's Day Gifts Under $5
Tea
What better way to get mom to relax and kick her feet up than with some nice, calming tea. It's not too expensive and doing all her chores for the day is free too. Just saying.
Mug Decal
Save money by recycling something you already have or hitting up the dollar store. Just add your own mug and this decal makes for a great Mother's Day gift.
World's Greatest Mom Charm
Well, it's true. She can add this cute charm to a zipper or keychain so you'll always be with her. Kinda.
Keyring
There's a lot to choose from the in under $5 category when it comes to Mother's Day keychains. Pick something for her personality or something sweet, like this handmade heart one.
Wall Art
This one doubles as a great last-minute gift idea. Just download and print at home, then frame.
Mama Bear Decal
A great gift for a new mom or someone who's a bit more trendy. This vinyl decal is perfect for her car (minivan) or laptop.
Garden Stakes
Mother's Day falls at the start of gardening season so what better gift than something to be used outdoors. This cute gift set has garden stakes and even comes with a pencil.
Mum Coaster
Mum can rest her tea on this coaster and forever be reminded of why she's amazing.
Outnumbered Charm
Being a mom is hard but if the woman on your Mother's Day list is a mom of all boys, well, she deserves some props. This charm is a great special addition to the necklace you're going to make her, or to a collection she already has.
Stain Remover Bar
OK yes, it's practical, and yes, it involves a chore. Trust me on this one, though, a great laundry stain bar is much appreciated.
Grow a Boyfriend
Perfect just as long as mom has a sense of humour. If she's not single this might be an even more hilarious gag gift idea.
Mom Cube
She lights up your life, now light up hers. Grab this decal and make your own gift with it for something she'll appreciate more than anything store bought.
Gift From Kids
If you're looking for something to give mom from the kids this is a great choice. It's a checklist of things the kids can do for mother's day. Give them the list to do in advance or at mom's request.
Personalized Peg Doll
Get mom started collecting her very own custom peg doll family. Pick up a couple members to start (you and her, maybe?) and add to it every year.
Charm Earrings
Either she'll love and cherish them or hilariously sport them each Mother's Day. Either way, these earrings are a great gift under $5.
Mom Friendship Bracelet
Mom ties this bracelet around her wrist, then when it's break it's supposed to be good luck.
Really Big Useful Notebook
Moms have lots of things to remember so give her a really big useful notebook to write all those important things in.
Hair Accessories
Moms often don't take time to do their hair. Help her along with some pretty hair accessories that are easy to wear everyday but will make her feel a little bit more pretty while running to soccer practice or wrangling a tantruming child.
Adulting Stickers
Give mom the gift of small rewards to add to her calendar or day planner. These stickers have all the "adulting" accomplishment she needs to feel like she accomplished something even on a not-so great day.
Card
You can almost always get a card under $5. Pick out something sweet if your mom is the sentimental type or go with comedy like this funny Mother's Day card.
Don't worry about the price tag! It's the thought that counts.