Disclosure of Material Connection: Some of the links in this post may be "affiliate links." This means if you click on the link and purchase an item, I will receive an affiliate commission. Disclosure in accordance with the Federal Trade Commission's 16 CFR, Part 255. This site is a participant in the Amazon Services LLC Associates Program, an affiliate advertising program designed to provide a means for sites to earn advertising fees by advertising and linking to Amazon.
When starting out, whether straight out of high school or out of college, new office professionals will typically have more enthusiasm than experience. That's normal! They're a key part of the working ecosystem – new blood keeps the workplace invigorated in the best scenarios.
A few key things will help boost their confidence as they learn the ropes. It's much easier to navigate new challenges when you're feeling put together and prepared for most contingencies. Every industry is a bit different so you'll want to aim for gifts that are suitable to the formality or informality of their new office and culture.
Creative New Job Gifts for the Young Professional
We also have new job gift ideas for the boyfriend!
Personalized Portfolios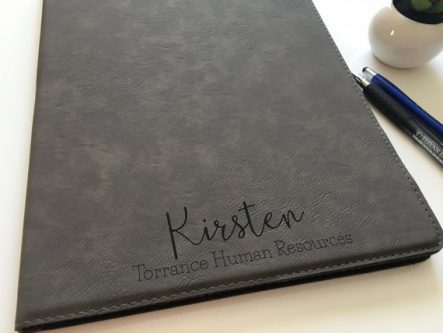 These say for women but I don't see why man or woman alike wouldn't appreciate a personalized portfolio. Names in script don't make it inherently feminine, so personalize away!
Leather PadFolio / Portfolio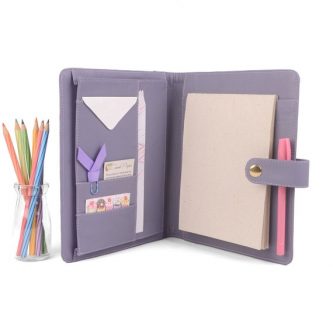 This portfolio only comes in the smaller size but it has multiple pockets and a clasp to hold it shut. This is good when you need to tote around more than just a pad of paper.
Leather Messenger Bag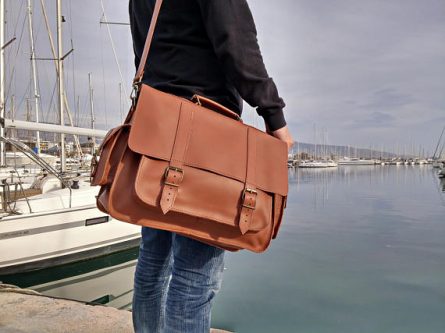 For a somewhat less formal, more creative workplace, this messenger bag style holds more stuff, and the leather has a touch more gravitas than a backpack or canvas bag would.
Leather Briefcase Bag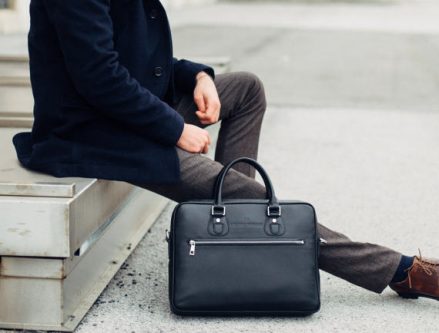 If the industry tends to expect more formal or traditional looks, this briefcase bag is classy without being super boring.
Charleigh Vegan Leather Laptop Bag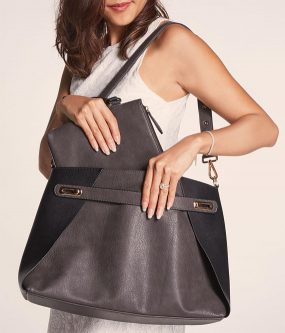 When looking stylish or more artsy is important in your new professional's industry, this laptop bag may just fit the bill for the ladies.
Rose Gold Business Card Holder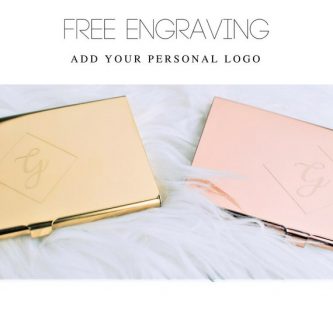 If I must hand out business cards, I'd like to store them in this glossy classy thing.
Circuit Board Business Card Holder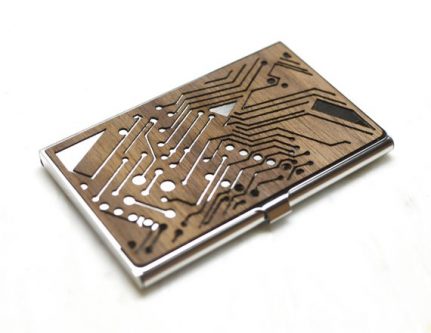 And if I must collect business cards, the flip side of my personality wants them to be stored in this nifty holder. I keep my cards separate because I don't like accidentally handing out someone else's card. (Don't ask if that's happened before.)
Fountain Pen
This may be more of a fun gift but if they love a good pen, this gift could be a lot of fun as they learn to sign their name beautifully instead of the scrawl that's become the norm.
You Got This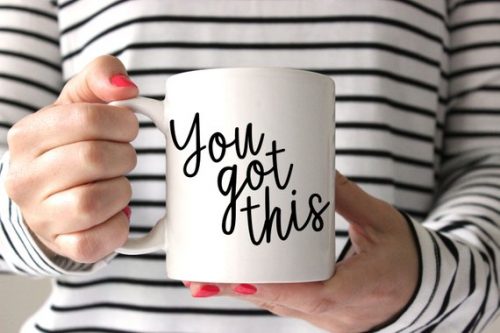 Some days, you just need everything around you to be affirming and positive. Start with the morning mug of coffee and go from there.
Desk Tray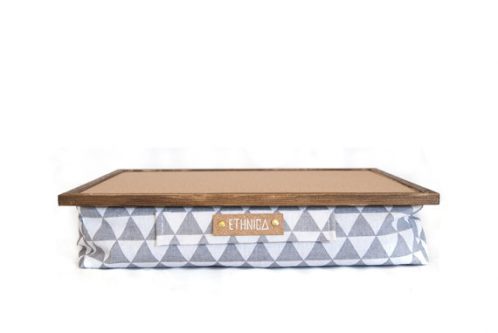 This customizable clear tray gives passersby and your boss an obvious, presentable, place to drop memos and new assignments whether you've got your own office or park in the cube farm.
Fica Mug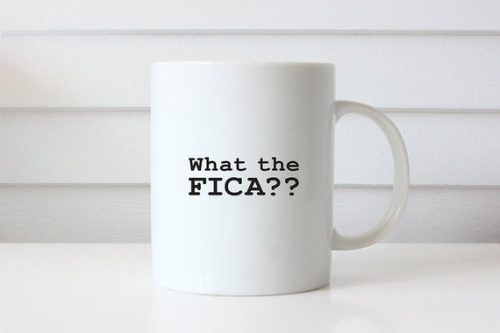 This may be labeled for accountants but it's funny for everyone when they see their first paycheck and the money taken out of it.
Tribble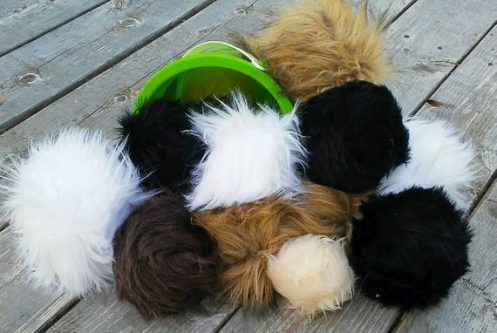 This is highly culture dependent but so much fun if it's a fit. In some offices, hiding one of these critters behind your monitor will make unexpected friends.
Wooden Desk Calendar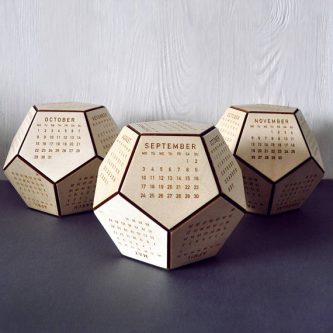 This is a really neat design for a calendar. Make sure the giftee isn't the type to want to write on their desk calendar, though.
Wall or Desk Calendar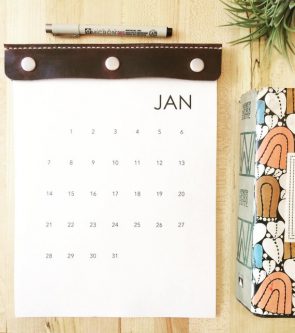 This nifty design can be hung on the wall or left on the surface of the desk, and the pages are replaceable so the leather binding can be reused year after year.
Lysol Wipes
You may scoff if you haven't been in the petri dish called a cube farm or an open office in a while but a coworker swears by wiping down everything in her office twice a day during cold and flu season. She gets sick 90% less than the rest of us who don't, so she's probably on to something.
Stain Remover Wipes
This one is less about hygiene and more about whether you or your coworkers can't be out in public without spilling something on yourselves. We know who our compatriots are in this battle, we gift them a pack of these wipes every Christmas. We care!
Safety Pins
"Why safety pins? Aren't we adults? Aren't we professionals?" you ask, in confusion. Yes, yes we are, which makes it that much more important to have a way to pin up a suddenly gaping hemline, a tear in a suit jacket when you unwisely tried to slide between a wall and a chair stealthily (this happened to a male colleague when he was running to a conference panel).
Band-Aids
Don't laugh. Some of us started our careers in cheap or shabby offices that didn't supply drinking water or paper towels, band-aids were most certainly not available. And you'd be surprised how many times people find themselves with a cut and nothing to stop the bleeding with. Being professional means being prepared for random life things.
Portable Sewing Kit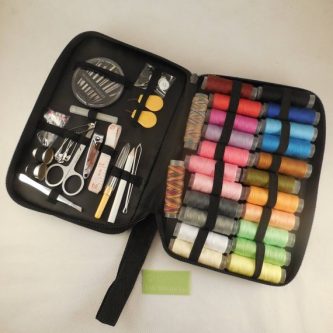 Don't assume this is just for women, I can't tell you the number of times male colleagues have needed to mend a rip in their shirt or sleeve, or a torn hem.
Water Bottle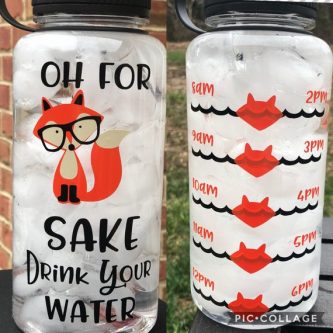 The number of us who have to be reminded to stay hydrated – you wouldn't think it was necessary for survival! And yet here we are. We find that a dedicated water bottle, whether at the desk or on the go, makes drinking water much more likely.
These are best for people with desk jobs or who have to do some travel in their work – what do you find essential in your everyday work life?