Disclosure of Material Connection: Some of the links in this post may be "affiliate links." This means if you click on the link and purchase an item, I will receive an affiliate commission. Disclosure in accordance with the Federal Trade Commission's 16 CFR, Part 255. This site is a participant in the Amazon Services LLC Associates Program, an affiliate advertising program designed to provide a means for sites to earn advertising fees by advertising and linking to Amazon.
Your boyfriend just landed a new job. That is so exciting! You want to make sure that he starts off on the right foot and are considering getting him a gift, but want to make sure it's perfect. You want to build up his confidence and motivate him. We are here to help!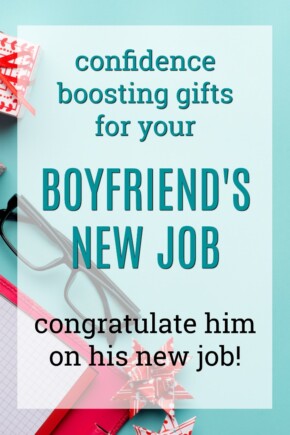 Here are 20 confidence building new job gift ideas for your boyfriend.
Because we've done the work so you don't have to.
You are a Badass
This book is the ultimate motivator for boosting up confidence and motivating people to be successful. It is a #1 New York Times Bestseller and super inspirational.
Color Changing Coffee Mug
This mug is like many people: happy when it is full of coffee and tired when it's not. It's a cute gift that he can bring with him to the office.
Programmable Coffee Maker
What's better than one cup of coffee? 12 cups of coffee! This coffee maker can be programmed to start making coffee right when you need it to.
Batman Travel Mug
Drinking coffee in the car was never so mysterious. Take your favorite superhero to work with you with this awesome Batman travel mug.
Magic Tea Box
Coffee not his thing? Don't worry about it! Try these delicious teas that are inside the Magic Tea Box.
Men's Silk Ties
Get your boyfriend ready to dress to impress at his new workplace with six new silk ties. (We also know this post is for boyfriends but this post also has a lot of great attire for him!)
Cocktail Gift Set
Sometimes coffee just doesn't cut it. Give him this awesome cocktail gift set for the evening after his first day of work.
Water Cooler Talk: Hydration for a WOW Customer Experience
This book provides plenty of tips and tricks that your boyfriend can use to up his customer service, office chat, and all-around work game. It's a good read for anyone getting ready for a new job.
You are Doing a Freaking Great Job and Other Reminders of Your Awesomeness
This book is full of inspirational quotes to pump your boyfriend
(and you) up for work in the mornings! You can also check out this happy little gifts ala Bob Ross style.
Hardcover Notebook
Everyone needs a good notebook at work to keep notes, schedules, and thoughts in. This notebook is great because it's a hardcover notebook, so he can write without needing a desk. It also has options for whatever his favorite animal is.
1,000 Places to See Before You Die Calendar
If, later on, he needs some motivation to keep going to work, try getting him a calendar full of amazing travel experiences. Then, use those coveted vacation days to travel to his favorite places on the Calendar.
Meal Prep Containers
Get him ready for that new lunch break schedule by giving him guaranteed great home-cooked meals. With these meal prep containers, he can prepare great lunches for every day of the workweek, store them in here, then not have to worry about having a bad lunch ever.
FitBit Alta
FitBits are great. They tell the time, track steps, stairs, calories burned, and more. They are so sleek that even the pickiest companies will allow them in their dress codes.
The Productivity Project
The saying "work smarter, not harder" rings true in many facets of life. This book can help him get more done at work in less time, so that he has more time to do his favorite parts of his job.
Pilot G2 Retractable Pen
No matter what his new job is, he is going to need some new pens. You can never have too many pens at work.
Don't Even Ask Wine Glass
There are going to be bad work days some days in any field. This wine glass makes these bad work days slightly better.
Trader Joe's Chocolate Passport
These chocolates are sourced from eight different places all over the world. They taste delicious and are a great work snack.
Dead Sea Mud Mask
Skincare for men is becoming so much more popular. This Dead Sea mud mask will clear up any acne, minimize pores, and cleanse his skin while relaxing his face. It's perfect for a night in after a long week at work.
iPod Nano
Listening to music is a great way to get pumped in the morning and throughout the day. Give him this iPod Nano for the commute to work and for those overtime shifts.
Bluetooth Headphones
Bluetooth headphones are the latest thing. Listening to music without having to worry about tangled cords or broken adapters is the future.
Those were 20 confidence boosting new job gift ideas for your boyfriend. Which idea was your favorite? Tell us in the comments below. If you choose to get any of these, be sure to let us know! We are @ugifter on Twitter and @uniquegifter on Instagram.