Disclosure of Material Connection: Some of the links in this post may be "affiliate links." This means if you click on the link and purchase an item, I will receive an affiliate commission. Disclosure in accordance with the Federal Trade Commission's 16 CFR, Part 255. This site is a participant in the Amazon Services LLC Associates Program, an affiliate advertising program designed to provide a means for sites to earn advertising fees by advertising and linking to Amazon.
50 Stocking Stuffer Ideas For Your Girlfriend
It's the most wonderful time of the year! I know what you're thinking, but no, I didn't mean Halloween – and that's the first issue with these holidays. The second issue is trying to find the perfect gift for your girlfriend! This is one mistake you won't live down for months. So, you're making a good effort because you actually remembered stocking stuffers are tradition on top of regular gifts! I've done the shopping for you, so all you have to do is follow the links and add to cart. No need to thank me.
See also: Maybe shes looking for something you'll love? Point her in the right direction with our gifts for well-groomed men!
Stocking Stuffer Ideas So You Don't Get In Trouble This Season
Let's get started with the stuffers!
Boss Lady Name Plate
This name plate looks fancy as hell and is perfect for any lady that's their own boss!
Zodiac Jewelry Tray
These dishes are gorgeous and the perfect size to fit in any stocking! (Good luck finding out her sign without seeming suspicious – I can't do that part for you.)
Editor's Choice Stocking Stuffer Ideas for My Girlfriend
This Elsa keychain from Frozen is absolutely adorable! It's made in Funko style, and fits easily onto her key fob to brighten up her day!
Tea Variety Pack
Some ladies like coffee, and some like tea. This variety pack contains tons of new and old flavors for her to sip at her leisure!
Lipstick Gift Set
There are two things in this world a gal can never have too much of: cheese and lipstick. Lipstick is your safer bet!
Pink Marble Passport Wallet
This pretty pink passport wallet is a little extra, but that's perfect for your special lady!
Nightmare Before Christmas Socks
I feel as children we never appreciated all the free socks we were given, but your girlfriend is sure to be grateful for this pack of socks featuring characters from her favorite Tim Burton movie!
Slipper Socks
Keep your girlfriend's cold feet off your body this winter with these super cute slipper socks!
Editor's Choice Stocking Stuffer Ideas for My Girlfriend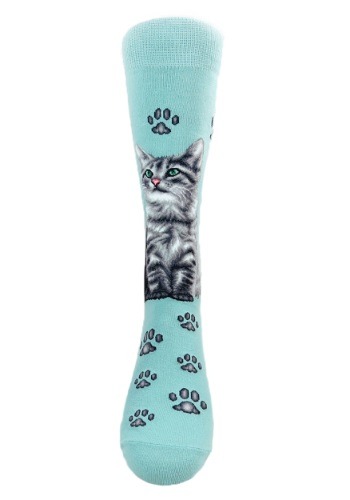 This pair of socks is EVERYTHING! It's going to make a great gift for her in the colder holiday months.
Vera Bradley ID Case
Vera Bradley is a well-known designer, and this ID wallet is perfect for those nights you take her out to the club or on a day adventure in the woods!
Makeup Brush Cleaning Cloths
Cleaning makeup brushes sucks. Show her how caring you are this year with something to make her life a little easier that most people wouldn't think of!
Crazy Cat Lady Mints
Are her cats her children? These funny mints are a perfect add-on to her stocking!
Silicone Kitty Stress "Balls"
Help your woman cope with her stress in a cute and healthy way with these kawaii kitty silicone balls!
Hydrating Face Mask
Every woman worries about aging. Help her keep looking her best for longer with this hydrating face mask!
Comfy Pants
These pants have all the things that are good: comfiness and cuteness! You can't go wrong with these!
Wonder Woman Sticky Notes
If your girlfriend's favorite superhero is the well-deserved Wonder Woman, get these! I've never met a woman who didn't love office supplies.
Tea Tree Charcoal Soap
Put in a little effort with the bath supplies for her stocking and stop getting her those gift sets from the mall. Try some handmade soap from Etsy instead!
Rhinestone Bobby Pins
In the words of Jack Donaghy, "After all, your hair is your headsuit." So dress it up!
Shower Wine Glass Holder
Some days you just can't get to the wine quick enough. Throw this bad boy next to the bathtub and help her have the most relaxing bubble bath ever!
Pusheen Coffee Mug
This Pusheen mug will guarantee every single cup of tea or coffee will be the cutest ever!
Earring Set For Sensitive Ears
This earring set is a win/win/win. Cute, cheap, and won't irritate sensitive ears!
Apple Watch Band
Dress her Apple Watch up with a new band this holiday season! (We *do* love accessories!)
Wine Pourer
If your girlfriend is a wino and doesn't own one of these, change her entire world with something she never knew she needed!
Avocado Plush
Girlfriends love cute things no matter their age. This avocado is the cutest piece of produce she'll ever see!
Selfie Ring Light
There's no need to spend 100's on the same ring light her favorite YouTuber uses! Grab this light that attaches right to her phone and she'll look like a superstar in all of her selfies from now on!
Cat Bottle Opener
Because you may need someone to open your beer for you one day, grab this for both of you!
The Handmaid's Tale Paperback
If your girlfriend loves the awesome TV show, she will love the book! Maybe she'll be nice and let you borrow it when she's done.
Jade Face Roller
These face rollers have been a craze in the beauty industry for the last few years! Go on and grab her one because they're awesome!
Travel Makeup Bag
Another accessory your girlfriend can never have too much of – makeup bags! Give her something new and cute to put her work makeup in!
Kate Spade Travel Bags
Help her pack for her next trip in style with these cute travel bags for all of her necessities!
Editor's Choice Stocking Stuffer Ideas for My Girlfriend
Give her a chuckle and a smile with this adorably festive pair of underwear! Featuring Christmas lights, it will keep the spirit merry and bright!
Silk Sleep Mask
There's nothing quite like the softness of silk against your skin! Help her sleep better with this cushy sleep mask!
Hot Sauce Variety Pack
If your girlfriend loves to set her mouth on fire, this delicious gift set of hot sauce will be perfect for her stocking.
Flavored Ground Coffee
Save her a trip to the coffee shop every morning with some yummy ground coffee she can fix right in her own kitchen!
Gold Initial Pendant Necklace
I'm gonna let you in on a little secret: your girlfriend loves jewelry. Pick a guaranteed hit with this personalized necklace!
Chocolate Biscotti Gift Basket
Grab some sweets for your sweet with this yummy chocolate-filled gift set!
Reusable Straw Kit
This reusable straw kit has everything your environmentally conscious girlfriend needs to stay away from those nasty plastic tubes!
Tarte Mascara
Tarte makes some of the most amazing mascara out there! You're sure to win extra brownie points with a gift like this.
Rose Gold Olive Branch Ring
Rose gold has been in fashion in a BIG way the last few years, and this ring is absolutely gorgeous! It's the perfect gift she never knew she wanted. (Without any commitment on your end!)
Retro Sunglasses
Sunglasses are like shoes. You can never have too many pairs. Add a new set to your lovely lady's collection this holiday!
Pandora Reflexions Bracelet
Pandora bracelets are very popular! Start her out on her very own custom charm bracelet with this beauty! (And hey, it even looks good without charms!)
Coffee Spoon & Spoon Rest
This spoon and spoon rest set would go great with a new mug and some delicious flavored coffee!
Elastic Hair Ties With Swarovski Crystals
Bling your girlfriend's updo out with these shiny hair ties!
Humorous Magnet
This magnet is perfect for the queen in your life with an awesome sense of humor!
Homemade Soap
Handmade all natural soap is one of the best stocking stuffers you can get her! This stuff smells amazing and leaves your skin so soft!
Funny Cheese Knife
If your girlfriend is anything like me, she friggin loves cheese! This knife doesn't lie – sweet dreams are indeed made of cheese.
Personalized Wood Coasters
Play the sweet partner role with these super cute custom wooden coasters!
Wooden Hair Comb
This comb is super pretty and perfect if your girlfriend loves Japanese culture!
You should be ready to make this holiday season a massive hit for you and your girlfriend if you follow this guide! It will make up for the forgotten anniversary and birthday for sure! Give us a shoutout on Twitter (@ugifter) or Instagram (@uniquegifter) and tell us what you got!