Disclosure of Material Connection: Some of the links in this post may be "affiliate links." This means if you click on the link and purchase an item, I will receive an affiliate commission. Disclosure in accordance with the Federal Trade Commission's 16 CFR, Part 255. This site is a participant in the Amazon Services LLC Associates Program, an affiliate advertising program designed to provide a means for sites to earn advertising fees by advertising and linking to Amazon.
When Mother's Day rolls around, buying mother's day gifts for sisters-in-law can seem tricky, unless you are close or really friendly with them. Even if that's the case, sometimes finding the "right" gift can be tough. Let this gift list be your guide!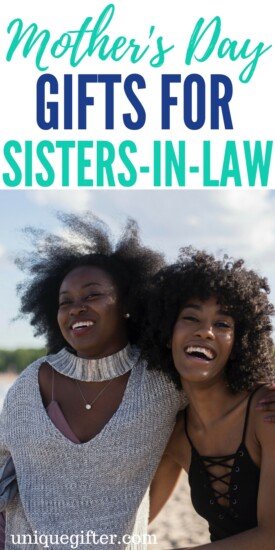 She'll Love One Of These Fun Gifts…
almost as much as she loves your brother! (We also have fun gift ideas for your sister for Mother's Day too!)
"I smile because you are my sister-in-law, I laugh because you married my brother" Coffee Mug
When the fact that your sister-in-law is married to your brother is a family joke, this coffee mug will make the perfect gift for her for Mother's Day!
Silver Initial Heart Bracelet
Every mother needs a silver heart bracelet with their initial on it to feel special and appreciated.
"Hot mess" Makeup Bag
For the sister-in-law who is a "hot mess" and needs a makeup bag for her makeup instead of just throwing them in her purse willy-nilly, this makeup bag is a perfect Mother's Day gift for them. If she's a makeup artist for work, we have more gift ideas! 
Champagne and Heart Vegan Handmade Soap
Cutsie soaps for their bathroom will make them feel more luxurious every time they have to go in there.
"My favorite people call me sister-in-law" Sweatshirt
Your sister-in-law's favorite people are the ones who call her sister-in-law, right?
"I'm the crazy aunt everyone warned you about" Coffee Mug
If your sister-in-law is the crazy aunt everyone warned about, she needs the coffee mug that says as much.
"Sole sister" Keychain with Running Shoe and Sister Charms
When your sister-in-law is your running buddy, she is more than just a sister-in-law, she is your sole sister!
"Fancy Mom" Shirt
Your sister-in-law is the fanciest mom around, let her show that off to everyone she comes in contact with, with her brand new Mother's Day shirt!
Palm Leaves Earrings
Adorable palm leaves earrings are great for a tropical vacation, special occasion, or wherever they choose to wear them.
Mother and Son Silhouette Wood Plaque
Your sister-in-law and your nephew have a special, close relationship. This wood plaque is the perfect way to for both of you to show how amazing that relationship is.
"Grace upon grace John 1:16" Notebook
Each of your lives are filled with graces upon graces, and your sister-in-law will always need a place to keep track of all the things she is grateful for, or all of the things she needs to do each day.
"Ohana means family" Bracelet
Whether or not your family is from Hawaii, ohana is a beautiful word that means family, and this beautiful bracelet is just the gesture everyone needs this Mother's Day.
"The bags under my eyes are designer" Coffee Mug
When your sister-in-law is always tired from chasing little people around or working hard at her job, the bags under her eyes just might be designer!
Personalized Leaf Ring
A leaf ring, personalized on the inside with your sister-in-law's name or favorite phrase, is a special gift that she will swoon over when she opens it this Mother's Day.
Rouxbe Online Desserts Course
Your sister in law is already a sweetheart… help her be even sweeter with the gift of an online dessert cooking course. She'll be wowing everyone around in no time, plus you can invite yourself over for delicious eats! Click here to read a full review of Rouxbe.
"Awesome sister-in-law since ____" Shirt
She has been the most awesome sister-in-law in your life since the day she married your brother. Show your appreciation for her with this awesome shirt she can wear to family functions!
"Strong is beautiful" Infinity Necklace
Your sister-in-law is woman strong, and strong is always beautiful. Remind her that not only is she strong and beautiful, but the strength that she shows everyday is simply one of the most beautiful things you have ever seen with this necklace!
Floral Scarf Shawl
Every mom needs a floral scarf shawl to turn her casual outfit into a dressy one on those mornings that it's hard to get ready.
"If you don't have anything nice to say, whisper it to me" Pillow
If the two of you are "thick as thieves," your sister-in-law needs this pillow!
"Super sister-in-law" Apron
She is the superhero sister-in-law who loves to cook, which means she can never have too many aprons!
"Dream big" Gold Foil Print
Remind your sister-in-law that even though she is a wife and mother, she can still dream big every day with this beautiful gold foil print that she can hang up on her wall at home.
Mother's Day is a special time for you and your sister-in-law. The perfect gift from you is just waiting for her and imagine the delighted look on her face when she opens it!