Disclosure of Material Connection: Some of the links in this post may be "affiliate links." This means if you click on the link and purchase an item, I will receive an affiliate commission. Disclosure in accordance with the Federal Trade Commission's 16 CFR, Part 255. This site is a participant in the Amazon Services LLC Associates Program, an affiliate advertising program designed to provide a means for sites to earn advertising fees by advertising and linking to Amazon.
Any mixologist will tell you crafting the perfect cocktail is an art form. If you have an at-home bartender on your holiday shopping list, they'll be sure to love one of these gifts for a mixologist. You'll find handy products below that'll help them make drinks, decorate them, or just give them a laugh.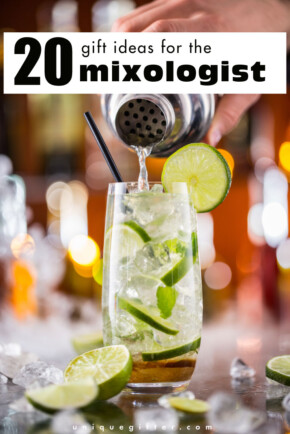 Shake it up!
And watch em' pour. 
The Curious Bartender Mixology Book
Sure, your mixologist bestie may already consider herself or himself an expert at making cocktails, but there's always something new to learn. The Curious Bartender Mixology book goes deeper than simple drink recipes. It explores the artistry of cocktails including their origins and the importance of each ingredient.
Ninja Mixer
Who doesn't love beachy frozen drinks? Even non-alcohol drinkers kick back and enjoy a nice, cool slushy beverage. You can't go wrong with gifting a drink blender, especially at this price. Your mixologist buddy can enjoy a beachside drink with friends any time of year.
Margarita Glass Set
A frozen cocktail mixer and margarita glasses go hand in hand. Am I right? This glass set includes six Cancun inspired glasses and a matching pitcher. Cheers!
Tropical Drink Umbrellas
If you're going with an island theme, tropical umbrellas fit right in. This pack works well as a stocking stuffer or you can add it alongside another gift. The set comes with 144 umbrellas which means your friend can enjoy 144 fruity drinks without running out. How's that for a party?
Professional Bar Set
What's a bartender without the right tools? This professional bar set is sure to please and it's the perfect addition to any at-home bar. It comes with 13 pieces including two shakers, a jigger, corkscrew, strainer, and much more. 
Cocktail Recipe Playing Cards
Does your friend host card parties with cocktails? Combine their two favorite hobbies! Each player can test their mixology knowledge while competing for bragging rights during the card game.
Gin & Tonic Socks
The gin and tonic. Many consider it an acquired taste, so people who do enjoy the drink love to represent. Me included! What better way for your friend to show their love of gin and tonic than with a goofy pair of socks?
Lemon Squeezer & Zester
Lemon drops, Mai Tais, Screwdrivers… These drinks are all delicious and each recipe calls for freshly squeezed juice. That's where this lemon squeezer and zester will come in very handy. Your friend can use fresh ingredients and garnish cocktails like a pro. 
Margarita Cocktail Glass Rimmer
Getting salt around a margarita glass is a lot trickier than it looks without the right tools. This clever cocktail rimmer has three tray tiers for lime juice, sugar, and salt.
Ice Ball Molds
Every mixologist likes to savor their cocktail concoctions. After all, the perfect drink takes some effort to make, they should enjoy it. Regular ice from a tray or icemaker can melt quickly which ruins the flavor. Round ice cubes last longer and this silicone mold makes perfect spheres. Say bye, bye to watered down drinks, y'all! Perfect for a gin lover. 
Ice Rocks
If your friend likes to sip a simple whiskey or scotch from time to time, these ice rocks come in handy as well. The set has a posh looking case. Put the rocks in the freezer then pop them into a tumbler to chill your drink without diluting the taste. The rocks also work well with wine and beer.
Bar Drinkware Chemistry Set
Any mixologist will tell you crafting the perfect cocktail is a science. Every scientist needs a proper chemistry kit, right? This set comes with an Erlenmeyer mixing glass and a metal holder full of fun test tube shot glasses. The only thing missing is a pair of goggles. (Then again that may be taking it too far.)
Milk Frother
Is your mixologist friend also a coffee enthusiast? They'll love this milk frother. You can use it to make lattes, cappuccinos, and macchiatos. Who needs an expensive cup of coffee when you can make your favorite cup of brew right at home?
Shot Flask
If your friend makes really good drinks, they may want to show off their expertise on the go. This flask comes with all the bells and whistles. There's a collapsible shot glass, a funnel to get the hard stuff into the flask, and a belt clip.
Tiki Glasses
Theme party anyone? These Tiki glasses are sure to liven up any get-together. The set includes cocktail picks and umbrellas.
Emoji Coasters
Kitschy conversation pieces are a necessity of every home bar. Not many text message conversations happen without Emojis these days so this gift is sure to spark conversation at your friend's next party as well.
Ice Bucket
Mixologists need the fun tools, but they also need the practical ones. We've already talked about the importance of chilling a drink, so we know ice is a necessity. This bucket comes with a lid making it perfect for outdoor parties. Plus, there's a scoop along with a scoop handle on the side. Stylish and practical.
Smart Bartending App
Does your friend need help measuring ingredients? Better yet: Does your friend need help measuring ingredients after glass number two? The smart bartending scale tells you how much of each ingredient to pour in a recipe and adjusts the amount of other ingredients if you pour too much.
Cocktail Layering Tool
Layering a cocktail is a difficult trick for anyone to master. This brilliant tool assists you in making ingredient layers based on the density of each liquid. It works by slowing down each pour into the glass, giving you a chance to get the layering of the drink just right.
Glass Brush Cleaner
Lots of dirty glasses are an unfortunate byproduct of the mixologist lifestyle. Your friend will appreciate the ease of using these brushes to scrub them before popping them into the dishwasher for a quick clean up. The base of this brush cleaner has a suction grip that sticks to the bottom of the sink making it super efficient.