Disclosure of Material Connection: Some of the links in this post may be "affiliate links." This means if you click on the link and purchase an item, I will receive an affiliate commission. Disclosure in accordance with the Federal Trade Commission's 16 CFR, Part 255. This site is a participant in the Amazon Services LLC Associates Program, an affiliate advertising program designed to provide a means for sites to earn advertising fees by advertising and linking to Amazon.
Are you hosting a graduation party? There's a lot to remember, keep track of, and plan when it comes to throwing a fantastic party for your grad. To help everything run smoothly (and to avoid forgetting anything) we're put together this helpful graduation party checklist for you to reference as you plan your party!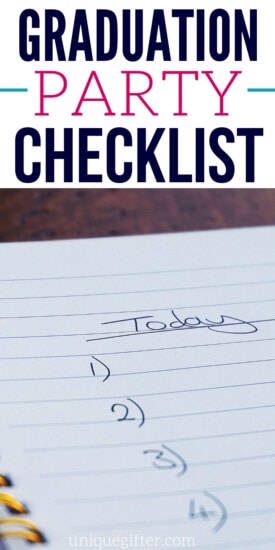 Graduation Party Checklist
Now remember, there's no such thing as a perfect party. Even with the best planning and all the checklists in the world you can still forget something or have things happen that are out of your control. This graduation party checklist is designed to serve as a general guide or starting point for your event, but you'll still have to customize it to your party.
I don't know about you, but for me having a list in my hands helps me feel more in control. I decided to create two lists: one broken up by time frame, rather than category, to help you with your graduation party planning and another is just a checklist of everything you need for your graduation party.
Before You Start Planning a Graduation Party: Relax and Stay Organized
I know it's easier said than done, but the graduation party is supposed to be enjoyable for the graduate and the family. If you're hosting, try and keep in mind what's important: celebrating your graduate's accomplishments and future.
To make the party planning go smoother, try and prep as much in advance as possible. That way you're not rushing around right before the party. Another idea is to enlist some help, either volunteered from other family members or hired. Delegate as much as you can, and use this graduation party checklist as a guideline to stay on track.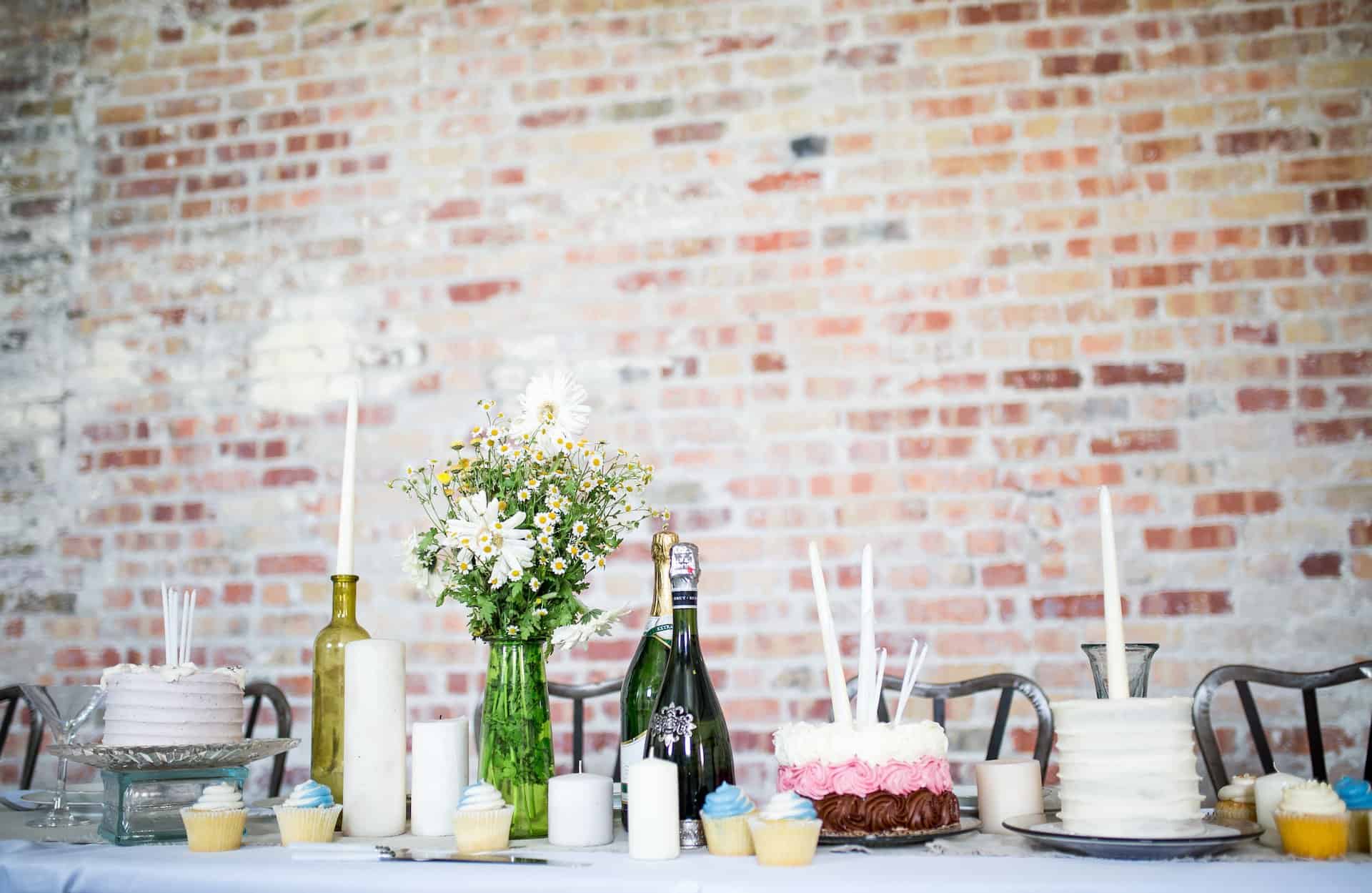 2+ Months Before the Graduation Party Checklist
Set a budget
Pick a party theme
Create a guest list (don't forget to ask the graduate!)
Choose a venue and book it if necessary
Decide on food and book catering if needed
Choose a party theme
Reserve any other party rentals you might need
Assemble and photo books, slideshows, and anything else you want to showcase at the graduation party
Book any entertainment
Enlist or hire help
Make any hair, nail, or other beauty appointments needed
1 Month in Advance
Finalize your guest list
Send out invitations and don't forget to include RSVP information
Choose party favors and order any custom items
Order the cake
Complete any large renos or landscaping that you want done before the event (if you're hosting in your home)
If you're hosting a sit down meal or other group activities, create a party timeline and plan (eg. Dinner served at 6, slideshow and speeches at 7, etc.)
Plan your outfit and order any customization or extras that you or the grad need for your attire
Choose games and activities you'll play
Start work on the slideshow
1-3 Weeks Before the Event
Prepare any food that can be made in advance and frozen
Plan, purchase, or make the party decorations including table coverings and centerpieces
Decide on and purchase or make a guest book
Finalize any music choices (eg. are you just using a playlist, karaoke, or do you need to confirm a set-list with your band?)
Confirm with any guests who did not RSVP quickly
Make a plan for photos (including any #tags you want to use!)
Ensure you have enough dishes and glassware
Confirm all rentals, bookings, caterers, etc
Check with out of town guests about travel/accommodation plans
Plan table set up including food serving
Prep or buy anything required for games/activities
Finish the slideshow or any other custom items (eg. photo booth)
A Few Days Before the Party
Complete any larger cleaning tasks that can be done
Assemble thank you gifts/party favors
Cut grass/clean yard if the party is being hosted in your backyard
Let the neighbors know about the party (feel free to invite them!)
Check the weather forecast and plan ahead if needed
Have a plan for any pets that might need extra care or babysitting during the party
Charge your camera and any devices to be used during the party
Checklist for the Night Before and Day of the Graduation Party
Make any food or drinks that need to be done at this time
Set up tables and party decorations
Check that bathrooms are clean and stocked with extra toilet paper
Get games ready for the guests
Tie balloons to the mailbox or have a sign in the front yard
Set out beverages with ice
Have garbage cans and extra bags ready throughout the party area
Lay out clothes/get dressed
Go over graduation party checklist to make sure you didn't forget anything!
If you don't need a timeline and just want a list of everything you need to remember when hosting a graduation party, then the list below is better for that. Or use them together to make sure you don't forget anything!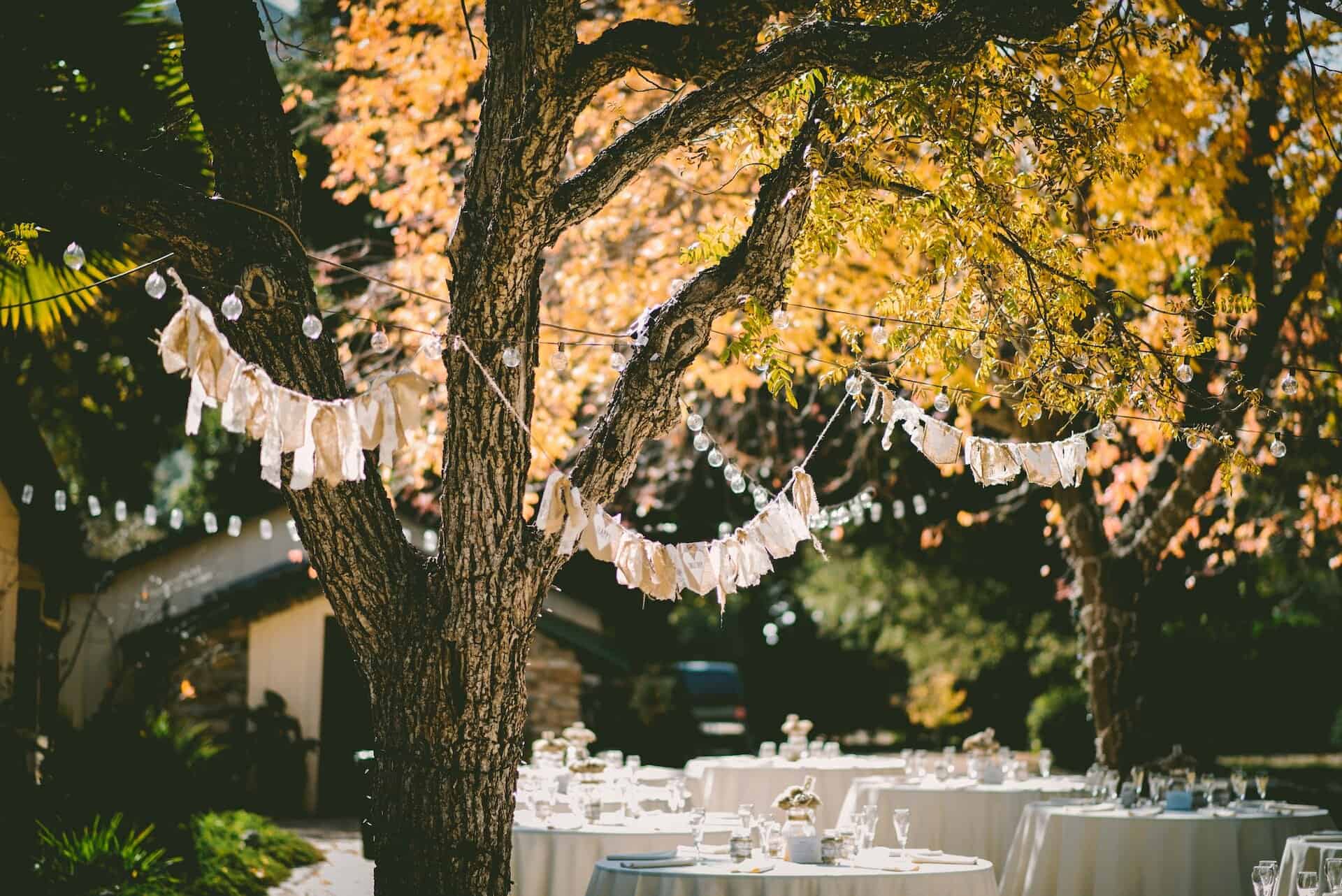 Graduation Party Checklist
A date, time, and duration
Guest list
Invitations with RSVP information
Food and drinks (enough for your guests) if guests are bringing some, make sure that's in your invitations
Catering (if using)
Dessert/cake
Enough dishes, cups, and cutlery for your guests (a variety might be required depending on what you're serving)
Napkins, wet wipes, etc
Ice for cold items, plus a way to keep hot items warm
Enough seating for your guests if you're doing a meal
Extra tables
A venue large enough to accommodate everyone (home, yard, or otherwise)
Back up plan in case of inclement weather, if the event is to be held outdoors
A party theme or decoration plan
Decorations
A guest book or variation
Party favors or thank you gifts
Music or entertainment
Slideshow or other photo showcase of the graduate
Garbage cans, extra bags, and other clean up items
Entertainment or graduation party games
A plan for the party (rough timeline of events)
Your camera (charged!) or a photographer
This is just a general guideline. If you're on a budget, you might want to cut back on some of the food, drink, entertainment, and venue expenses and just keep things simple. If you're doing a large party, though, you may want to push your timelines back a bit to ensure everything gets done on time. 
This graduation party checklist at least covers all the big things you'd typically see at a graduation party. Of course, your own family and traditions are going to be different so be sure to incorporate them into your planning. But most of all, have fun!