Disclosure of Material Connection: Some of the links in this post may be "affiliate links." This means if you click on the link and purchase an item, I will receive an affiliate commission. Disclosure in accordance with the Federal Trade Commission's 16 CFR, Part 255. This site is a participant in the Amazon Services LLC Associates Program, an affiliate advertising program designed to provide a means for sites to earn advertising fees by advertising and linking to Amazon.
B is for Bliss, Brilliant, Best, and many other wonderful things. Young children will most certainly have a blast with these Toys that Begin With the Letter B for young children. Give a gift that is unique and different and is themed by the letter. This is a fun list of gifts that all begin with the letter B. You will find gifts for all ages below from 2 on up. Don't worry though, we also have gift ideas for your adult friends too.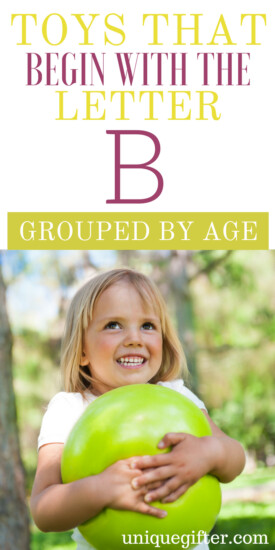 When your child has a letter B themed day or week at school, finding a toy that starts with the letter B is not as difficult as you might think! There are so many things to choose from and great choices for show-and-tell if they need to bring something in with them too. Between basketball, baseball, babies, and more, there is no shortage of ideas.
Find more toys for the rest of the alphabet:
Toys that Begin With the Letter B for Ages 2-5
Bead Lacing Set
This large bead lacing set is a fun way for children to work on their fine motor skills.
Blocks Jigsaw Puzzle
This educational puzzle will help children work on both letters and numbers.
Bean Bags for Toss and Learn Shapes
Have some fun while learning shapes.
Bath Toys Set
Children will be excited for bath time thanks to these fun bath toys.
Building Blocks
Children can exercise essential skills and be creative while building blocks.
Brain Quest
Let the little ones show off their brilliance with a fun game of Brain Quest.
Bowling Game Set
This is a bowling game that the littles ones can definitely handle, and have lots of fun in the process.
Basketball Set
You may have a future NBA player on your hands, let them show off their hooping skills.
Bounce House with Slide
Children absolutely love bounce houses. They are such a fun way to let the kiddos get some exercise.
Blackstone Bear
This plush bear is absolutely perfect for playtime.
Bubble Gun
Who doesn't love bubbles? Watch children have a blast with this bubble gun.
Beach Ball
Beach balls don't only have to be used at the beach. They are lots of fun even at home.
Baby Doll
Baby dolls are great for pretend play and building social skills.
Ball Pit
Children can literally spend hours just playing in a ball pit.
Breakfast Play Food Set
Children will love creating a breakfast of their own with this play food set.
Band-in-a-Bag Toy Set
Kids can start their own band with this awesome toy set.
Beanie Boos Plush Toy
These Beanies Boos Plush Toys are great to collect but even more fun to play with.
Balance Board
Children can have some fun while working on their gross motor skills using this balance board.
"Bizzy" Buckle Toy
Buy Now

Kids can work on many essential skills while working with this buckle toy.
Toys that Begin With the Letter B for Ages 6-8
Basketball
First up is definitely a basketball! Any kid that loves sports will love being able to bring this to school for the letter B.
Baby Alive Face Paint Fairy
Baby Alive face paint fairy will mean hours of fun and a cute toy to stand for the letter B too.
Baseball Pitching Machine
If your kid loves to play baseball, they might just love a baseball pitching machine, as long as they know how to be careful with it. However, this might be one that is more difficult to bring to school with them.
Board Dudes 17×23" Chalk Board
This Board Dudes chalk board is a great choice since they can practice their writing and drawing skills at the same time they are learning about the letter B. They can even write or draw things that start with the letter B.
Balance Beam
This balance beam can fold up and be stored when not in use, and is great for those kids that love to use their balancing skills or enjoy gymnastics.
Baseball
Here we are with the sports theme again, a plain baseball to toss around or play a game with is a great representation of the letter B.
Barber Pretend Play Set
Give them a toy that will expand their imagination, with a pretend barber set to pretend to cut hair!
BioSwiss Novelty Bandages Pizzas
These pizza bandages will be more fun to play with than functional. It may just keep them busy for hours, putting the bandages on their dolls, each other, and wherever else they want to stick them.
Balance Bike
A balance bike will help them learn to balance better and if they aren't using a regular bike yet, may set them up for better success when they do.
Battery Operated Plush Redley the Retriever
This battery operated plush dog will help them practice their dog care skills and learn more about the letter B at the same time.
Baskets with Handles
There are so many possibilities for using baskets with handles, carrying toys, sorting toys, matching colors, and more.
Beach Balls
Beach balls are fun and start with the letter B. They can bat these around, play with them outside or inside, and just have a ton of fun with them.
Bath Toys PJ Masks Squirters
These bath toys PJ Masks squirters are actually for ages 3-6, but older can use them too because squirters are fun for every age!
Balance Stepping Stones
Another fun tool to practice balance and make a game of it too.
Bear 6' Stuffed Animal
Stuffed teddy bears are a classic, and will be a favorite for a long time!
Beard Piece for Costume Play
They can pretend to be Abraham Lincoln, someone else from history, or someone they know in person or as a celebrity, with this beard piece for costume play and dress-up.
Build and Paint a Birdhouse
Perfect for ages 6-8, this build and paint birdhouse is interactive and fun while teaching them how to build and paint at the same time.
Blue and Green Wooden Play Ukulele
A blue and green wooden play ukulele will give them musical skills to practice, although they may not sound that great at first.
Beach Sand Toy Set
Beach starts with the letter B, and what is more fun at the beach than building sand castles?
Butterfly Night Light
This butterfly night light will keep them company in the dark and is a super fun show-and-tell too.
Balls, Boards, Beads, and other brilliant toys make for quite some fun. Young children will be beaming with excitement playing with these super cool toys that begin with the Letter B.

The letter B is probably one of the most fun letters in the alphabet, but I might be biased since my name starts with it. These toys will be delightful for your kid to take to school or simply learn more about the letter itself.
Toys that Begin with the Letter B for Ages 9-12
When it comes to the letter B, there are so many fun words: bike, bee, basketball, Battlebots, and more. If you need a toy that begins with the letter B for your kiddo who is 9-12 years old, then this is the list you need. Check out these fun ideas!
Bike Airplane
Buy Now
Now they can ride their bike and fly at the same time, all they need to do is attach the bike airplane to their bike.
Backhoe Loader Vehicle
Buy Now
If they love construction, they will certainly love this backhoe loader vehicle.
Breaking Bad Bobblehead Walter
Buy Now
This Breaking Bad bobblehead, Walter, can keep your kiddo laughing and entertained for many hours.
Balancing Eagle
Buy Now
Your kiddo can show their friends some tricks with their brand new eagle that balances on the tip of their finger, or on its stand.
Bike Chain Roller Fidget Toy
Help them keep their fingers busy when they are feeling anxious or otherwise fidgety, with a bike chain roller fidget toy.
Basketball
Buy Now
If your kiddo loves playing sports, they will love getting a basketball, and maybe even a basketball hoop to play at home.
Balance Board
Buy Now
They can practice balancing and get better and better at it, with their very own balance board.
Beriwinkle Ceramic Unicorn Piggy Bank
With this Beriwinkle ceramic unicorn piggy bank, they can save up for a new toy or game that they want. It may even encourage them to stay on top of their chores better.
Bruder JCB Midi CX Loader Backhoe
Buy Now
Another backhoe for them to play with if they are into construction vehicles.
Baseball Guys: Black vs. Blue
Buy Now
Your kiddo gets to control the game with the Baseball Guys: black vs. blue game.
Batbot Xtreme
Batbot is awesome! They can shoot missiles and launchers, and change their voice to sound like Batman too.
Blue Top Coin Bank
Buy Now
Every little girl who loves Princess Belle needs a Belle coin bank to save money in.
Batman Kite
Buy Now
Now Batman can fly wherever they choose to fly their Batman kite, whether that is in the yard, at the park, or at the beach.
Battle Action Figure Pikachu vs. Popplio
For the Pokemon lovers, the battle action figure of Pikachu vs. Popplio makes an excellent choice.
Beyblade Switchstrike Battle Tower Action Figure
Buy Now
Beyblades have been around for awhile and are super fun for this age range.
Bakugan Launcher
Buy Now
If they aren't into Beyblades, they just might be into the Bakugan launcher to help launch their Bakugan toys.
Batman Movie The Ultimate Batmobile by LEGO
Buy Now
Now they can build their own Batmobile with the LEGO set, based on the Batman Movie.
Battlebots Arena
Buy Now
You can't go wrong with the Battlebots arena.
Blue Power Ranger Super Ninja Steel Action Figure
Power Rangers are awesome. This Power Ranger super ninja steel action figure fits right in with the letter B toys, since it is blue!
Bounce-Off Game
Buy Now
The Bounce-Off game is something they can play with family or friends, anytime.
So many awesome choices for toys that begin with the letter B. Which one do you think will be your kiddo's favorite?