Disclosure of Material Connection: Some of the links in this post may be "affiliate links." This means if you click on the link and purchase an item, I will receive an affiliate commission. Disclosure in accordance with the Federal Trade Commission's 16 CFR, Part 255. This site is a participant in the Amazon Services LLC Associates Program, an affiliate advertising program designed to provide a means for sites to earn advertising fees by advertising and linking to Amazon.
Push presents are a relatively new phenomenon. They're the presents a partner gives to the birthing parent when a little one is on the way or has just been born.
An important thing to remember when perusing this list is that not all pregnant people are teh same – so what might be the absolute perfect gift for someone else will go over like a lead balloon with your own spouse. That's one of the reasons we've got SO many ideas, so you can find just the right one for your partner in parenting.
What kind of push presents should you give?
In this mega gift guide, we've thought of everything from the practical to the funny to the downright pointless and weird. Either way, we think there are all awesome contenders for push presents for moms.
1. Custom Fingerprint Heart Ring
What could be more symbolic than having the baby's fingerprints moulded onto a piece of jewellery you can wear?
2. The New Kindle
The Kindle isn't just a great way for a new mom to read her books when she has a few minutes to herself. It's also super handy when breastfeeding or holding baby because you don't have to juggle holding a book or trying to turn pages.
3. Skip Hop Diaper Bag
You really have to carry a lot of crap (pun intended) around when you have a baby. Stylish diaper bags like this one make it a little bit more tolerable. There's lots of pockets for quick access to essentials like baby wipes and a changing pad too.
4. Stork Craft Ottoman Set
Mom and baby are going to put miles on this set. The perfect spot for feeding baby or rocking them to sleep. There's a reason rocking chairs have been the go-to for mothers forever.
5. Non-Binding Socks
Swollen feet are going to feel a lot better in these socks, perfect for a mom to be or one that's in the hospital delivering a baby.
6. Soft Maternity Ballet Shoes
Whether it's during pregnancy or throughout those long hours pacing with baby at home, mom will appreciate having something comfortable to wear on her feet. These ballet-style slippers are super comfy to wear around the house.
7. Tea Tree Oil Foot Soak
For those hard days where you just need a few minutes to soak your feet and relax. Tea tree oil helps relax the muscles and make everything feel better after a long day.
8. Sweet Almond Oil
This is one of those gifts you can give your partner alongside a little bit of work from you. Give her massage oil as push present but you have to actually give her a massage too!
9. Silver Satin Travel Mask
This would be a great push present idea from someone other than a spouse or partner. Show up, have her unwrap the mask, and then send that tired mom off to bed and take care of things for a little while. Trust me, she'll appreciate it.
10. Selfie Stick
Taking pictures of your little darling is hard when you're trying to juggle a camera with one hand and them in the other. Help mom solve the problem of there not being enough pictures of mom and baby together (and don't forget to take pictures of them when you can!).
11. Oxo Good Grips Scrub Brush
This isn't for your wife it's for you. Get cleaning, especially the tub so she can always have it ready for a nice relaxing soak.
12. Dead Sea Bath Salts
Forget the bubble bath from the store. These dead sea bath salts are just the ticket to help tired moms relax and recharge. Plus they're great for the skin!
13. Lava Pumice Stone
Give her a pedicure (or at least this lava pumice stone) to help her take care of those dry skin spots, especially on her feet. This will help a new mom feel more human, even if she doesn't have time to get to the professionals.
14. Funny Mug
Great if you're giving a push present to a mom with a sense of humour! This funny mug pretty much sums things up. Probably not ideal as the only gift you give, though.
15. 2012 Mercer Estates Merlot
Babies are worth celebrating! Treat mom to a glass of this modern vintage wine, which would be great gifted with a fun "mom" themed wine glass.
16. Beer Chiller Set
And whilst we're on the topic, this chiller set will keep your beer cool from the first sip to the last. It comes in a pack of two, which basically means no warm beer when you and your partner are interrupted by a crying baby. Again.
17. New Baby Necklace
This little charm doesn't require you to break the bank, whilst making mom feel special.
18. Heart Stamped Bracelet
Wear your heart on your sleeve. Get mom, dad, and baby's names engraved on the hearts dangling from this wonderful heart stamped bracelet.
19. Women's Kimono Robe
You don't always have time to get dressed when you're at home with a new baby. Give mom a little bit of extra pampering so she can at least feel pretty even if she's not quite as put together as she'd like.
20. Happy Mama Printed Pyjamas Set
There's nothing wrong with spending the day in your pyjamas during the early days of motherhood. Get her some nice, comfy pjs so at least she can be comfortable and ready to nap during the very small window baby sleeps.
21. Maid Gift Card
Having someone come in and clean the house top to bottom while mom is in hospital is one of the best push presents that you can think of. If you can afford it, have them come in weekly to tidy to save everyone a lot of sanity.
22. Treasure Food from Swiss Colony
Snacks are essential with new baby exhaustion or breastfeeding. Get her all set up with some easy food that she can grab and eat, ideally with one hand.
23. 32GB Music Player
Sometimes you need to shut the world out with your favourite tracks. Combine a new music player with an iTunes gift card to get her library started.
24. Beats Headphones
Get her some great noise cancelling headphones for those moments where she needs a break and you're taking care of the baby. That way she won't be able to hear baby fussing and can actually relax.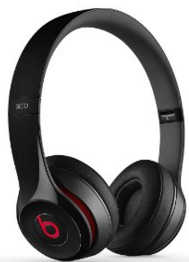 25. Sony HD Video Recorder
Capture those golden moments in crystal clear HD quality with a new Sony HD video recorder. It's so much better than the camera on your iPhone!
26. Vintage Camera Photo Album
It might be too early for this, but there's nothing wrong with getting started. Start sticking those photos in to embarrass your child with when they're a teenager.
27. MCS Industries Wood Frame Set
It's time to begin displaying those precious family photos around the house. There's nothing like a wood frame set to do it. They all come in different sizes, so it's never been easier.
28. Daily Mom Journal
A great way to encourage mom to record all those special moments in the first 5 years of baby's life. It goes by so fast so this keepsake will be something she can look back on and share with the little one when they get older.
29. Funny Parenting Book
"The days are long, but the years are short" might be true, but sometimes the days are very long. Give a new mom (and yourself) a little mood lift with a funny parenting book like this one of milestones you probably didn't see coming (but definitely can relate to).
30. Netflix Gift Card
These are perfect for those feeding sessions that just seem to go on and on and on.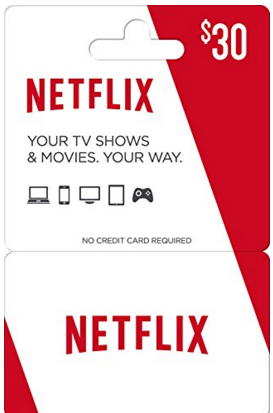 31. Sophie Giraffe Teething Toys
Nothing is more frustrating or heart-breaking than a little one experiencing teething pain. This will help them get through the worst of it and with so many awards you can feel good about baby putting it in their mouth.
32. Britax B-Agile Travel System
Don't just get a stroller get a travel system. The travel system lets you slide the baby seat in the car out onto the stroller and snap your little guy or gal in, all without waking them up or having to unbuckle.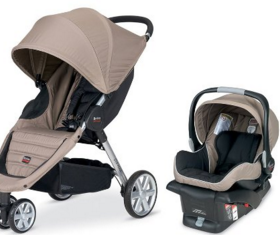 33. Collapsible Pram
You really need at least two strollers for managing the needs of your child. This lightweight, collapsible pram is the ideal complement to the travel system mentioned before.
34. Swaddle Swing
This is the portable baby swing you never knew existed. Unlike a mechanical swing, you get to choose the motion so once you find something that works for baby you can do it again. And again. And again.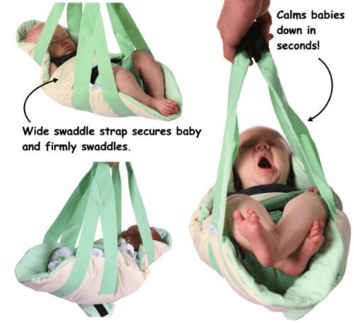 35. MamaRoo Baby Swing
Motorized baby swings are a total lifesaver when you have a fussy baby in the house. The MamaRoo swing simulates the womb with a bouncing motion which is even better than a traditional swing. What's more, this model is bluetooth enabled.
36. Little Tikes First Slide
When the warmer weather comes around (and baby gets a little bit bigger), introduce your toddler to the magic of outdoor play with their first slide.
37. Pressure Mounted Gate
Set boundaries at home with the gate that clips on to hallways and doorways. The gate automatically shuts and makes sure your child is safe from harm.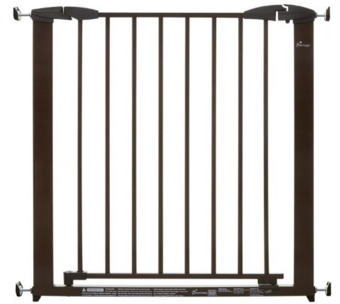 38. Ally & Joe Backseat Baby Mirror
When baby is rear facing it's hard to see what's actually going on back there. A mirror, like this one, can help you keep an eye on baby while driving. As a bonus, if baby can see their face it might keep them happy too!
39. Baby Bandana Drool Bibs
These cute bibs are a total lifesaver with drooly babies. Plus they look cute and fashionable!
40. Argan Oil Hair Mask
Pregnancy hormones do weird things to your hair. This hair mask will help refresh mom's hair and pamper her a bit, which will be really nice when she's totally exhausted.
41. Baby Sling Carrier
Front or back, make carrying your tot around in places where a pram isn't practical simple. Just make sure it's adjustable and it fits first.
42. Breastfeeding Pillow
Trust us from experience, you don't want to be lugging a full-size nursing pillow around with you all the time. The breastfeeding pillow is the small, compact alternative.
43. Medela Harmony Breast Pump
If breastfeeding is a goal for mom she might need a pump in her life for those times where she can't be with baby. Get her a good quality, comfortable pump to make the process easier.
44. Simple Wishes Breast Pump Bra
Or, if she'll be pumping a lot, a hands free pumping bra can make it easier. That way she can be hands free which, if you've ever held a breast pump for 20 minutes, is pretty valuable.
45. Maddie Moo Breastfeeding Cover
Sometimes mom might want a little bit of privacy when breastfeeding. A cover like this is easier to drape over baby than a blanket and a lot more comfortable for the two of them.
46. Sarah Wells Convertible Breast Pump Bag
Great if mom needs to pump away from home, like at work or while on the go.
47. Baby Bargains: Secrets to Saving
If you can get a spare moment, it's time to think about money. Cut costs on bringing up your new addition with this savings guide. It's America's best-loved and has worked for thousands of families.
48. What to Expect the First Year
Whilst you're getting your read on, pick this one up too. They say expect the unexpected. Eliminate the unexpected by reading through everything you can expect to confront in the first year of motherhood.
49. Lobster High Chair
Dining out has never been more tranquil than with this high chair. It snaps to any dining table and makes eating out with a young child much less chaotic.
50. Swaddleplus Safari Friends Swaddling Blanket
Ah the humble swaddling blanket. Saving the sanity of mothers for centuries. Why not get one as a push present as well?
51. Baby Handprint Kit
Somehow wrestle a wiggly baby into making a hand print in this plaster kit. Let it dry and you have a beautiful memento you will treasure forever.
52. Reusable Baby Ink Pads
These ink pads go hand in hand with the handprint kit mentioned before. These will allow you to chart your baby's progress as he/she grows and grows.
53. Baby Safety Locks
Safety first. Sometimes the best push present you can buy a new mom is the knowledge that the new addition to the family is going to be safe around the house.
54. Foot Spa
Take a load off your feet after nine months of carrying a second person around with you with this foot spa. Add in some Epsom salts or essential oils and let mom sit back and relax.
55. DDOL Knitted Sweater Robe
The sweater robe is all the cosiness of a sweater wrapped in the full-body hug of a dressing gown. The knitted sweater robe will give you the comfort you require when you most need it.
56. Birthstone Ring
Make your next ring as meaningful as the ring you put on her finger at your wedding. The birthstone ring can be added to with each new addition to the family.
57. Artificial Rose
A rose that will never die? Your stock in the romance league just went up by a hundred percent!
58. Personalised Ornament Bauble
Baby's first Christmas isn't far away. Help to commemorate this momentous occasion with this personalised ornament bauble.
59. Digital Photo Frame
Technology continues to bring us the spectacular. This digital photo frame lets you load up your favourite photos and skip through them as and when you please.
60. NeuTab N7 Pro Tablet Computer
You can pick up a new tablet computer for little more than $200. This one is even cheaper. If you need to do something online, whip this out and get started right away. We love the tablet computer because it's fine-tuned to the lifestyle of a busy mom.
61. Go the F*k to Sleep
Because all moms need some humour sometimes. This book isn't appropriate to actually read to baby but it will sure make mom laugh when she needs it most.
62. Mustache Pacifier
Yes! Yes! Yes! Show off how creative you are when you meet the other parents. And take some pictures to embarrass your kids with when they're older.
63. Game Over T-Shirt
You know it to be true, so now it's time to admit it with a t-shirt. This can either go on dad or mom. It's your choice.
64. Daddy-Proof Baby Suit
This could either be considered humorous or useful. It's an instruction manual that will make both mom and dad laugh.
65. New Parent Survival Kit
It can all feel so overwhelming from time to time. This includes all the baby survival tools you need with a fun twist. Bound to put smiles on faces.
66. Poo Log
Having a baby is nerve wracking and you spend a lot time as a parent worrying about your baby's health. A log like this can help take some of the stress off mom, especially if she's worried about feeding baby enough.
67. Ear Plugs
Even if someone else is looking after the baby it's hard for a mom to sleep when she can hear the baby crying. Give her a nice set of ear plugs and send her off for some must needed rest.
68. Mama Book
Give your partner a book (or a few) to read to baby as a push present. Bonus points for anything "mom" themed, like this one by comedian Jimmy Fallon.
69. Diaper Caddy Organizer
Keep all the diapers and supplies organized and in the room where mom and baby are hanging out to save time and energy during those long early days of parenthood. To be truly thoughtful, make sure it's stocked so it's one less thing mom has to do.
70. The BS Button
We sense you'll be using this push present a lot. Whether daddy has disappeared again, or the kid won't stop crying, slam the button and feel better about life in general.
71. Easy Meals
This is a great push present for a new mom or something to give a couple who have just had a baby. For days when it's just too exhausting to cook it's so nice to have a few healthy ready to eat meals on hand.
72. Mamarazzi: Every Mom's Guide to Photographing Kids
The chances are you'll be using this regularly. If you're going to start taking photos, pick up some tips from the professionals.
73. Johnny Cash Coffee Print
Spruce up the kitchen with this wonderful quote from Johnny Cash. Follow the great man into paradise with your morning cup of Joe. You'll be definitely needing it when the sleepless nights start to pile up.
74. Apple Watch
Get your tech on with this. It's a phone and computer all in one. Plus, you can use it even when you're meant to be taking care of baby. You need some time to check your emails sometime!
75. Polaroid Camera
Polaroids still exist and they're still as retro as ever before. Take these photos and get them printed instantly. They still produce high-quality prints you can hold and keep forever.
76. Agloves Touchscreen Gloves
Touchscreen gloves are a wonderful addition to any mom when she's out for a stroll during the winter months. You can use your phone without having to expose your digits to the cold.
77. Seirus Innovation Face and Neck Mask
To go with the theme of cold weather, this innovation will keep both your face and neck warm at the same time, without any stray threads getting in your mouth and nose.
78. SHANY Natural Fusion Eyeshadow Palette
If mom is into make up, surprise her with a new palette as a push present! For some women having a little make up on can make even an exhausting day at home a little bit brighter.
79. Mommy Mocktails
Don't get left out in the cold this holiday season. Raise a glass and enjoy some of these fun and colourful cocktails. Great for pregnancy, breastfeeding, or moms who don't want to drink with baby around.
80. Some Tasty Treats
Having a baby is rough and depending on your partner's personality having a little treat now and then might be enough to at least lift their spirits. Pick stuff that's easy to eat so she can enjoy while holding baby.
81. Something Fun
Whether her interests are video games or Sudoku, get her something fun to do when she has some free time or even while holding baby. Portable game consoles like the Nintendo Switch are great for that.
82. Alo Yoga Leggings
Nicknamed the "mommy uniform" for a reason. Leggings fit comfortably after baby is born and they're versatile enough to be worn while caring for baby and running around taking care of household chores or out of the house.
83. Glass Tea Bottle
This glass tea bottle has accommodations for loose clippings, tea bags, and comes complete with a strainer. What could be better?
84. Organic Green Tea
And whilst we're on the subject of tea. This organic green tea is here to help keep you relaxed. Straight from the home of tea itself (China), this bag of tea in gunpowder green will help keep you going.
85. Badger Sleep Balm
Made form lavender, just rub it on your temples and wrists to soothe your soul and help you sleep better during the precious few hours you actually get to lie down.
86. Travel Charger
Modern phones don't always have good battery life. Make sure that doesn't become a problem when you're busy tending to baby with this travel charger.
87. Cute Notecards
Sometimes you need to say thank you to those who matter most in your life. These cute notecards will help you do just that, with extra space for more kind words.
88. Swimming with Strangers
Don't have time to read full-length books any longer? Swimming with Strangers is a book of short stories that can be read during those spare minutes you may or may not come across.
89. Juara Moisture Mask
In a haze of avocado and banana, the Juara moisture mask will help mom's skin feel amazing, even when she's exhausted.
90. Toasty Tootsies Foot Warmers
These foot warmers will help you to keep warm. They last for two hours, and when the winter cold bites they'll keep those tootsies nice and toasty.
91. Herbal Concepts Foot Warmer/Cooler
Need something a little more permanent?
The herbal concepts foot warmer can be placed in the microwave or in the freezer to get the desired temperature. It even emits a delightful scent of dark chocolate.
92. Fizzy Baker Cupcake Bath Bombs
They look good enough to eat! Throw them in the bath and get ready to enter a world of comfort and relaxation.
93. Soothe Shirt
It may feel a little like throwing your baby underneath your clothes, but look closely and this soothe shirt is actually like a little baby carrier.
94. Baby Food Dispensing Spoon
Make feeding time cleaner and less chaotic than previously thought possible. Give the spoon a squeeze and the food will end up right where it needs to be.
95. Bathtime Easy Kneeler
Your knees will thank you for this push present. When kneeling down to deal with baby, you won't feel the floor digging into your ligaments again.
96. Oeuf Elephant Crib
It's not immediately clear why we would recommend this as a push present. It's awesome because it takes only ten minutes to install and no technical knowledge is required at all. Anything to save us from the pain of putting up a crib.
97. Pacifier Thermometer
Check baby's temperature with this pacifier. You don't need to switch from a normal pacifier. This is practical for everyday use in the long-term. A lot easier than drying to use an underarm thermometer!
98. OCT Faucet to Shower Converter
For those times where baby has to go in the sink instead of the tub, this will allow you to make the transition without scooping buckets of warm water all the time.
99. Pee-Pee Teepee
These little cones will keep you out of the line of fire when changing a diaper. Trust us, they're useful.
100. A Family Vacation
For the final item on this list, plan a family vacation. This push present will help you get away from it all and create some treasured memories for the first time together as a family. It doesn't have to be now, but there's no reason why you can't start planning!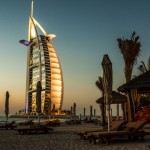 Just keep in mind, push presents that are awesome should come from the heart. Get her something that will make her life better, or that she'll love, when pregnant or when baby arrives. And it should go without saying, you can give her a million relaxation gits but the best one of all is giving a new mom time to relax.