Disclosure of Material Connection: Some of the links in this post may be "affiliate links." This means if you click on the link and purchase an item, I will receive an affiliate commission. Disclosure in accordance with the Federal Trade Commission's 16 CFR, Part 255. This site is a participant in the Amazon Services LLC Associates Program, an affiliate advertising program designed to provide a means for sites to earn advertising fees by advertising and linking to Amazon.
With state-of-the-art gadgets, your life will become easier in the kitchen. Here is a list of tools that you will need for decades.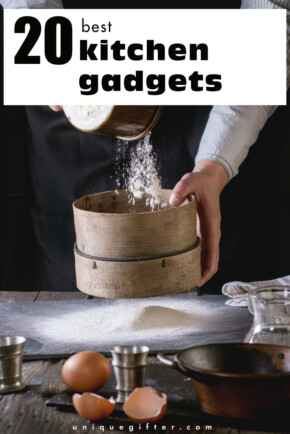 Bluetooth thermometer
iDevices Bluetooth Thermometer
With a corresponding application on your smartphone, you can use this device to track the temperature of four different types of meat. Make your grilling easier by keeping a close watch on the temperature.
Soap pump
Simplehuman Sensor Pump

This touch-free sensor pump is able to dispense soap or lotion by automatically sensing your hand.
Ramen maker
Kitchen Marche Gaiden

Quickly make your noodles with one of the best noodle machines
Tea maker
Sharp Tea Maker

Save yourself from the labor-intensive process of tea brewing and let this machine do all the work
Electronic scale
Salter Electronic Digital Kitchen Scale

Measuring your recipes with cups and spoons is so traditional. Use an electronic food scale and weigh your ingredients accurately.
Pico Brew
PicoBrew Zymatic
Each stage of your beer-brewing process will be carefully controlled using this device. In just a week, you can brew top-quality beer on your kitchen counter
Trio Peeler
Prepara Blade Peeler
Choose the blade of your choice depending on the job at hand: peel potatoes, carrots, vegetables, and cucumbers using one tool.
Coffee and tea maker
French Press Coffee & Tea Maker
It is vital that you always get the right measurements when making coffee or tea, and that is why you need this device.
Espresso machine
DeLonghi Espresso Machine
Make delicious coffee in the comfort of your home. With this machine, you can brew the thickest, richest and longest lasting foam. It will be easier and quicker to make espresso.
Coffee Grinder
Before you brew your coffee, you need the right grinder to ensure your beans produce their full flavor. The coffee grinder has pre-set measurements to ensure your coffee is measured precisely.
Vegetable Spiralizer
WonderVeg Vegetable Spiralizer
If you want your vegetables to look 'restaurant worthy,' then this is your device. Create spirals and make your vegetables more appealing.
A beer system
The Fizzics Beer System
Achieve draft-quality taste from your store-bought beer. The device improves the texture, body and concentration of aromatics in your brews, and helps you discover the magic behind every variety of beer.
Rice cooker and warmer
Zojirushi Rice Cooker and Warmer

Make tasty rice with minimal effort. The unit can provide even heating and precise control of ingredients. Your rice will be well cooked, at all times.
Garlic crusher
Qlty Professional Garlic Press
Garlic will often appear in most of your recipes, but sometimes you hate garlic smell on your hands. Use a crasher and avoid any contact.
Stick blender
Conair Cuisinart Stick Blender
This blender is designed to handle a number of basic tasks and will make blending easier than ever. Handle all your food preparation tasks with much ease.
Mandoline
PL8 Mandoline PL8
In most cases, you will need to slice your veggies into thin pieces.
Automatic can opener
Sharper Automatic Can Opener
A can opener is a must-have tool in the kitchen. With this battery-operated opener, it will be easier and safer to cut off the lid of canned goods.
Salt and pepper mills
Cuisinart Rechargeable Salt and Pepper Mills

Rechargeable salt and pepper mills will provide you with freshly ground salt and pepper that will light up your food. Bon appétit!
Pasta machine
Marcato Atlas Pasta Maker
With rollers that adjust to the required thickness, you will be able to make fresh, homemade pasta in minutes. For home chefs, this is a valuable item
Kitchen Timer
Elec3 Digital Kitchen Timer

Because you need simplicity in timekeeping. This kitchen timer features LCD display that is easy to read.