Disclosure of Material Connection: Some of the links in this post may be "affiliate links." This means if you click on the link and purchase an item, I will receive an affiliate commission. Disclosure in accordance with the Federal Trade Commission's 16 CFR, Part 255. This site is a participant in the Amazon Services LLC Associates Program, an affiliate advertising program designed to provide a means for sites to earn advertising fees by advertising and linking to Amazon.
Don't spend all day shopping for when you can look at these quick and easy Father's Day gifts! Oh, Father's Day is a special day once a year to celebrate the best dad you know, whether it's your husband, brother, or father. Dads are there for us when we need them to change a tire or chop some wood for a fireplace. Don't forget to let the special Dad in your life know how important he is to you.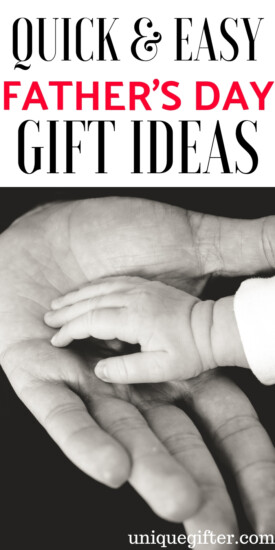 Quick And Easy Father's Day Gifts He Is Going To Love
Show your appreciation with any of these terrific presents.
Magnetic Wristband
Now, Dad can hold onto drill bits and other metal tools with this handy magnetic wristband. He'll never lose another screw or bolt again.
Box of assorted nuts
My dad was such a big fan of getting nuts and passed it along to me as well. Sometimes there's nothing better than some delicious snacks! These nuts come already shelled, so you don't even need a nutcracker.
Heat/Cut Resistant Gloves
Perfect for when Dad is doing something dangerous but doesn't want to lose a finger! These gloves are heat resistant up to 932 degrees Fahrenheit! He can use them for grilling, oven mitts, or camping! They're also cut resistant too! What a great find!
Grilling Tool Set
Most Dads love to get on the grill once it gets warm. Make sure he has everything he needs to making those burgers and hot dogs with this 24 piece grilling tool set! They are stainless steel and easy to clean!
Editor's Choice Quick and Easy Father's Day Gift Idea
Harmsen's Hockey Stick Bottle Opener
Handmade items made from recycled broken hockey sticks. Harmsen's Hockey currently offers bottle openers and Wood BBQ grill scrapers as well as custom items and t-shirts.
Tactical Flashlight
I don't even know if I've met a man that didn't have a flashlight that was near and dear to his heart, and yes I know how weird that sounds. So maybe Dad wants this tactical flashlight, with 5 different modes. It's water-resistant and practically indestructible. He's sure to love it.
Power Bank Phone Charger
We're all sometimes a bit too attached to our phones or tablets. Make sure Dad has enough battery on his phone so you can always give me a call when you need his help with this handy power bank. It's fast charging and claims to give you 3 full charges!
Personalized Leather Keychain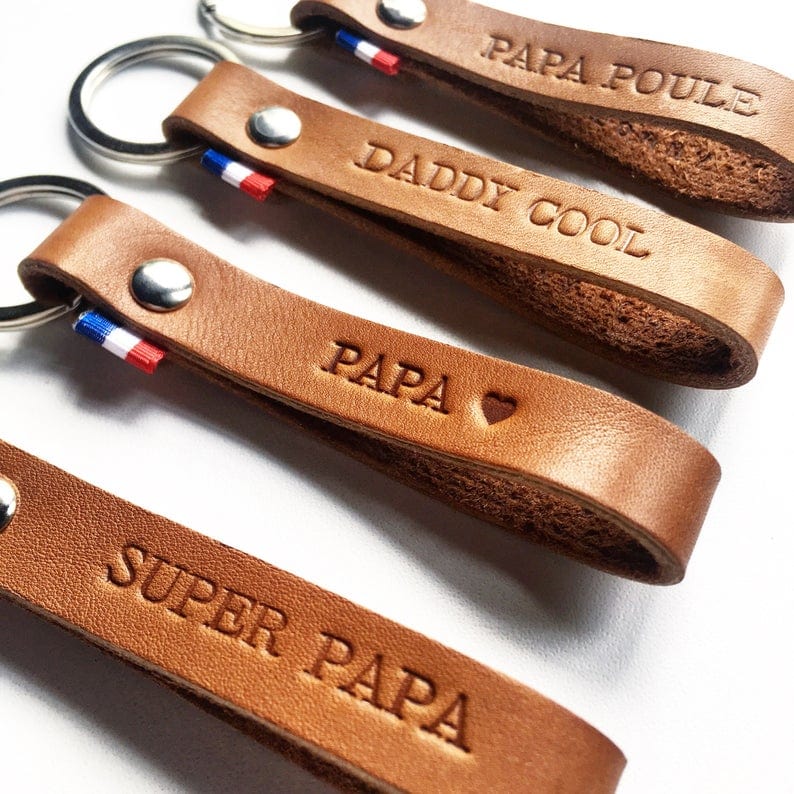 I know a keychain seems silly, but really it's near and dear to my heart. As a kid, my sisters and I bought my dad a simple keychain that said "I Love Dad" on it and he kept it his whole life. It's something small and he can always have it right with him. Personalize it with whatever message you want him to carry around. He'll love it, I promise.
"10 Reasons Why" Wood Cutout
I found this cut-out too sweet. It gives 10 reasons why everyone loves Dad. Make sure he knows. Those poor Dads don't hear it enough.
Butt soap
A funny little reminder to use the right side of the soap. We all gotta get clean, let him chuckle that one side of his soap says "butt" and the other says "face", you know in case he got confused.
MenScience Daily Facial Kit
Even Dads want some pampering sometimes. Our men don't always take care of themselves and their skin. Make sure he takes the time to give himself some TLC. Comes with a face scrub, face wash, face lotion, and a scrub brush.
AOFMEE Gentlemen's FavorBeard kit
For the Dad in your life that's growing, or has a beard, he'll love the pampering in this kit. Comes with beard oil and balm, both packed with essential oils to make his beard so soft and touchable.
Clinique Happy for Men
Everyone loves a good smelling man! If this smell isn't for your Dad, be sure and pick up a bottle he'll love. He'll be looking good and smelling good.
Tactical Pen
It's more than just a big metal pen. You can break a window if you're ever trapped in a car! Make sure Dad is always safe and ready to go with this pen.
Monogrammed Whiskey glass set
If you're Dad is a whiskey drinker, he'll love these monogrammed gold-rimmed glasses. They're classy but always there when you need a drink.
Plaid shirt
In my opinion, most men look good in plaid. There's a red and grey option to choose from. He'll be comfortable and handsome!
Bow tie
A simple bow tie to class that Dad up in your life. Available in numerous colors to help fit his personality. Bow ties are cool, so get one for the coolest man in your life!
Aviators
A simple pair of aviator sunglasses, but yet almost every man looks amazing in them. There are numerous color options to choose from. He's sure to love them!
Tommy Hilfiger wallet
Men love wallets, they really do! Here's a simple leather wallet, available 9 different colors for you to choose from! Make sure he never loses his debit card again!
Echo Dot
Make life a little easier on Dad by letting him use his voice to help order things or even just ask Alexa questions. The echo dot has made life easier for so many people. Let it help your Dad!
Lego Building coffee mug
This mug is perfect for the Dad whose still a big kid at heart. He can play with legos while he drinks on his favorite coffee or tea. There's no doubt he'll love it!
No matter who your Dad is, don't forget to celebrate him. They work so hard to help raise the kids and put food on the table, plus so much more. I hope you can find some gift that can be something special for the great man in your life! Dad will be sure to smile when you give him any of these quick and easy Father's Day gifts!