Disclosure of Material Connection: Some of the links in this post may be "affiliate links." This means if you click on the link and purchase an item, I will receive an affiliate commission. Disclosure in accordance with the Federal Trade Commission's 16 CFR, Part 255. This site is a participant in the Amazon Services LLC Associates Program, an affiliate advertising program designed to provide a means for sites to earn advertising fees by advertising and linking to Amazon.
Internet friends are real friends. They were just social distancing before it was cool. Get them a little something to show that you love and care about them even if you can't see them in person much or at all. Any of these gifts are sure to make your internet besties smile.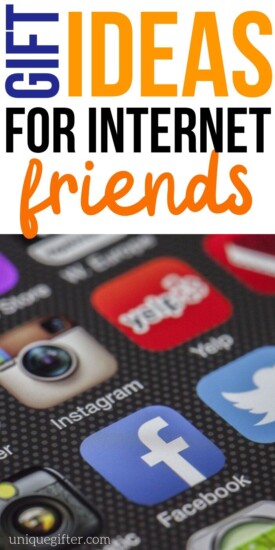 Gift Ideas for Internet Friends
All these gift choices are perfect for birthdays, Christmas, holidays, or just to send a thoughtful gift to your internet/online or long-distance friends. Even if virtual friendships are really getting something physical in the mail is always a welcomed surprise.
Best Friend Keyring
This best friend's keychain will remind your friend that you're thinking about them even if you're not there. Plus you can customize your own message if you'd prefer.
Poke Card
Sometimes it's more satisfying to poke someone in real life than on Facebook. This card will definitely make them chuckle at the lengths you went to for an arbitrary message. At this point, this kind of gift is for your vintage internet friends… those of us who have been around long enough to appreciate the Facebook poke!
Wine Subcription Service
If you wish you could head to the bar or pub with your internet friends, sign them up for a wine subscription box. Even better, get the same for yourself, so you can "share" a bottle of wine virtually!
I Love My Computer Mug

When all your friends live inside the computer it's really hard not to love it. Perfect for those of us who are a lot more social online than in real life.
Social Media Magnet Set
If you and your internet friend met on social media this is a great way to remind them of you. Now they can bring a bit of your relationship to their home and think of you every time they RT the fridge.
I Miss You Card
Do you ever miss someone and go onto their Facebook to fill the void? Let your internet friend know you'd like to spend more time with them than just on social media.
3D Crystal Portrait Memento 
Treat your internet friend with a custom 3D crystal frame you can upload your very own picture to! This way you can give them something stylish to remember you by. 
I Have Plenty of Friends Shirt
An honest gift for that internet friend who seems to have no social life in real life but is always busy online.
I Know You From The Internet Button
This cute button can remind your friend that while you don't know them in real life they are someone that you care about all the same.
Long Distance Mugs
These adorable matching mugs try and shrink the distance between you and your internet friend. Now you can think about each other every morning!
Heart Tie Clip
Give the tie-wearing internet friends in your life a "like" with this Instagram-inspired heart tie clip.
Player 1, Player 2 Bracelets
Hand stamped bracelets for you and your online gaming bestie. They also do custom orders so you can get any of your in-jokes printed up.
Chocolate Message
Use chocolates to tell your internet friend that you think of them. The most delicious way to tell them you care.
Care Package
You can't be there but you wish you were. The next best thing is to send a care package to help them feel better, celebrate, or simply brighten their day.
Best Friends Shirt
One half for you, the other for your internet bestie. Wear them on the same day and coordinate your Instagram posts, obviously.
I'm a Lot Cooler on the Internet Shirt
For those internet friends that seem really cool but you've gotten to know well enough to know they're not.
Rouxbe Online Cooking Course
Your internet friends are already very internet-savvy, but they have probably never before seen an online course… for cooking! Let them level-up their IRL food game with one of these extremely well-executed online cooking classes. Click here to read a full review of Rouxbe.
Browser History Bracelet Pin
Alert! Upon your friend's death, someone must clear their browser history. Now, if the worst happens, those taking care of them will know what to do. Phew.
Social Media Family
Show them your social-media-based relationship still feels like family – at least to you.
Food
Everyone loves food. Surprise your internet friend with snacks they can enjoy while spending more time on the internet.
Custom #Bracelet
Come up with your very own internet friend hashtag and have it engraved on a leather bracelet.
Weirdos on the Internet Card
The perfect card for when you just want to let your weirdo internet friend know how much you care.
Living far away from the people you really care about sucks. Hopefully, a few of these gift ideas will help bring the two of you closer together.
More Gifts for Internet Friends
In today's fast paced world, we are making more and more friends from the internet. These friends may be friends we will never meet in person, but they are friends none the less. Many of us meet people we work with online, meet people who are going through the same things we are online, or begin talking to friends from the past in our life.
Gifts for Internet Friends
Whether you have a friend you will never meet, or someone long distance that you hang out with a few times a year, we have the perfect gift ideas for your internet friends.We shared with you 20 gifts for internet friends, and now we are giving you more gifts for internet friends that you are going to love!
Glass Travel Fund
If you have an internet friend, you probably want to be able to see each other in person someday. A glass travel fund is a perfect gift idea for those who want to save to see each other.
Long distance Friendship Candle
Everyone loves candles, and internet friends are no different. Give them a candle that says, "I miss your face!"
Long Distance Friendship Light
Friendship lights are really cool! They use WIFI so when you touch the lamp, the other person knows you are thinking about them because their light goes on.
Wine
I seriously don't know anyone that wouldn't love some wine as a gift. I mean life can get stressful, and sometimes, you just need a wine and chill night. This Keep Cool Gift Basket makes the perfect wine gift for any friendship.
Long Distance Friendship Frame
A long distance friendship frame is a great way to show that no matter how far the distance, you are always together at heart. Get it personalized with your friends name, the states, and any special requests.
Friends Wine Glasses
No matter how far the distance of your relationship goes, you are never too far apart to wine together. These adorable friends wine glasses are a perfect gift and could even go with some wine, too.
Long Distance Friendship Pillow
Get your internet friend a personalized long-distance friendship pillow. You can personalize this pillow to show the cities or states apart you are, the fabric, and even the dimensions.
Books
None of us really read quite as much as we should. So, get your friends relaxing and reading a little more by sending them books as a gift.
Countdown Clock
If you are planning to go see your friend, a great gift to give is a countdown clock. You can set the clock to countdown until the day you plan to meet.
Friendship Poster
This "Friendship knows no distance" poster is a perfect home decor gift. It shows your friend that no matter how far apart you are, distance will never be an obstacle.
Long Distance Friendship Necklace
This is a cute customizable necklace that lets you put the states where each of you live on it. This is a great way to show that friends can be all over the world, but still in our hearts.
Customized Wine Glasses
I like personalized gifts because you can say whatever you want. So, if you have fun saying just between the two of you, get these personalized wine glasses with them engraved on them.
Yoga Kit
Yoga has become very popular lately. This is because it has a plethora of benefits. However, it can be challenging to find time to rejuvenate with some Yoga, but if you give a Yoga kit, your friend is sure to get what she needs.
Internet Password Book
If you met your friend on the internet chances are that you both work remotely online. With that kind of job, you are always creating new accounts with new passwords. This internet password book is a life saver.
Apple IPAD Mini
If you want to go all out for your friend, an Apple IPAD Mini is an excellent option especially for those who need the internet daily. Those who work on the internet would really love one of these as a gift.
Chromebook
Another great, all-out, option is a Chromebook. Chromebooks are versatile and can be carried with you almost anywhere. This means you can always stay in contact with your internet friends.
Partners in Crime Necklaces
I know my best friend and I are definitely "Partners in Crime." Just because they are an internet friend doesn't mean you can't get together on things and be a partner in crime.
Willow Tree Friendship Keepsake Box
Keepsake boxes are something everyone needs. This Willow Tree Friendship Keepsake Box is the perfect knick-knack for an internet friend. Not only can they keep things that remind them of you in the box, but it makes a great decor piece.
Engraved Wooden Coaster
Trust me, coasters are great because even if you have them, they always end up disappearing when you need them. This engraved coaster is a great way to share the love of your friendship especially if you met by being colleagues.
Tumbler Mug
Coffee mugs make great gifts, but this tumbler mug is perfect for those friends who are "Miles apart yet still close at heart."
Love You Friend Coloring Book
It has only been recently that adults have realized the benefits of adult coloring. This love you friend coloring book is the perfect anti-stress coloring book for friends.
Butterfly Suncatcher
Embedded in glass with a metal frame and a friendship charm, this Butterfly suncatcher is a super cute wind chime. Wind chimes make excellent gifts for friends in both houses and apartments with a balcony.
Golden Girls Friend Book
The Golden Girls really taught us the true meaning of friendship didn't they?! This Golden Girls Friend book gives your friend everything she needs to know about life according to the fearless wisdom of the Golden Girls!
Thankful Bitch Keychain
Do you have one of those friends that you can curse with and just have a funny relationship? If you do, this Thankful Bitch Keychain is definitely going to win your friend over. Just expect to get something just as funny.
Coffee Spoon
Whether you are far apart or just can't see each other every day, you can still have coffee together. These "Having coffee together" spoons remind your friend you love them every morning when they have their cup of coffee.
Wine Socks
I love my soft, comfy, and fluffy socks! Socks make great gifts all around. But, these socks are perfect because they let everyone in the house know that your friend needs some wine.
I Love You Friends Blanket
An I Love You Friends Blanket makes a great gift for the fall months or those cold winter months. If your friend works from home, this is the perfect throw for her to use while she sips her coffee and works on her computer in the morning.
Forever Friends Figurine
This figurine is so cute! It is a great way for your friend to look around the house and see how much you care each and every day. They remind me of the Willow Tree Figurines.
Trimmed Box Sign
Two friends are like the smallest gang in town, but if you would do anything for each other, then a gang you are. This cute Trimmed Box Sign shows just how incredible your gang is.
Fuck this Shit O' Clock Journal
If you have the kind of friend that doesn't expect you to be prim and proper all the time, this is the perfect gift. Why?! Because, sometimes you just want to say, " Fuck this shit!"
Did you like this fabulous list of gifts for internet friends? We would love to hear what you think in the comments below! Don't forget to pin this so you can refer to it later!