Disclosure of Material Connection: Some of the links in this post may be "affiliate links." This means if you click on the link and purchase an item, I will receive an affiliate commission. Disclosure in accordance with the Federal Trade Commission's 16 CFR, Part 255. This site is a participant in the Amazon Services LLC Associates Program, an affiliate advertising program designed to provide a means for sites to earn advertising fees by advertising and linking to Amazon.
One of my favourite ways to create a unique wedding gift, to give it that little sumthin' sumthin', is to include a poem. You can do wonders with scrapbooking or by simply pasting into Word and adding some graphics! Adding a poem tells the recipient that you took those few extra minutes and personalized their gift, but it let's you be both frugal AND thoughtful. Win – win, no?? To put together a sugar pot gift that's got that little extra touch, I've pulled together a few poems for you, including a free printable!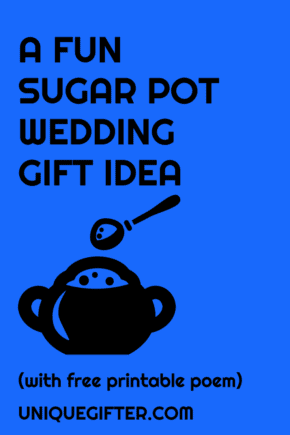 Another awesome part about poetry is there is a ton of it floating out there in cyberspace for free!! It may take a few minutes to find one that you like, but you should be able to find something. Always make sure to fully credit the author! Even better would be to make up your very own poem, if you are so artistically inclined.
I particularly like this first poem because it references young lovers, aka it's perfect for a wedding gift!
Sugar – a poem

Red leather chairs,
Snuggled into booths,
Square Formica table tops,
Warming in the sun,
Tinny music playing – quietly,
Drifting through the air,
Masking the sounds,
Of coffee being made,
And orders being dispatched,
To young couples,
Their hands clasped together,
Sharing smiles,
Whispering secrets,
Muttering pledges of love.
But,
The sugar bowl doesn't care,
Doesn't listen,
It is too busy –
Preoccupied with longing,
Dreaming,
About the return,
Of its long lost spoon.

– Clive Martyn
This one is translated from Persian and was written back in the 13th century!
A Moment of Happiness

A moment of happiness,
you and I sitting on the verandah,
apparently two, but one in soul, you and I.
We feel the flowing water of life here,
you and I, with the garden's beauty
and the birds singing.
The stars will be watching us,
and we will show them
what it is to be a thin crescent moon.
You and I unselfed, will be together,
indifferent to idle speculation, you and I.
The parrots of heaven will be cracking sugar
as we laugh together, you and I.
In one form upon this earth,
and in another form in a timeless sweet land.
If you would like to print out the first one, you can click on this image,which will take you to a larger version, then right click and select print. It will cover half a sheet of letter size paper. Please let me know if you have any problems with it (especially quality), as it is the first time I've attempted to upload a printable!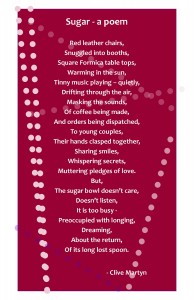 Naturally, including some really nice sugar is always a good idea. Later I will add a post on how to make your very own flavour infused sugar to add to the sugar pot!
What about some raw, organic sugar? Perhaps some super cute sugar cubes and a pair of tongs? Is there a sugar spoon available separately in the flatware pattern?
[Photo – CC Attribution Share Alike – avlxyz]