Disclosure of Material Connection: Some of the links in this post may be "affiliate links." This means if you click on the link and purchase an item, I will receive an affiliate commission. Disclosure in accordance with the Federal Trade Commission's 16 CFR, Part 255. This site is a participant in the Amazon Services LLC Associates Program, an affiliate advertising program designed to provide a means for sites to earn advertising fees by advertising and linking to Amazon.
When it comes to inspired wedding gift ideas, starting at the wedding gift registry there are some rather strong themes that emerge, especially when it comes to china and tableware. I've covered teapots once before, writing about teapot wedding gift top ups, and a selection of teapot and teacup poems. This May my spouse and I got to attend our friends' wedding and after perusing the registry for a while, decided to get the teapot. The bachelorette party said no gifts and I didn't go to any showers as I live out of town, so obviously I needed to do something fun with the wedding gift!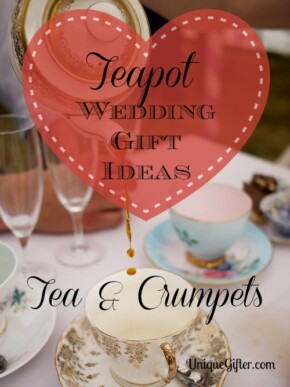 What goes with tea? Tea and Crumpets!
Now, I have never made crumpets before and unfortunately they are full of eggs, which we now know my spouse is allergic to, as well as yeast. Vegan Dad has a vegan crumpet recipe, if just the eggs are a problem for you. It turns out that homemade crumpets use crumpet rings
, which are pretty much the same as egg rings
. (I also read that you can use small cans, like tuna cans with both ends removed.) They cost $5-$10, so are a reasonable wedding gift top up. I've made a printable here for you to use, with a recipe for crumpets. It is posh, to fit with the idea of tea and crumpets!
Add the crumpet recipe to your teapot wedding gift, perhaps the crumpet/egg rings, and a jar of jam. This is a great way to include a homemade touch in your gift, if you have some home canning. There are a lot of other ideas you could include as well, really the sky is the limit.
Teapot and Crumpets Wedding Gift
Teapot
Crumpet Recipe Printable
Crumpet Rings
Jam
Whatever Else you Fancy
All you need to do is print out this free crumpet recipe printable, by clicking here: Old Fashioned English Crumpets and then pressing Ctrl + P to bring up your printer dialogue box. I'd recommend printing on some thicker paper, like a nice cardstock. You'll note that you get two copies when you print it, one for your gift recipient and one for you!
Now all you have to do is wrap up your teapot gift nicely and include the bonus items!
Have you ever made crumpets at home before? Were they delicious?
[Photo – Creative Commons Attribution Share Alike – Becaroona]