Disclosure of Material Connection: Some of the links in this post may be "affiliate links." This means if you click on the link and purchase an item, I will receive an affiliate commission. Disclosure in accordance with the Federal Trade Commission's 16 CFR, Part 255. This site is a participant in the Amazon Services LLC Associates Program, an affiliate advertising program designed to provide a means for sites to earn advertising fees by advertising and linking to Amazon.
Gift Ideas For Friends On Keto
It's the end of 2019 and chances are you know at least one person that has ditched carbs and began their journey on the keto diet. Special holidays can be extremely difficult for their family and friends after tossing out the pasta because the diet extremely limits what they can eat or receive as gifts! As a fellow keto dieter, I've decided to help all you sugar eaters out! I'll start by saying that we absolutely love getting keto-friendly food items! They can be quite expensive and it's so nice to have a low carb version of our favorite foods we thought we couldn't eat anymore!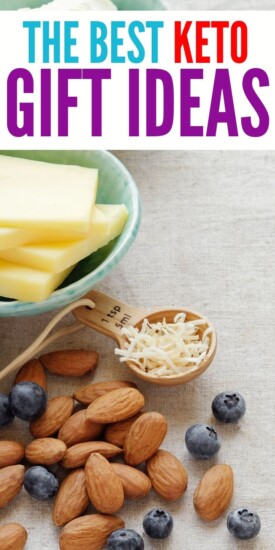 Thoughtful Keto Gifts
Let's get started on this delicious keto list!
Keto Shirt
Ketones and coffee are the most important thing for anyone on keto! This shirt will be appreciated by all.
Kitchen Towels
These kitchen towels are exactly what your loved one's keto kitchen needs! They'll love them!
Potholders
Your anti-pasta eater will need these while they're pulling their low carb dinner out of the oven every night! These potholders are sure to be a hit!
Onederland Bracelet
Onderland is a term that keto dieters use to describe when they dip below 200 pounds for the first time. This bracelet is a great way to celebrate achieving their goal!
Keto AF Mug
You're either not keto or you're keto AF. There's no in-between.
Snack Box
Take one look at this awesome snack collection and remove any doubt you may have! This thing is FULL of keto goodies and trust us, sometimes we just want to snack and not cook!
Cocktail Mix
One of the hardest things about keto is figuring out what you can have as far as alcoholic drinks go. This premade cocktail mix is easy and lifts the burden of counting everything they're ingesting for once!
High Quality Beef Sticks
Beef sticks are probably the best keto snack! These come from high-quality beef and have more of the good fats they need to stay in ketosis.
Vegetable Slicer
Just because they're keto doesn't mean they can't enjoy pasta! Buy them a veggie slicer so they can still enjoy delicious Italian cuisine at home.
Southern Food Cookbook
Southern food is chock full of carbs. Everything's breaded and has sugar in it. But not anymore with this awesome cookbook!
Coconut Sweetener
Coconut is a must-have in every ketoer's kitchen! It has tons of good fat and is lower in sugar than any other fruit!
Hair Ties
While these aren't edible, they are absolutely adorable! Avocados are a huge staple in the keto diet too!
Bread Pillow
Some things are hard to let go of, but now you can ease your ketoer's bread craving with the least dangerous loaf of bread in all of existence.
Carbquik
We always have this stuff in our home! We use it to make pancakes, pizza crust, and biscuits! They will want to kiss you on the lips when they see this!
Keto Mojo
Help your low-carber keep an eye on their ketones with this awesome test kit!
Keto Cereal
I think cereal is one of the things I miss the most! Your loved one will be incredibly happy to see this as a gift!
Keto Friendly Hot Sauce made with Ripe Avocados
This sauce is perfectly spice and delicious.
Keto Diet Cookbook For Beginners
If you know someone is starting out eating keto, this cookbook will be very helpful.
FreshJax Gourmet Seasonings & Spices
These keto spices are fancy and will make all those keto dinners taste even more flavorful.
Mini Waffle Maker Machine
When you eat keto, often keto chaffles are on the menu. This waffle maker is exactly what you need to make them too.
And there are the best gifts you can give to anyone on the keto diet! Did you find anything on here you grabbed for anyone? Hit us up over on Twitter(@ugifter) or Instagram (@uniquegifter) and tell us what you got!