Disclosure of Material Connection: Some of the links in this post may be "affiliate links." This means if you click on the link and purchase an item, I will receive an affiliate commission. Disclosure in accordance with the Federal Trade Commission's 16 CFR, Part 255. This site is a participant in the Amazon Services LLC Associates Program, an affiliate advertising program designed to provide a means for sites to earn advertising fees by advertising and linking to Amazon.
Do you know a kayaker and want to find the perfect gift for them? There is nothing more perfect for a kayaker than you guessed it – kayak gifts. Whether it's something that they can use out on the water, or kayak related decor, we have you covered with this list of 20 gift ideas for a kayaker.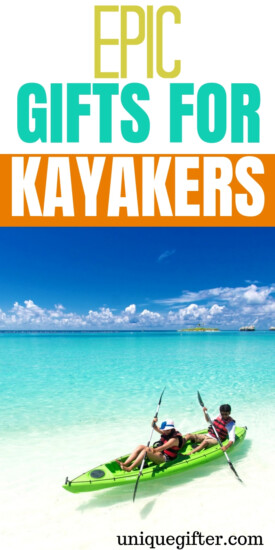 Gift Ideas for a Kayaker
Do you have a particular kayaker fanatic in your life that you are searching for the perfect gift for? If so, have a peek at this terrific gifts for kayakers. If you have never been kayaking yourself, you should give it a try. Enjoying the great outdoors and relieving stress all while taking in gorgeous scenery is sure to please almost anyone! Men, women and even older children can enjoy kayaking. Take a look at these gift ideas, and you will be surprised by how many things are on the market that is perfect for kayakers.
Waterproof Dry Bag
No kayaker can ever collect too many waterproof sacks. Surprise them with a practical gift for those summer days out on the water.
Kayak Keychain
This cute kayak keychain comes in a variety of colours. It would be perfect for the kayak lock or shed keys.
Kayak Embroidered Cap
Cool and practical – this kayak embroidered cap will help keep faces protected from the sun and is fashionable at the same time.
Waterproof Phone Pouch
Because no one goes anywhere without their phones these days – this waterproof phone pouch is the perfect accessory for a kayaker.
Kayak Pen
This kayak pen is a practical gift that wouldn't paddle far from its spot in the office.
Rustic Key Hook
This beautiful piece of decor captures the essence of kayaking and the outdoors. A great addition to any characteristic old cabin.
Kayak Throw Pillow Case
Something for the kayaker who has everything – a kayak throw pillow case, because pillow cases always come in handy.
Quick Drying Water Shoes
Quick drying water shoes are a must for anyone who spends any significant time out in the water, especially those active in water sports. Chances are your kayaking friend already has a pair, but chances are they could use an upgrade.
Kayaker Cufflinks
For the fancier kayaker who wears a suit during the workday – they will appreciate this little reminder of the weekend to come.
Kayak Tie Clip
This would go well with the cufflinks – a delicate and small accessory that makes a big statement.
Funny – Sticker 'Kayaking Gets Me Wet'
Oh the innuendos… This sticker is perfect for the pun lover.
Sea Kayaks Art Decor
Great for bringing a little bit of the kayak action inside the home, this wall art set would go wonderfully as a kayak lovers artistic centrepiece.
Kayaker Necklace
For the female kayaker (because all girls love a little bit of bling), this kayaker necklace is that little reminder of what they'd rather be doing during the day.
Whirligig Kayak Spinner
For a fun garden accessory, this whirligig kayak spinner is big and vibrant to brighten up any plain lawn.
Waterproof Bluetooth Speaker
It gets kind of boring kayaking alone with the sound of waves and nature, wait.. does it? In any case, waterproof speakers are a must to keep any water related activities pumping with the tunes.
'Keep Calm Kayak On' Art Print
When the 'Keep Calm Carry On' alternatives took the world by storm, kayaking was no exception. The result is plain and simple: 'Keep Calm Kayak On' wall art decor.
Kayak Paddle Leash
Despite being something so essential and functional for safety, it often gets forgotten about. Show how much you care about your kayakers safety with this convenient kayak paddle leash.
Car Top Kayak Carrier Kit
Do you find kayak fans trying to jam their kayak in their cars every trip? Do you glare at their sloppy tie-down job on their roof? Give them the hint with this handy car top kayaker carrier kit!
Floating Insulated Cooler
Let's get real. There is no point in going kayaking if you aren't towing this awesome floating cooler. It will save space on the kayak itself while keeping drinks cooler for longer.
'Just Add Water' Kayak Lovers T-shirt
You can't kayak without that one essential ingredient – water. This 'Life Is Simple, Just Add Water' t-shirt is just the thing for kayak lovers.
Anchor System
This anchor system has 25 feet of rope and can be anchored in mud, sand, rocks or any other type of environment. Perfect if you just want to sit and take in the scenery for a while on your kayak.
Whitewater Kayak Shirt
This hilarious t-shirt makes a terrific gift for anyone in the family. Every kayak lover should have this shirt! These shirts come in all different sizes.
Wetsuit Changing Mat
Nothing worse than needing to change out of your wetsuit and you end up covered in dirt or sand. This changing mat will help prevent you from getting all dirty while changing into dry clothes.
Paddling Gel Seat Pad
Gone are the days of kayaking and your rear hurting for hours after. You can be so much more comfortable with this gel seat pad.
LED Boating Lights
Safety is a must when you kayak so be prepared with these LED boating lights. The lights are water-resistant and will allow others to see you.
Paddling Chef Cookbook
Did you know you can enjoy tasty food even while rafting or kayaking? You don't have to live off of granola any longer! This book is so helpful and full of great ideas.
Kayak Paddler Decal
The recipient of this gift can place the decal on their vehicle, kayak, cup or even a cooler. No matter where they put the sticker it is going to look fantastic!
High Back Lumbar Support
The last thing you want when you are floating down the river is to have a sore back. This provides you with tons of comfort so you can be out enjoying the day with minimal pain or issues.
"Work Sucks, Going Kayaking" Coffee Mug
Now they can enjoy a fresh cup of joe out of this stylish and playful coffee mug. Pretty sure we would all like to skip work to enjoy the great outdoors!
Heimdall Safety Whistle With Lanyard
Staying safe is always a priority, and these whistles are fail-safe and provide a high pitched sound that you can hear for up to a mile away.
Coasters
No more cup rings on the wooden coffee table when you have these tremendous looking coasters. There are four different designs in each set.
"Okayest Kayaker Ever" Water Bottle
This water bottle is hilarious and sure to get a laugh from everyone. Let's face it; we can't all be the very best anyway!
Boat Fishing Ruler
Now you don't have to guess how big the fish is that you caught. You can just measure it with this nifty ruler! You can find a fish that is up to 36 inches long and use this ruler.
Kayaker Cutting Board
This cutting board is excellent for dicing fruit and vegetables as well as slices of meat. Did I mention that it looks cool too?
Waterproof Digital Camera
This digital camera is waterproof, and a must have if you spend lots of time in or near the water. You will be able to capture fish and underwater plants with ease.
Waterproof Binoculars
You will be able to see the world from a distance with these waterproof binoculars. It is always important to be able to know your surroundings so you can plan your next step. Plus, it is nice to be able to check out the scenery with a new view!
LED Tactical Flashlight
This heavy duty flashlight is perfect for outdoors. It is water resistant and has a charger and battery.
Emergency Survival Kit
This kit is compact and is a 9 in 1, so you will be prepared for several types of emergencies. You will find a wire saw, compass, can opener, fire starter and much more. Everyone needs one of these kits no matter what hobbies you have.
Kayak Paddler
This handmade item looks superb on a desk or shelf. There are no two of these that will be the same.
Socks
These socks provide three things, comfort, warmth, and a funny saying! These socks are useful and will make everyone chuckle.
Have you ever been kayaking?