Disclosure of Material Connection: Some of the links in this post may be "affiliate links." This means if you click on the link and purchase an item, I will receive an affiliate commission. Disclosure in accordance with the Federal Trade Commission's 16 CFR, Part 255. This site is a participant in the Amazon Services LLC Associates Program, an affiliate advertising program designed to provide a means for sites to earn advertising fees by advertising and linking to Amazon.
Legendary Letterkenny Gifts
Letterkenny is likely one of the greatest shows in existence at the moment and if you've got a problem with it, I suggest you let that one marinate. Since its release in 2016, it's gained quite the following and the show gains more momentum with each season it releases. Such a beloved show is bound to have a plethora of merchandise, right?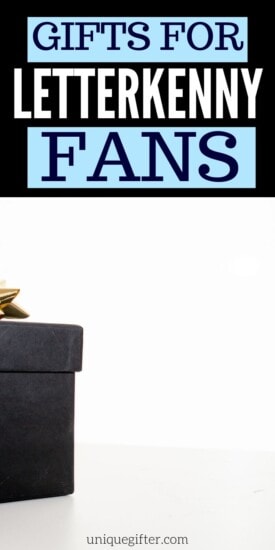 To Be Fair, These Gifts Are Pretty Wonderful
Since the show has garnered such a big audience in such a short time, I'm pretty sure that you've got a fan or two in your midsts and (speaking from personal experience) there isn't a fan out there that wouldn't go crazy over that perfect Letterkenny gift. We've done all of the leg work when it comes to finding the greatest Letterkenny presents out there, Big Shoots, so let's get to this list!
Allegedly T-Shirt
Did you hear about Ginger and the ostrich? Word around Letterkenny is that they had a special relationship. Allegedly.
Pitter Patter Coffee Mug
What better way for a Letterkenny fan to start their morning than with their daily dose of caffeine featuring these motivating words? Pitter Patter, let's get at 'er!
Letterkenny Irish Baseball Cap
Help the Letterkenny fan in your life root for their favorite team! Whether they're a sports fan or not, chances are pretty good that they're gonna love this hat.
License Plate Frame
Another pitter-patter product? To be faaaaiiiirr, it's one of the most commonly used phrases in the show and if you were a fan, you'd already know that!
Ferda Flag
This flag is a real smoke show, boys. A little bit of perfect gifting, boys. Ferrrddaaaa!
Texas-Sized 10-4 Can Cooler Sleeve
Stylish? Check. Fan service? Double-check. Is it going to keep your drink cozy yet cool? The answer is right there on the sleeve.
Super Soft Birthday Party Balloons
If you've got a Letterkenny fan in your life and you love them, you better be throwing them a super soft birthday party! This 48 pack of brightly colored balloons feature different lines from Letterkenny and are perfect for the event.
Hard No Flask
A fantastic way of simultaneously showing off Letterkenny spirit and answering questions while you swig your drink of choice. This is a must-have for any fan of the series.
Letterkenny Season 1-5 (DVD)
I'm pretty certain that the Letterkenny fan in your life would love to own the majority of the series on DVD. Do they already have it? Buy it for anyone because everyone is a Letterkenny fan. Some just don't know it yet.
Wayne Bobblehead
The toughest guy in Letterkenny is now the toughest bobblehead on your fan's shelf. If you don't think this is the perfect gift, you're spare parts, bud. Figure it out.
Letterkenny Coasters
This set of coasters comes in a pack of four and you get to choose the patterns that best suit the gift recipient. You've gotta watch your drinks around your furniture. Ring marks, bud.
Letterkenny Dog Decal
This German Shepard is the iconic logo of the series and any fan would love to have this on their rear windshield. Promote the fact that Letterkenny is the toughest series on television, big shoots.
Letterkenny Bracelet
Got a fan in your life that loves accessories? These bracelets are for them. Pick from a variety of phrases, all handmade out of snazzy-looking aluminum.
How're Ya Now Bottle Opener
Get your fan a Puppers. After that, hand them this bottle opener. You'll have the happiest Letterkenny fan you've ever seen when it's all said and done.
Hard No Keychain
Another one of the most popular lines from the series! This keychain is available in aluminum, brass, copper and it's going to look outstanding on your fan's keyring.
Modean's Hoodie
The best bar (the only bar) in Letterkenny gets its own hoodie design! This hoodie is bound to not only keep the Letterkenny fan in your life warm, but likely to keep a smile on their face as well.
Letterkenny Puzzle
Well, Puzzle, you're a puzzle that is Letterkenny themed and features Squirrelly Dan and that's what I appreciate about you. I'm pretty sure your fan will appreciate it as well!
Oh My Gourd Glass
If you decide to get this awesome can-shaped glass for the Letterkenny fan in your life, there's a strong chance they'll be overjoyed. There's also a chance that you'll hear them say Glen's phrase as well. Oh, my gourd!
Letterkenny Minimalist Art Print
Last on the list is this pretty sweet print. Wayne standing tough and triumphant as usual in the dead center, he's surrounded by line after line of quotes from the series that make up the rest of the picture. Quite the piece of art for Letterkenny fans!
Well, that's it, big shooter! I've managed to come up with the greatest gifts that you can find in reference to Letterkenny and I'm pretty happy with it. If you haven't found the perfect gift for the fan in your life, then you're spare parts, bud. If you did find something on the list that your fan absolutely adored or maybe you found something that you went nuts over, feel free to let us know on Twitter (@ugifter) or Instagram (@uniquegifter) and thanks for checking out Legendary Letterkenny Gifts!