Disclosure of Material Connection: Some of the links in this post may be "affiliate links." This means if you click on the link and purchase an item, I will receive an affiliate commission. Disclosure in accordance with the Federal Trade Commission's 16 CFR, Part 255. This site is a participant in the Amazon Services LLC Associates Program, an affiliate advertising program designed to provide a means for sites to earn advertising fees by advertising and linking to Amazon.
These stocking stuffer ideas for women are fantastic and sure to bring a smile to her face. Holiday shopping can be stressful at times, so I wanted to give you some terrific ideas to help you out. I know that I would love any of these gifts in my stocking. Plus, it's nice to feel appreciated, and these little mementos are a great way to show that.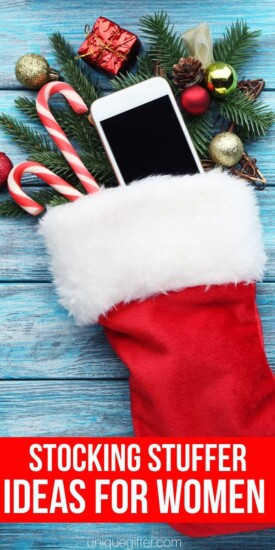 50 Stocking Stuffer Ideas For Women
She is going to be super excited when she sees she has gifts in her stocking this year. It's nice that you thought of her, and she will love all of these gifts.
Heated Socks

If she's cold all the time, she will love having toasty tootsies in the chilly winter. This will make her really happy.
lass Nail File With Case
Best Stocking Stuffer Ideas For Women
iPhone Battery Case
This battery case is a phone case with a built-in battery that keeps your iPhone charged throughout your day. It connects to your iPhone's lightning port and will stay on your phone 24/7, giving you full power and protection.

Keeping her manicure looking stunning is easy with this lovely gift idea. It will be a perfect asset to her stocking!
Lip Balm Set

They have several different options available to choose from with many different flavors. They're soft and feels great on your lips.
Body Scrub

This scrub is a great way to exfoliate and hydrate her skin. She will love how silky and smooth she feels after using it.
Back Scratcher

It will be relaxing and enjoyable to use this extendable back scratcher. She will love every second of it.
Bath Bomb Set

She'll love relaxing in a hot bath after a long day. Add in some bath bombs, and it's next level amazing.
Boho Headbands

These super cute headbands are so adorable and will go with all her favorite outfits. Many colors to choose from too.
Bracelet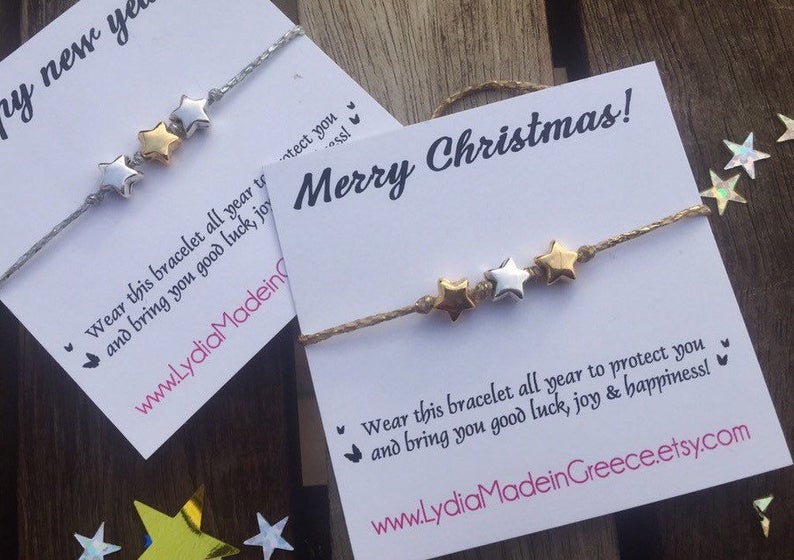 This dainty and charming bracelet will make her smile and will look lovely on her wrist.
Scented Candles

She is going to be thrilled to get one of these scented candles. They are gorgeous too!
Kate Spayd Earrings

These stunning earrings are going to warm her heart! They are so gorgeous she can't help but fall in love with them.
Watch

A watch is a practical gift that is also really pretty too. She is going to be super excited!
PopSocket


A PopSocket is so handy to have around and is great for stuffing a stocking.
Coach Perfume

She will enjoy how elegant this Coach perfume is. Plus, she will know you put some thought into it.
Homemade Soaps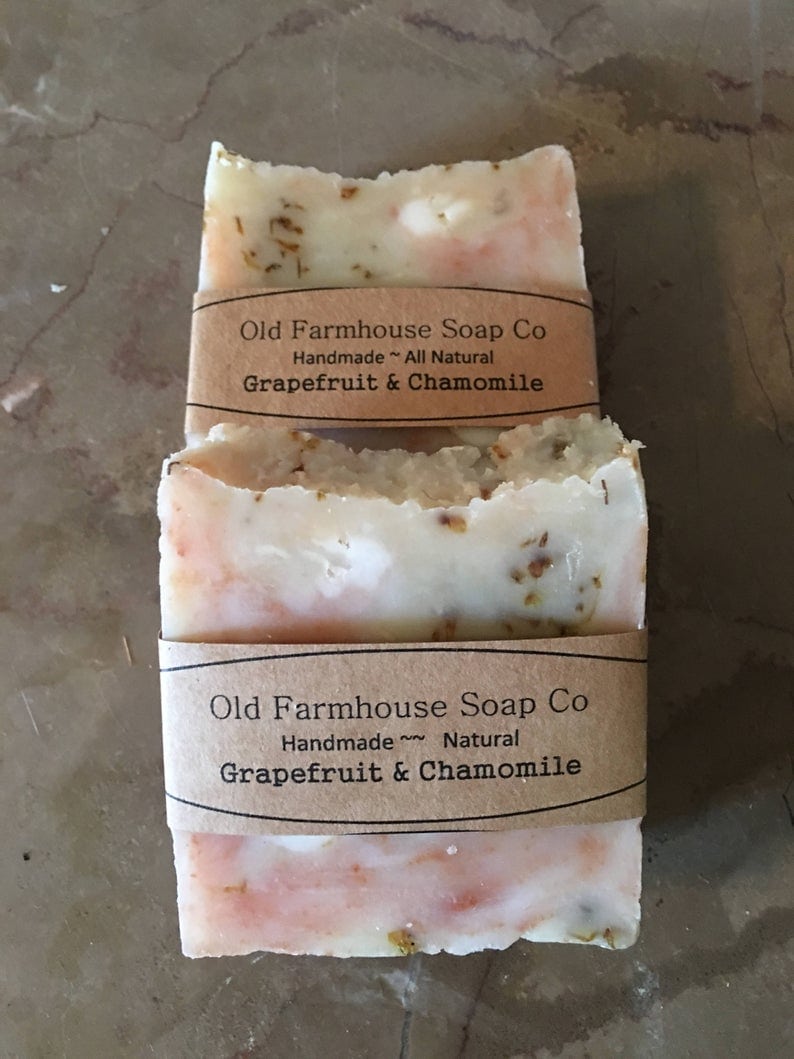 These soaps smell AMAZING and look stunning too. She is going to be excited to use them.
Stemless Wine Tumbler

This stemless wine tumbler is bright, colorful, and perfect for sipping wine, beer, or even coffee.
Gourmet Chocolate Truffles

She will love indulging in these sweet and chocolate truffles. Every bite is even more amazing than the last.
Jewelry Organizer

When traveling, it's nice to have your jewelry organized, so it doesn't get tangled or lost. This organizer is fantastic for that.
Jade Roller

This set has 3 different options to get those wrinkles rolled away. She'll love how easy they are to use.
Cord Taco Trio

Each set comes with 3 cord taco trios! They are an excellent way to keep your cords from getting tangled up.
Leather Gloves

These gloves are warm and cozy. Plus, they are super stylish as well. You can't go wrong with gloves.
Mandala Coasters

These coasters are fabulous! With gorgeous mandala designs, they will make her while and keep you from staining her furniture.
Pearls of Love Necklace

This sterling silver necklace has a delightful freshwater pearl. It's dainty and elegant.
Knitted Hat

She can keep her head warm and have her ponytail looking good with this adorable knitted hat.
Rollerball Perfume

This Kate Spayd rollerball perfume smells great, and she will love being able to just toss it in her purse and hit the road.
Phone Case

You can never go wrong with an updated phone case. This one has lots of glitter and comes in several colors to choose from.
Fuzzy Socks

Women can never have too many pairs of fuzzy socks. Keeping her feet warm just got a lot more fashionable too.
Waist Pack

If she loves to workout or go on runs, she needs one of these waist packs. She can store her keys, phone, and other small accessories.
Eye Mask

This eye mask can be used hot or cold. It's great for headaches and just sleeping. She will be able to relax and enjoy some rest.
Wine Bottle Plug

If she loves wine but doesn't drink the entire bottle at once, these stoppers are great. This set comes with 5 stoppers.
Lip Gloss

Lip gloss fans will go wild for this set of 5 gorgeous lip gloss colors. Each one will look lovely on her too.
Tinsel Smoothing Oil

She will love how soft and shiny her hair is after using this soothing oil. It's great for on the go too.
Sunglasses

Women (and men) can never have too many pairs of sunglasses. This pair is gorgeous also.
Ring Holder

This adorable ring holder looks like a cactus. It's perfect for setting on her dresser or nightstand to put her rings on each day.
Mittens

Going for a play in the snow is much more fun when you know your fingers aren't going to freeze off. These mittens are warm and comfortable.
Hair Scrunchies

I would never have guessed hair scrunchies were going to make a comeback, but they are a HUGE hit right now. She will love this variety pack.
Nail Polish

If she loves having her nails look good, she will be ecstatic over these polishes. The colors are beautiful.
Plant Magnets

These aren't plain old boring magnets, they are extraordinary! They look like little pineapples and are super cute.
Keychain

This boho pom keychain is going to be a huge hit. She will love the colors and style of this lovely keychain.
10 Foot Phone Charger

Having an extra-long phone charger is so handy. It's great to be able to charge it and still use it without using a short cord.
Ta Ta Toasters

If she has a wonderful sense of humor, these Ta Ta Toasters will be fantastic for her. She will get some great laughs of out them.
Selfie Stick

If she loves taking selfies but doesn't have a selfie stick, this is the perfect gift for her!
Journal

She can keep track of all sorts of things in this terrific journal. It is really beautiful too.
Scarf

This scarf is gorgeous and will help keep her warm in the cold, harsh winter. She will love this!
Oil Diffuser

Whether she is just getting started with oils or is a fanatic, she will enjoy this oil diffuser. It's easy to use and works great.
Loose Leaf Tea

If she loves to sip on a cup of hot tea, this is a wonderful gift for her. They taste amazing too.
Manicure Kit

She can easily toss this kit in her purse, so she has it on the go. It's nice to have everything you need in one spot.
Diamond Earrings

These stunning diamond earrings are sure to make her feel extra special for Christmas.
Rub-a-Way Bar

If she spends a lot of time in the kitchen, she will appreciate this rub-a-way bar. It will help get rid of those nasty odors from working with food.
Wallet

This Fossil wallet looks beautiful, and she will love it. She can keep all her important information organized.
Echo Dot

This Echo Dot has Alexa and is great for listening to music, checking the weather, and learning some new jokes.
I hope you have found some useful information from these stocking stuffer ideas for women. She is sure to love many of them! Take a look at these ideas for more inspiration: