Disclosure of Material Connection: Some of the links in this post may be "affiliate links." This means if you click on the link and purchase an item, I will receive an affiliate commission. Disclosure in accordance with the Federal Trade Commission's 16 CFR, Part 255. This site is a participant in the Amazon Services LLC Associates Program, an affiliate advertising program designed to provide a means for sites to earn advertising fees by advertising and linking to Amazon.
Ok look, I know how it is. Men are impossible to shop for, especially on Valentine's Day. You want to do something sweet, thoughtful, and romantic – he's not as interested in getting those things. Get him one of these gifts, he's sure to love it.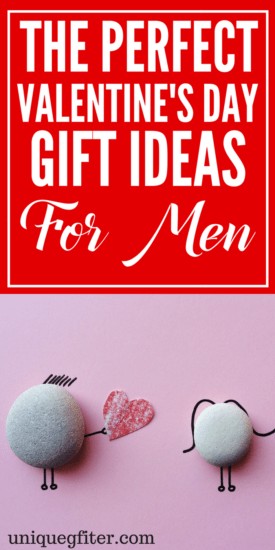 Six Ways I Love You
Fill up this box with his favourite 6 pack or assortment of craft beers. It's a cute way to package up something he loves.
Leather Keychain
This romantic, classy leather keychain is a great guy gift. It says "I know what love is because of you."
Hand Holding Mittens
Now you can hold each other's hands not through your mittens with these special gloves. How cute for those romantic winter walks.
Mixology Dice
If your man is passionate about alcohol this dice set is a perfect gift. Just roll, then learn how to make a new, traditional drink.
Multipurpose Tool
For the guy who has everything: this wallet sized tool is handy to keep around for all those emergency situations guys find themselves in.
Best Boyfriend Ever Mug
Hope Your Day… Keychain
You know what he's all about, so why not get a keychain that reflects how he feels about his favourite things in life.
Slim Wallet
How about something practical for Valentine's Day? I have yet to meet a guy that isn't stubbornly holding on to an old, stuffed full wallet. Help him upgrade.
Wallet Love Card
And to go with the wallet how about a romantic love card? Get it engraved with something special from your heart for him to carry around always.
Guitar Pick
For the guitar loving man in your life, this guitar pick is engraved with the message "I'd pick you every time". Cute pun.
Nice Cologne
Keep your man smelling nice all year by picking out your favourite scent for him to wear. It's kind of a gift for both of you really.
Cute Couple's Pillowcase Set
These cute his and her matching pillowcases have Spiderman on them for your nerdy boyfriend or husband.
Relationship Memories Book
This book is packed with fill in the blanks to help immortalize every aspect of your relationship. It's an especially great gift for a romantic guy who struggles to remember the important details.
Bath Bombs for Men
No guy wants to admit he'd like to try a bath bomb, and now he can with this non-girly option. After all, if it doesn't say "for men" then men can't use it.
Valentine's Day Vouchers
These vouchers are specifically designed with men in mind. They have things on them like "nag-free stud's night out" and "excessive use of remote". For the stereotype on your Valentine's Day list.
Gift Basket for Men
This "manly" gift basket even includes chocolate cigars. If he's a cigar guy, though, maybe grab him some real ones too.
Romantic Chocolate
Guys like chocolate but getting him something unique from a place like Etsy will really show him that he's special to you.
Realistic Heart Shirt
Hearts don't really look like hearts, do they? This one does.
Personalized Flask
Flasks are coming back in style, especially among millennials. Help him stay with the times by getting him this classic gift, and maybe a bottle of his favourite drink to fill it with.
Shaving Set
Get your guy something that he just wouldn't buy for himself. This nice-smelling shaving set will definitely be appreciated for Valentine's Day.
Guys never want to admit that they're romantic or want to be pampered. Force them by giving them a gift that makes their life a little better, easier, or more loving.