Disclosure of Material Connection: Some of the links in this post may be "affiliate links." This means if you click on the link and purchase an item, I will receive an affiliate commission. Disclosure in accordance with the Federal Trade Commission's 16 CFR, Part 255. This site is a participant in the Amazon Services LLC Associates Program, an affiliate advertising program designed to provide a means for sites to earn advertising fees by advertising and linking to Amazon.
Oh dad, we adore him, but man is he difficult to shop for sometimes. Add on something sweet like Valentine's Day and it's basically impossible. Don't get him something generic (or a gift card!) when the gifts on this list are out there in the world.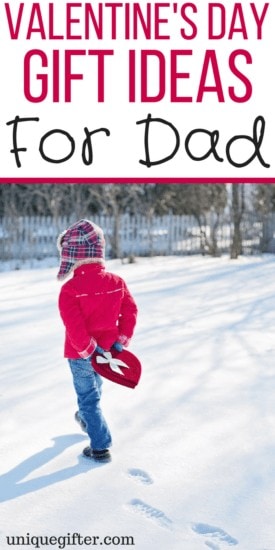 Heart Shaped Waffle Maker
Wake dad up on Valentine's day with the gift of a homemade breakfast. What's better than heart-shaped waffles?
Daddy's Fishing Buddies
This cute keychain can be personalized with all the kid's names, or get one for grandpa with the grand kids on it.
You Can't Scare Me Shirt
If dad has a sense of humour, get him a shirt like this for Valentine's Day. This one says "You can't scare me, I have two daughters."
Best Cat Dad Ever Mug
Just because he's not a dad to children doesn't mean he's not a dad! Get the best cat dad ever this mug as a Valentine's Day surprise.
Daddy's Gone Fishing
This little dish is handmade and oh-so-adorable. Daddy can use it as a ring holder or to keep any little odds and ends he has laying around.
Hand Drawn Cufflinks
Give something that's really personal to dad from the kids. These cufflinks can be personalized with your child's drawing, dad will love it!
Why I Love Dad Book
This book is a great keepsake gift for your dad. Fill out the pages with memories and photos and all the reasons why you love him.
Da… Spoon
Perfect for a new dad: Da… Dad… Daddy… Gift his favourite cereal alongside this personalized spoon.
Dad Car Mat Shirt
This t-shirt is perfect for dad and kids to play together. Dad gets to lay there and enjoy a back massage, the kids think they're playing. Win-win.
Cable Management Sleeve
Look, I know what you're thinking: A cable management sleeve for Valentine's Day? Trust me, dad will love it. I know I would.
Engraved Hammer
Give dad the kick start he needs to get that DIY project done with the kids. This engraved hammer will be something special that dad will treasure forever.
Bottle Opener
This bottle opener is perfect for a dad of young children, or as a gift to dad from a grown-up kid. Be honest: You're the reason why he drinks.
Customized Wallet Card
The little ones can always be close with this custom wallet card. He can take a photo and custom message from his kid everywhere he goes. This is especially great for dads who spend Valentine's Day far away.
Heart Bow Tie
Give dad a bow-tie covered with "love" with this adorable gift. Perfect for dads who don't mind wearing tacky neckwear.
DILF Mug
Maybe this is something you should give to your husband, not your dad.
Beer Chillers
These beer chillers can remind dad where he stacks up in the universe. "World's Coolest Dad".
Heart Slippers
Keep dad warm and cozy this Valentine's day with these adorable heart slippers. Every step he takes will be wrapped in warm, loving hugs.
Personalized Collar Stays
Commemorate Valentine's Day with this personalized collar stays. They're hand stamped with any message you want!
Card
Get dad or grandpa a special card for Valentine's Day. This one says "We Love Papasaurus!".
Chocolate
You can never go wrong with chocolates, especially for dad. Gift his favourite and it will definitely be a hit.
Don't forget about dad this Valentine's Day – get him something to show that he's loved and appreciated.