Disclosure of Material Connection: Some of the links in this post may be "affiliate links." This means if you click on the link and purchase an item, I will receive an affiliate commission. Disclosure in accordance with the Federal Trade Commission's 16 CFR, Part 255. This site is a participant in the Amazon Services LLC Associates Program, an affiliate advertising program designed to provide a means for sites to earn advertising fees by advertising and linking to Amazon.
Do you have a friend who bakes the most scrumptious cupcakes in the whole wide world? Do they make pies that sing to your soul? Here we present a beautiful gift guide full of gifts for the baker. Come Christmastime, you can subtly hint how much you appreciate their sugary goodness, with one of these fun gift ideas.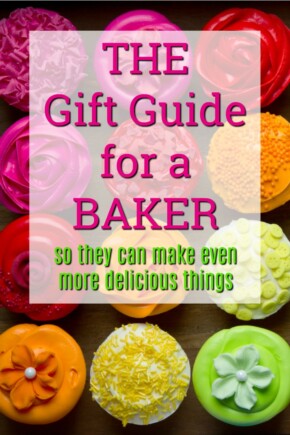 Kitchenaid Mixer
The be-all and end-all for home bakers is the stand mixer. Delight them with a beautifully coloured mixer!
Bundt Pan
I just love the sparkle of this bundt pan, it has such a pleasant look.
Bakers Gonna Bake Necklace
Aren't these adorable little charms for a necklace?! Heart shaped muffins!
Cupcake Stud Earrings
These pewter earrings are a fun nod to a love of cupcakes… okay, this whole post is a nod to a love of cupcakes. We know bakers can make other things, but cupcakes are just so darn delightful!
The Boozy Baker' Cookbook
Now we're mixing in alcohol too? Amazing. Fun fact: alcohol is a fantastic leavening agent, and it helps bind proteins to allow for more rise in gluten-free cooking.
Silicone Bakeware Set
Look at the beautiful colours on these accessories, blending the classics of wood with the heat-resistant awesomeness of silicone!
Oven Mitt/Pot Holder Set
These always wear out, and this pair matches just perfectly.
'Beat It' Apron
Have the song stuck in your head? It's an upbeat tune to dance to in the kitchen, my friend!
'Whip It' Cutting Boar
Even more awesome tunes to keep your gift receiver jamming in the kitchen.
Purple 'Bake' Tee
This super soft T is a gorgeous purple colour.
Baker's Secret Easy-Store 5-piece Bakeware Set
Innovation in bakeware! This bakeware set nests so that it easily stacks and stores, staying clean and not falling all over.
The Baker's Appendix Book
Help them learn even more tips and tricks with the Baker's Appendix.
'Oh Crepe' Dish Towel
This delightful kitchen towel is a fun gift no matter the occasion.