Disclosure of Material Connection: Some of the links in this post may be "affiliate links." This means if you click on the link and purchase an item, I will receive an affiliate commission. Disclosure in accordance with the Federal Trade Commission's 16 CFR, Part 255. This site is a participant in the Amazon Services LLC Associates Program, an affiliate advertising program designed to provide a means for sites to earn advertising fees by advertising and linking to Amazon.
Sometimes it's fun to play on tradition and that's especially true when it comes to marriage. The traditional first anniversary gift is paper but you're not exactly going to give your wife a card as a gift. Some of these ideas alone will have her swooning, or combine them for a wonderful "wow" present.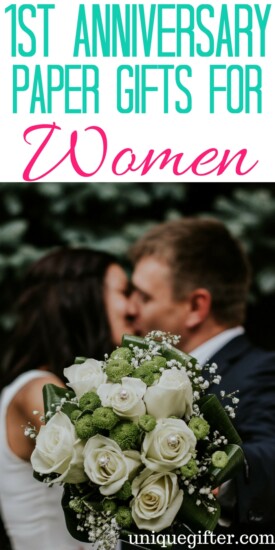 For more ideas, visit our amazing list of anniversary gift ideas for every year!
First Anniversary Paper Gifts for Women
Paper Anniversary Book
Never forget a moment together with a memory keepsake book. If you want to do something extra sweet, fill out a few pages for her.
Origami Crane
These hand folded cranes symbolize good luck in Japanese culture. The coin is also lucky, and the pair are meant to bring good fortune to your future together.
Our First Year Scrapbook
Does your wife like to scrapbook? Pick this handmade book up for her complete, then bundle it with some new supplies or printed photos.
5 Love Languages Book
It's only been a year so you're still probably madly in love with each other, which is the best time to find out more about your partner. Read up on the different love languages together so you can always take care of each other.
Personalized Notepad
Even if it's not very expensive, something personalized really adds that special touch to a gift. If you're going to give paper for your paper anniversary why not make it paper with her name on it?
Paper Heart Art
You better know these dates! Surprise your wife with something romantically and special to your both with this custom paper heart art.
Photo Album
If you haven't already done it now is a great time to put together a wedding album for your bride. She'll love the album itself but be amazed that you put it all together for her.
Mini Origami Rose Necklace
It's a fun jewellery piece and a unique way to tie paper into your first anniversary gift giving. If she doesn't like roses there are plenty of other options out there!
Mini Book Keyring
Slip a little love note inside this mini keyring for a romantic gift. Or use it as an addition to your bigger anniversary gift.
First Anniversary Card
If you have something else in mind that you really want to get her for your first anniversary, sneak the paper in with a card.
Shadow Box
These papercraft shadow box pictures can personalized with all kinds of options that suit yours, and your wife's, personalities. You can go classic or pick something geeky like the Star Wars one!
Reasons Why I Love You Notebook
A prime example of "it's the thought that counts". Great for your budget, great for her heart. Fill this book out with the million and one reasons you love her. Hopefully there will be enough pages.
Wine Label
Pick up her favorite bottle and stick this anniversary label to it to make your romantic evening together even more thoughtful.
Paper Earrings
Earrings as unique as she is! Can you believe these cool designs are actually made out of paper?
Personalized Ornament
Especially perfect if your anniversary lands near the holidays. This pretty ornament contains whatever personalized message you want to celebrate your wife.
Daily Planner
If she likes to stay organized (or at least is wanting to try!) a daily planner is a great anniversary gift idea. It's practical but is something she might not have bought for herself. Pre-plan some date nights and sneak them into her book as a surprise.
Little Box of Date Nights
It's always fun to get out (or stay in) together but sometimes married life turns into binge watching Netflix on the couch together. Keep it exciting with these date night ideas!
First Kiss Animated Flip Book
Have your first kiss on your wedding video? This shop takes that footage and turns it into an animated keepsake book so you can relive the moment anytime.
Paper Flowers
A bouquet that won't wilt or die that she can keep on her desk as long as she wants. These handmade flowers can just be for fun, or you can have the seller remake your wife's wedding bouquet to save it.
Push Pin Map
Blow your adventure-loving wife away with this amazing paper anniversary gift. As you visit each place insert a push pin to keep this art piece alive. It comes pre-framed and will fit in great with your decor since it's customizable.
The first anniversary is such an exciting time. You've already been married a whole year and it's probably flown by, but there's still the rest of your lives together ahead!