Disclosure of Material Connection: Some of the links in this post may be "affiliate links." This means if you click on the link and purchase an item, I will receive an affiliate commission. Disclosure in accordance with the Federal Trade Commission's 16 CFR, Part 255. This site is a participant in the Amazon Services LLC Associates Program, an affiliate advertising program designed to provide a means for sites to earn advertising fees by advertising and linking to Amazon.
I've lived in small towns of the Canadian prairies all my life so I know a thing or two about rednecks. In fact, I might have been thinking of my very own camo-clad country boy stepdad when coming up with these gift ideas. Father's Day gifts for rednecks, coming right up.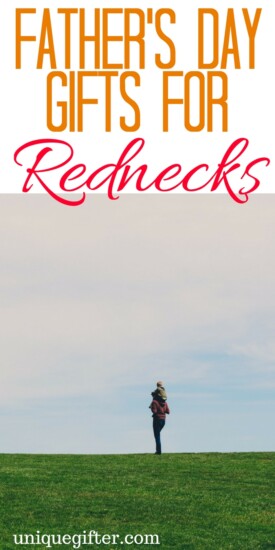 Father's Day is Just Around the Corner!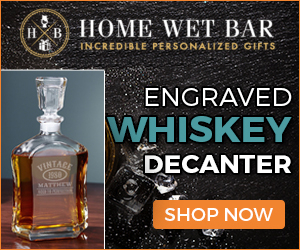 Father's Day Gifts for Rednecks
Is your dad a redneck? There are many Father's Day gifts for rednecks out there. You just need to know WHICH gift to buy that redneck in your life. 
Redneck Manual
Maybe dad wants to take his redneck game to the next level. Maybe he's always looking for ways to improve on his skills. This manual from Field and Stream is full of redneck-approved hunting, fishing, and outdoorsing tips.
Redneck Exercise Block
A great joke gift for dad. Just follow the instructions on the cube and after you're done you'll have walked around the block twice. Great way to exercise!
Redneck Lure
Just in time for fishing season! These redneck lures are handmade using beer bottle caps, because what else would a redneck use?
Antler Picture Frame
Antlers are the staple of redneck decorating. Give dad a thoughtful picture of your last hunting trip together for him to proudly display.
Bacon Candle
It might be unconventional to give dad a candle for Father's Day but your dad isn't a conventional man. Oh yeah, and it smells like bacon.
Beer Holster
Make sure dad is always ready for an unexpected cold one with the boys by giving him this drink holster and case of his favorite canned beverage.
Redneck Poet
Because your dad is probably a poet and he doesn't even know it! Now the (beer) fridge can be adorned with wonderful redneck phrases.
Bonfire Sign
Summer bonfires are the best part about country living. Give dad a rustic outdoor sign to hang around the firepit.
Redneck Plunger
It's a lot more satisfying and manly than a regular plunger. This funny gift has a shotgun handle for the plunger so it looks like a cool plunger gun and not just a device to unclog toilets.
Cutting Board
Give your redneck dad something practical for Father's Day. This cutting board reminds everyone else what dad does around the house: kills food, cooks food on fire.
Pipe Tobacco Soap
Take dad back to long ago when men would sit outside smoking pipes. Don't let that deceive you, this soap smells amazing and is manly enough for dad's redneck tastes.
Redneck Garage
The best in redneck DIY equipment made easily available outside dad's garage! Grab dad some extra duct tape to go with it for a cool gift basket idea.
Can Cozy
Never forget which one is dad's drink again with a personalized mug cozy. Of course, it wouldn't be perfect if it wasn't camo printed, which it is.
Jeff Foxworthy's Redneck Dictionary
From your favourite celebrity redneck! Learn the redneck definition of words you already thought you knew the meaning of.
Wine Glasses
Sometimes you just have to force your redneck dad kicking and screaming to be more sophisticated. Share a nice glass of wine with dad using these redneck-style wine glasses and everyone wins.
Redneck Cookbook
Give dad some inspiration in the kitchen (or some ideas to suggest to mom) with this cookbook. It's full of sweet and savory country recipes that will make dad very, very happy.
Shotgun Shell USB Charger
Dad may be a redneck at heart but that doesn't mean he can always escape the modern world. Bring a little bit of hunting season into his car with this phone charger.
Redneck Weather Sign
"Hey dad, what's the weather like today?" Finally dad can answer the hard questions in life. Hang this sign outside and you'll always know what the weather is like!
Redneck Back Scratcher
Ever have an itch you just can't reach no matter what? Help dad out by giving him a back scratcher for Father's Day. It's not quite as big as a rake but it does look like one.
Redneck Lipstick BBQ Sauce
It's the best, all purpose gift for your redneck dad. BBQ sauce can make his favorite meals that much tastier.
After you get dad a wonderful Father's Day gift why not take an interest in something he likes, if you don't already? Get him to show you how to hunt or gut a fish, it's a bonding experience!