Disclosure of Material Connection: Some of the links in this post may be "affiliate links." This means if you click on the link and purchase an item, I will receive an affiliate commission. Disclosure in accordance with the Federal Trade Commission's 16 CFR, Part 255. This site is a participant in the Amazon Services LLC Associates Program, an affiliate advertising program designed to provide a means for sites to earn advertising fees by advertising and linking to Amazon.
Barbie is full of sexist drivel. It's stereotypical and quite frankly we have enough little girls who grow up to be drama queens in the world. Empower them early with these fun dolls that don't come from a company where a bad hair day is akin to a death of a beloved family pet.  Remember the airport book where Barbie can do everything at the airport… except for be the pilot? Read on for more alternatives to Barbie.
1. Melissa & Doug
 This family friendly company produces a range of baby dolls that adds a more realistic spin on playtime. These babies can do everything from cry to suck their thumbs.

2. Disney Frozen
 Why would we suggest this as an alternative to Barbie?
Because even though Frozen came out ages ago these dolls continue to be immensely popular. They're perfect for young girls who want to add some magic to playtime.

3. Madame Alexander
 The motto of this company is 'Love is in the details'. These dolls are far more detailed than Barbie and are made from high-quality materials, so they are designed to last.

4. La Newborn 
We were stunned by this doll. Not only is it beautiful, but it's anatomically correct. This is the closest your little princess can get to the real thing…you know without having the real thing.

6. American Girl
 American Girl dolls come with their own picture card as real girls dress up like the doll. Girls will find it hard-pressed to give up these incredibly detailed dolls.

6. Lalaloopsy
 These dolls look like the offspring of ET, but don't let that deter you. The Lalaloopsy dolls are all about customization. You can decorate them just like a cake, and who doesn't love cake?

7. Chatsters
 Got someone who never shuts up in your life? Chatsters are perfect. Their eyes light up when they speak and they come with a range of interactive games. Chatsters are bound to keep your child entertained for hours.

8. Dammit Doll
 Who said dolls are just for children?
Whether you have a lot of stress or you need to send someone a gag gift, the Dammit Doll is the perfect option. They come in a range of camo colors making them perfect for both boys and girls.

9. GirlznDollz 
These are perhaps the brightest dolls you've ever seen in your life. With fluorescent pink and yellow figuring heavily, you'll have to shield your eyes and brush up on flight paths if your little girl decides to get attached to this.

10. Ask Amy
 Sometimes educational is what you're looking for in a doll. The Ask Amy doll allows your kids to ask questions and the doll will answer with a new comment every single time. And it will allow you to slip out of the room for a while…

11. Little Mommy
 These dolls have a lot to say for themselves. Just push their tummy and they will say something new each and every time. Bound to hold your attention for hours, she will even repeat everything you say in her unique little voice.

12. My Little Pony
 Got a fan of My Little Pony in the house? These brilliant dolls will sing their unique hit song again and again. Yes, mom, again and again. Who doesn't want to be awoken on a Sunday morning with My Little Pony blasting through the house?

13. Cabbage Patch Kids
 Make a new soft and cuddly friend at home with these Cabbage Patch Kids dolls. Dress them up and collect all the dolls and their special outfits. They even come with adoption papers, although we're not quite sure why.

14. Adora Playtime Baby
 Does your little girl dream of growing up now?
The Adora Playtime Baby can help her do just that. The doll comes with a number of outfits and even smells like scented baby powder. Also ideal for parents to bring back those night-time changing nightmares.

15. Get Ready Kids
 What we love about the Get Ready Kids dolls is they decide to do things differently. You'll find dolls that come from all colors and all creeds, which is something we find lacking in many of the other big brands, especially Barbie.

16. Miles Kimball Dolls
 Miles Kimball Dolls are collectible dolls for girls of all ages. They're a tad more grown-up than what you'd find from Barbie, but they're soft, loveable, and just waiting to find a home with you.

17. Genesis
 These dolls provide the full interactive experience as they tell stories and reveal interesting facts about nature and the world around us. More than just a simple playtime thing.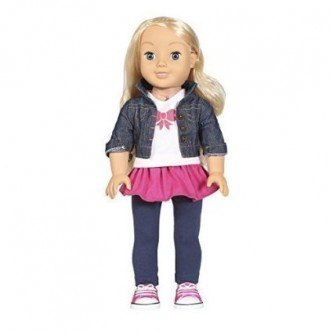 18. Bride of Chucky
Do you have a little girl who hates every toy that has anything to do with little girls?
Whether your girl is different or whether she's older, these Bride of Chucky dolls are ideal for a fan of horror. They come with their own stands and are hand-made, so no two dolls are exactly alike.

19. Manhattan Toy
 Every colorful doll comes with a special access code to unlock the virtual fantasy world online. Here you can go to a slumber party with lots of other doll owners. Who doesn't want to come to a fabulously fun online party bash?

20. Monster High
 The Monster High brand is famous for doing things differently. Death hasn't stopped these girls and ghouls being just as fabulous as anything Barbie can come up with. Which ghoulish style will you choose?