Disclosure of Material Connection: Some of the links in this post may be "affiliate links." This means if you click on the link and purchase an item, I will receive an affiliate commission. Disclosure in accordance with the Federal Trade Commission's 16 CFR, Part 255. This site is a participant in the Amazon Services LLC Associates Program, an affiliate advertising program designed to provide a means for sites to earn advertising fees by advertising and linking to Amazon.
If you are teaching or assisting in a kindergarten classroom, you might need a little guidance on what to get your students, or the classroom as a whole, for Easter. Whether you are covering the holiday itself, or springtime topics, the following suggestions will help you get started on the perfect gifts for kindergarten. Most, if not all, are educational on some level, but also fun!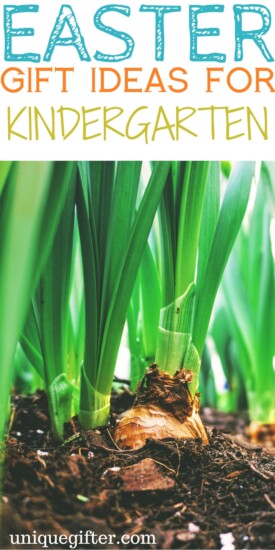 12-Piece Easter Bunny Felt Flannel Puzzle
Help them work on their motor skills and have fun while doing it, with this adorable 12-piece Easter bunny felt flannel puzzle.
Sheep Craft Printable
If you are the teacher in a kindergarten Bible class, or you teach at a Christian-based school, your kiddos will love learning with this sheep craft printable and some cotton balls. Give them some crayons to color the background too, and make the craft last even longer.
Easter Bunny ABC Matching Game
Matching games help them learn to recognize and match letters, and this one is also fun and Easter-themed.
Little Blue Truck's Springtime by Alice Schertle and Jill McElmurry
Books are the best. You can never have too many. To help celebrate the holiday and springtime, add a book to your library!
Easter Word Search Printable
Kindergarten is an excellent time to help them learn how to search for words in a simple word search, and with the holiday, they will be even more excited for this particular word search puzzle.
Pattern Matching Easter Egg Game Printables
Matching patterns could be more or less hard than matching letters. It is an excellent way to practice matching, and help them recognize patterns and how they have things in common.
6-Pack Bunny Ear Headbands
While this set wouldn't be enough for a whole classroom, it could be fun to add to the dress up play area for the children to take turns with it.
Matching Alphabet Eggs Puzzle Game
You can never have too many letter or reading games for kindergarten. This one is fun also because they can match the colors too.
Easter Bugs a Pop-Up Book by David A. Carter
Pop-up books are the best, and one that is especially fun for Easter will have all the kids attention when you read!
Easter Stickers, 400 Reusable Stickers
So many fun Easter stickers to play with. Imagine the hours they will spend playing with a whopping 400 stickers, and not only that, but they are reusable too!
23 Laminated Easter Holiday Flashcards
Easter themed color, letter, and object flashcards to practice with for the holiday will make the lesson even more enjoyable for everyone.
Ten Little Easter Peeps Felt Storyboard Set
The possibilities are endless when it comes to this ten little Easter peeps felt storyboard set. An Easter story, something about springtime, or anything with friends and fun.
Chick Tic Tac Toe Game
This chick tic tac toe game is designed to help them recognize and match patterns, not a simple matching of letters or numbers, but patterns on a slightly bigger scale.
6pcs Wooden Easter Eggs
These wooden Easter eggs are perfect for imaginary and discovery play!
10 Plastic Eggs to Color
With markers to color the eggs, these colorable plastic eggs will make for a fun arts and crafts activity.
I'm a Little Bunny- Bunny and Carrots Felt Board Story
Since felt board stories are the lifeblood of preschool and kindergarten classrooms, you can never have enough. This one is perfect for telling bunny stories!
Wooden Bunny Set
Add these colorful, rolling bunnies to the wooden toys or general toys in the classroom for free play time. They are sure to be a hit!
30 Easter Egg Cut Outs
These blank egg cutouts are perfect for coloring and craft time. There are so many ways to use them: have the kids draw faces, patterns, or anything they want. They can use crayons, paint, or any other medium.
Paint Your Own Magnet Easter Egg- 3 Set
Magnets are fun for play and learning. They will also be able to paint these themselves and have pride in their creation.
First Day of Spring Felt Story
In the days leading up to Easter, you will be celebrating Spring with your classroom, and this is a good way to do so, a springtime felt story!
Kindergarten is a great time of learning and just having fun. So many of these Easter gifts are perfect for not only classrooms, but for the kiddos at home too. Everyday is a time of learning and fun, school or not!