Disclosure of Material Connection: Some of the links in this post may be "affiliate links." This means if you click on the link and purchase an item, I will receive an affiliate commission. Disclosure in accordance with the Federal Trade Commission's 16 CFR, Part 255. This site is a participant in the Amazon Services LLC Associates Program, an affiliate advertising program designed to provide a means for sites to earn advertising fees by advertising and linking to Amazon.
Great Housewarming Gifts For Geeks
Moving is always such a special occasion. While it makes you want to pull your hair out, it also gives you a breath of fresh air and a sense of wonder with your new home. Any adult who has ever moved knows the struggle when you first get into your new home and realize that you don't have certain appliances or you're missing that small thing that makes life a tad bit easier!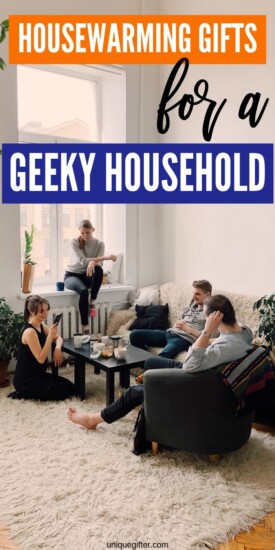 Geeks can all agree on one thing: the best nostalgia comes from the consoles of our past! These framed prints from Xreart do a great job of stoking those nostalgic feelings.
Gifts For A Nerdy Nest
Buying housewarming gifts for friends is hard and it takes on a whole different layer of anxiety when it comes to buying for a geeky household. With nerd culture at its apex in this day and age, there are a plethora of awesome gifts out there and that includes turning mundane everyday items into awesome geeky staples of life! Being a geek myself, I know the struggle of finding that certain something that proudly proclaims "I'm a nerd and I love it!" whenever someone enters my home. That being so, I've totally got your back with this list of 20 Great Housewarming Gifts For Geeks!
Harry Potter Wand Remote Control
People are always losing their remote, aren't they? Make sure your fan never wants to put theirs down with this nifty gadget. Accio remote!
Tetris Shower Curtain
Doesn't take a nerd to know that Tetris is welcome in any part of any home. Bathrooms are no exception. This is one rad shower curtain!
Pikachu Hand Towels
Who doesn't love the adorable little electric mouse? We all know that Pokemon are welcome in any geek's home and these are nifty little hand towels!
NES Cartridge Cutting Board
Alright, I'm just gonna go ahead and say when I saw this, I said to myself: "I gotta get me one of these!". Any gamer that is also an adult that knows the value of a good cutting board is gonna go nuts over this one!
Gameboy Refrigerator Magnets
Your refrigerator is big and white. Gameboys are too. Coincidence? I think not.
Floppy Disk Coasters
Older geeks may not only know what these are but may have actually been forced to use these at some point in their lives! It's a shocker, I know, but I'm sure they'll absolutely dig these coasters.
Mario Question Block Lamp
This lamp is perfect for any gamer with its own home. They're sure to cherish it but let's just hope they don't bust it open looking for mushrooms, yeah?
Shredder Shredder
Everyone has had that moment where they're like "Jeez. I really need a grater right now.". Not anymore because Shredder has them covered! What a grate gift!
Alohomora Doormat
Another Harry Potter entry! This is definitely one of the coolest doormats I've come across and, for unrelated reasons, I'm going to need to stay away from Amazon for a while.
Captain America Toaster
Making toast has never been so cool…or patriotic. This toaster is sure to be a welcome staple in a geek's appliance collection and it even toasts the Captain America emblem into the bread!
Spider-Man Pancake Maker
Who doesn't love pancakes? That's right. No one. Who doesn't love pancakes that have Spider-Man's symbol indented into them? Exactly!
Chemist Spice Rack
You don't have to be a chemist to feel like one when it comes to cooking in the kitchen with this sweet spice rack! Any geek worth….their salt…would love this one!
Iron Throne Toilet Decal
Got a geeky friend with a sense of humor? Turn the throne in their bathroom into their very own personal iron throne!
Pac-Man Color Changing Mug
The geek in your life is going to need something to drink their daily caffeine fix from, right? This awesome mug changes from a blank map to showing Pac-Man and the ghosts whenever it gets hot!
Infinity Gauntlet Cookie Jar
Just like that: With a snap, half of the cookies in the entire house were gone! What an awesome way to store those delicious disks that test our willpower!
Zelda Keyholder
"It's dangerous to go alone. Take this with you!". Truer words have never been spoken when it comes to rushing out the door and nearly forgetting your keys. What a thoughtful and cool gift!
Well, we've done it! I've come up with an awesome list with the perfect gifts and you get to look like the greatest friend ever when you snag one of them for your buddy or family member! We make a pretty good team, I'd say. Find something here that you found pretty neat? Maybe you found something that your friend went absolutely bonkers over. Let us know on Twitter (@ugifter) or even over at Instagram (@uniquegifter) and thanks for checking out 20 Great Housewarming Gifts For Geeks!