Disclosure of Material Connection: Some of the links in this post may be "affiliate links." This means if you click on the link and purchase an item, I will receive an affiliate commission. Disclosure in accordance with the Federal Trade Commission's 16 CFR, Part 255. This site is a participant in the Amazon Services LLC Associates Program, an affiliate advertising program designed to provide a means for sites to earn advertising fees by advertising and linking to Amazon.
Who doesn't love handing out goodies to the whole class? These gifts are great alternatives to the onslaught of paper and candy you know is coming home with your kid on Valentine's Day. Not looking for 4th grade? Check out this list of all our creative gift ideas for other grades.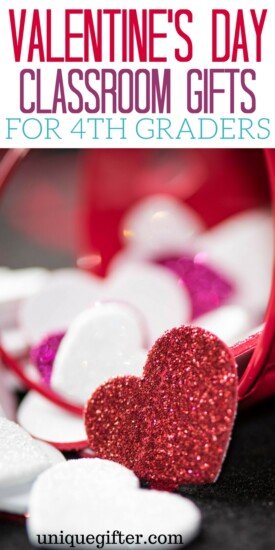 Valentine's Day Classroom Gifts for 4th Grade Students
LOL Crayons
4th grade students will love the novelty of these crayons as much as actually coloring with them.
Paddle Ball
Introduce students to this classic toy and enjoy watching them struggle to master the technique involved in using it.
Gum Tape
You don't need to do anything else, just hand these out or attach them to a card for a cute gift.
Scratch off Valentine Jokes
If you still want to hand out paper cards why not make it something unique?
Treat Bag
Fill these cute bags with anything you'd like for a creative Valentine's Day surprise.
Wind Up Heart Toy
4th graders are starting to outgrow playing with toys but that doesn't mean you shouldn't get any. These little guys are so much fun for older kids to play with.
Light up Heart
These light up hearts would be super cute on a 4th grade student's backpack or pencil case.
Heart Maze
Because the students in your 4th grade class are absolutely a-maze-ing.
Ninja Card Holder
A cute little ninja to hold all their Valentine's Day classroom cards. They even get to put it together themselves!
Mini Giant Finger Glove
Kind of on oxymoron; it's a tiny version of those giant sports gloves all themed up for Valentine's Day.
Lego Magnet
This cute heart shaped magnet is made from real Lego bricks and will definitely be a gift that "sticks" with 4 graders.
Unicorn Valentines
All the Pinterest-esque work is done for you with these cute valentines. It's a little more "grown up" version of the cutesy pun cards you see everywhere.
Mini Notebooks
So they can write down all their secret crushes… Or not.
Pre-Filled Bags
Get all the loot out of a treat bag without any of the work. These are pre-filled and ready to hand out to students.
Sucker Holder
You can get these in all kinds of characters so choose something your 4th grader is interested in. Then just add a sucker and you're ready to gift!
Grow a Little Love Kit
A "green" alternative to Valentine's Day consumerism. Kids can grow their own little chia garden in the heart shaped box.
Sand Art Necklace
It may not be a winter getaway to the beach but 4th grade students will still like wearing these heart shaped sand art necklaces.
Fancy Lollipops
Wow 4th graders by picking up some fancy treats like these cool see-through lollipops.
Realistic Heart
Shock and surprise 4th grade students with this realistic heart for Valentine's Day. Everyone knows what we call hearts is completely wrong, so why not be scientifically accurate?
Rainbow Etch Valentines
You can still fit in with toy-less classroom exchanges by giving away these cool valentine cards.
Still not ready for Valentine's Day? Apparently 50% of cards are purchased 5 days or less before the holiday so you're in good company. Still not set on a gift? Here's some more ideas to make Valentine's Day extra special.