Disclosure of Material Connection: Some of the links in this post may be "affiliate links." This means if you click on the link and purchase an item, I will receive an affiliate commission. Disclosure in accordance with the Federal Trade Commission's 16 CFR, Part 255. This site is a participant in the Amazon Services LLC Associates Program, an affiliate advertising program designed to provide a means for sites to earn advertising fees by advertising and linking to Amazon.
20 Gifts for Homebrewers
Homebrewing is a huge hobby in 2019! Stores are popping up all over the United States with supplies for home brewers and winemakers. It's become a huge business, and so many people love creating their own concoctions to share or enjoy on their own. If you've got someone who "loves to brew their own beer or other beverages, here are some outstanding gift options to support their hobby or passion project.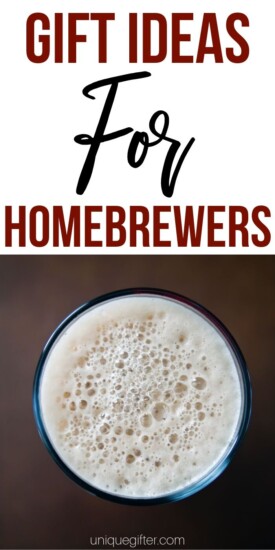 BOOK: How To Brew: Everything You Need to Know to Brew Great Beer Every Time
If they're just getting started, a book like this is a great reference point for a beginner.
Set of Glass Beer Bottles
If they're actively brewing beer, they'll need something to put it in! These bottles come in cases of 12 and are easy to label with stickers or tape.
Personalized Beer Growlers
A personalized growler is perfect to hold some of their signature beer concoctions!
The "I Like Crafts" Beer T-Shirt
This fun t-shirt would be great for any beer drinker in life, not only the homebrewer.
Personalized Tap Handles
If they've got some kegs, give them a tap handle to display and dispense their homebrew skills!
Custom "Tavern" Sign
Add a little flair to their brewing space with their own tavern sign.
Blank Beer Bottle Labels
The beer bottles need labels! Especially if they are brewing a few different kinds.
BOOK: Homebrewing for Dummies
Brewing from a kit or brewing from scratch, enjoy some great tips to brewing beer at home!
Brew Candy
Yes, candy that is beer flavored! Honey Ale, Hoppy IPA, and Roasty Stout candies are just waiting to be placed in a Christmas stocking, care package, or gift basket!
A Set of Vintage Beer Themed Patents
Gift your homebrewer a set of vintage patents to decorate the walls of their brewing space!
Blichmann HopRocket
If they love brewing hoppy beers and IPAs, this is an excellent tool for their home brewery.
Alchema Home Brewer System
If making cider is more their style, this brewing system is perfect! The system is connected to a free app that breaks it all down!
Celtic Knot Mash Paddle
These paddles are made with brewing in mind! Get one with a unique design or engraving on it for your homebrewer.
Personalized Oak Barrel
Perfect for aging beer or spirits, this is functional and is neat to see!
BOOK: The Homebrewer's Almanac
Does your homebrewer need some inspiration? This guide has tips and tricks for what's growing seasonally and how to incorporate that into a homebrew.
Beer Brewing Journal
Help them keep track of their successful (and not-so-successful) home brews!
A Brewmaster T-Shirt
Is it wrong? I think not! If you drink all of their beer, they'll make more!
Beer Making Kit
Some homebrewers prefer to do this all on their own, but some still like a little help from a kit. These kits from Brooklyn Brew Shop are great places for them to start since they offer a variety of options for every palate.
Stainless Steel Brew Kettle
An excellent tool for the serious homebrewer using malt extracts or all-grain brewing methods!
Pressurized Beer Mini Keg System
This is one of the coolest gift ideas ever! Especially for a homebrewer fan!
These are 20 great options to get you started on gift hunting for the homebrewers in your life! What else would you give to someone brewing their own beer?