Disclosure of Material Connection: Some of the links in this post may be "affiliate links." This means if you click on the link and purchase an item, I will receive an affiliate commission. Disclosure in accordance with the Federal Trade Commission's 16 CFR, Part 255. This site is a participant in the Amazon Services LLC Associates Program, an affiliate advertising program designed to provide a means for sites to earn advertising fees by advertising and linking to Amazon.
Searching for the right gift ideas for a Broadway/musical theatre lover? Need to please the 'Hamilton' lover in your life? How about gifts for actors and singers? What about the little girls who have been belting out "Tomorrow" from 'Annie' since they were four years old?

Then you need gift ideas for a Broadway/musical theatre lover
These are the best gift ideas we could find for anyone who loves musicals.
Theatre Tickets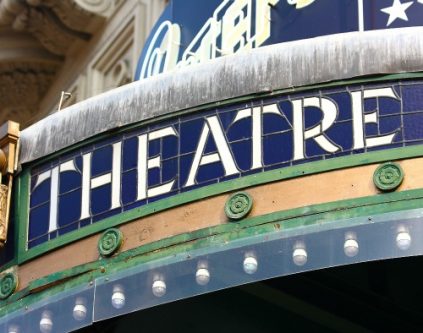 This is a given! If their favorite show is playing nearby, by all means, gift them some tickets to enjoy it! Tickets are an amazing gift of experience
A Comprehensive Curtain Call of Broadway Costumes by Pop Chart Lab
This fun print would make an excellent wall hanging in your Broadway lover's home. Highlighting costumes from as far back to 1927, this makes a beautiful display and talking point in the home.
Musical Theatre Scratch-Off Poster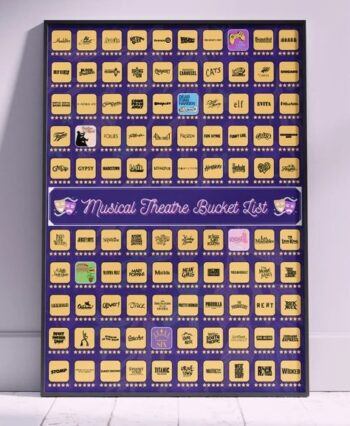 This unique scratch-off list of Broadway musical shows is the perfect way to get your theatre loving friend excited about their next ticket!
The Musical Theatre Card Game
Put your musical theatre knowledge to the test as you duke it out amongst your fellow theatre lovers over everything Broadway and West End! It features 52 classics, (including modern classics like Dear Evan Hansen!) Just about any theatre nerd would be stoked to have a game like this to add to their collection.
The Broadway Coloring Book
Coloring is all the rage these days! Why not combine someone's love of coloring with their love of Broadway and musicals? This book has some great hand-drawn scenes from the musical theatre canon.
Editor's Choice Best Broadway/Musical Theatre Lover Gift Ideas
Romeo & Juliette POP Vinyl Figure

Theatre fans will applaud this POP figurine from the classic play, Romeo and Juliet. Pick one up for your favorite Broadway/musical theater lover as a gift idea for the play's Broadway run.
Broadway Collage Socks
These would make a sweet stocking stuffer during the holiday season, not to mention how many different show titles are included!
An "I lost the Hamilton Lottery…again." Mug
This mug is printed with a quote that's a little inside joke to most Broadway lovers. Those 'Hamilton' tickets are very elusive, so it's no surprise that they've lost the ticket lottery…again. This mug can be customized and is sure to bring a chuckle to your loved one!
Broadway Themed Custom Converse
Your loved one may find this gift just too perfect to wear! Choose your loved one's favorite show to be hand painted on their own pair of Chucks!
The Broadway Musical Quiz Book
This book is sure to have a little something new for all lovers of The Great White Way! Filled with quizzes and information on over 700 shows, this book covers all aspects of musical theatre.
Be A Broadway Star Board Game
If you've got a lover of show tunes and musicals to find a gift for, this one is a no-brainer. The game has players "act out" some moments and recite some well-known lyrics to earn more "fans." Think of The Game of Life, but for Broadway fans!
Got Broadway? License Plate Frame
A musical theatre lover is usually belting out tunes in their car while they drive. Why not tell the other drivers that's what they're doing?
Break Out in Show Tunes Socks
These cozy warm socks pack a healthy laugh, and let everyone around you know you're liable to break out into show tunes at any moment!
Editor's Choice Broadway/Musical Theater Lover's Gift Idea
General George Washington Costume
Buy Now

Here comes the General! Fans of the musical Hamilton will adore this adult sized General George Washington costume for staging their own rendition of his scores! Pick one out for the perfect gift idea for Broadway/musical theater lovers!
Dance on Broadway for Nintendo Wii
Dancing, singing, AND a workout?! This game has 20 different choreography options to be learned and performed! There's even the option to challenge friends!
Subscription to BroadwayHD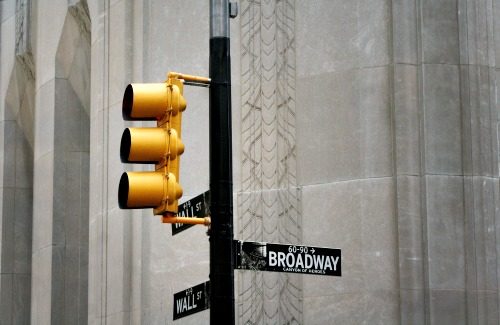 This online streaming service brings Broadway right to your loved one's screen…in HD.
iTunes Gift Cards
Help the musical theatre lovers in your life keep adding to their collection of cast recordings!
Customized Broadway Musical Theater Subway Scroll
This is a visually exciting gift to highlight 12-15 of someone's favorite shows that easily matches any home decor.
Musical Decorated Bath Soap
Gift your loved one a musical theatre soap! Chances are they belt out a few tunes in the shower anyways!
Broadway Playbill Duct Tape Wallet
This unique wallet is made out of a Playbill and other show materials. A nice way to take a little bit of Broadway everywhere they go!
IT'S SHOWTIME Shadow Box
This hanging piece of decor can put all of their theatre memories on display!
Theatre Stationery Set
Stationary is always a nice touch in this digital world. Give them the chance to write about their favorite experiences and shows on this set of paper!
Theatre Ticket Album
Theatre lovers will love this chance to preserve and display their ticket collection!
Add some sparkly and bedazzled wrapping for any of these gifts and it's sure to be a show stopper for the musical theatre & Broadway lover in your life!
Even More Gifts for the Broadway/Musical Theatre Lover
Have an aspiring thespian or someone who won't stop bursting into song in your living room? Does your loved one recite Shakespeare at the most ridiculous times? Perfect! This is just the list for you! Between our last gift ideas for a Broadway/musical theatre lover post and this list, you should be set for show-stopping gift ideas no matter what part of Broadway strikes their fancy!
This "Hope You Like Musicals" Doormat
Warn anyone who enters their home about the upcoming song & dance possibilities before they even walk inside.
A Playbill Puzzle
Perfect for the Playbill collectors! 1000 pieces to keep them busy for hours while singing their favorite showtunes.
Customizable Broadway Blanket
Customize this blanket with the receiver's favorite shows.
A "Fueled by Musicals and Tea" Popsocket
Give them something to help them show off their love of musicals! Popsockets attach to most phone cases and make a great small gift for any occasion.
Unisex Broadway Show Watch
Using RENT's infamous "525,600" in the center, every hour is represented by a different musical!
BOOK: The Actor's Life: A Survival Guide by Jenna Fischer
Editor's Choice Gift Idea for Broadway Musical Lover
Women's Stylish Broadway Opening Outfit
Price:

$30.00
Price:

$15.00
Price:

$20.00
Give her something classy and memorable with a stunning outfit that's really going to steal the show! Arriving to the theater in one of these? Priceless!
Jenna Fischer (from The Office) gives practical and witty advice for the aspiring actor. Witty and very truthful.
A Journal with Musical Theatre Quotes
This journal is covered with some musical theatre gems - the true musical theatre nerds will understand the "things musicals taught me."
This "Theatre is my Cardio" T-Shirt
For the theatre geeks, this will make perfect sense.
Custom Soundwave Art
Happen to know one of their favorite showtunes? Perfect! Create a customized piece of art from their favorite song and lyrics!
BOOK: Know Small Parts: An Actor's Guide to Turning Minutes into Moments and Moments into a Career by Laura Cayouette
Tons of very relatable and honest information about what it's like to really work as an actor...by someone who's already done it!
Some Silly Shakespearean Insult Bandages
Perfect as an opening night gift or stocking stuffer, your theatre geek will get some laughs from these!
Theatre Name Sign
Use their name and turn it into a beautiful framed piece to display!
Musical Theatre Brain Art
This printable art is the perfect visual for a musical theatre kid's brain - plenty of inside jokes for theatre kids to enjoy!
Personalized Ornament
Perfect for someone who's starting a collection of keepsakes for shows they've done!
GAME: Bad Actors - The Character Impersonation Party Game
In this game for adults, players get to take turns assuming characters and answering questions chosen by the other players and some may totally be inappropriate for a younger crowd! Still lots of fun to play with other theatre people!
A Ticket Printable
Gifting theatre tickets? Give them something fun to open with this colorful printable!
Theatre people are pretty easy to please! Gift us something from a show or song we love and we'll talk about it forever! Do you have a favorite gift for someone who loves Broadway or musical theatre? We'd love to hear about it!