Disclosure of Material Connection: Some of the links in this post may be "affiliate links." This means if you click on the link and purchase an item, I will receive an affiliate commission. Disclosure in accordance with the Federal Trade Commission's 16 CFR, Part 255. This site is a participant in the Amazon Services LLC Associates Program, an affiliate advertising program designed to provide a means for sites to earn advertising fees by advertising and linking to Amazon.
As humans we spend about a third of our life sleeping. Sleep is vital to the functioning of our bodies, so we should not be neglecting this large portion of our lives. The ideal pajamas are both comfy and cute while being the perfect amount of warm. There are so many different styles of pajamas for the lady in your life ranging from onesies to robes to pajama sets, she really has no excuse to be wearing a ratty t-shirt.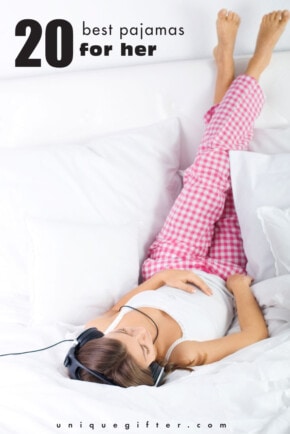 Here are 20 of the best pajama ideas to give the woman in her life. She needs something great to wear for a third of her day!
Elastic Lace Shorts

Lace shorts were a big hit this past summer, but these shorts can also work really well to wear to bed as well. These shorts have an elastic waistband, are comfy, and come in a variety of colors. These are perfect for any woman who wants to look nice and feel comfortable at night. Pair it with a tank top or a flowy shirt and it wouldn't even be embarrassing to go out in.
Flowing Sleep Set

This pajama set comes in nine different colors and have rave reviews. These are soft, flowy, and flattering pajamas and could really work for just about anyone. Also, there are pockets and pockets are amazing.
Floral Pajama Pant

These flowy print pajama pants are perfect for either lounging or sleeping. The floral pattern adds a flirty and feminine touch to plain old pants.
Silk Pajama Set

Silk is light and luxurious. Silk pajamas are a classic and would work for any age woman out there. These also happen to come in 13 different colors, so make sure to pick her favorite!
Nightgown with Lace

Feminine, comfortable, and best of all- doesn't require pants!
Kimono Robe

This robe is adorable and works well for almost any age and body type. Also, no pants required!
Woven Bamboo Pajama Set

Bamboo is very light and breathable, great for those steamy summer nights.
Flannel Plaid Pants

If you have to wear pants, these will certainly be comfy enough. They are also a little bit thicker for winter.
Thermal Underwear

These are lined with fleece which makes them super warm to wear during a snowstorm.
Shorts Pajama Set

Fitted shorts and tank set are soft and will make her feel put together even if she only has plans to stay in.
Fleece Robe

This robe is so fluffy, I'm gonna die. Just kidding, I'll be warm and won't freeze to death during the winter.
Fleece Pajama Set

A matching pajama set that is warm fleece with cute patterns is probably going to go over well with your lady.
ONESIE

While these are far from sexy, they are so cozy. Also, no one has to worry about finding the matching pieces.
Tapestry Shorts Pajama Set

These are so stylish. They are so cute. I need these. I would probably also wear these in public.
Lace Chemise

This is beautiful and would surely make her feel like a goddess of some type. It does appear to be a little see through, so this would work better for friskier ladies.
Matching Christmas Pajamas for Everyone

Women love it when everyone matches. We find it absolutely adorable.
Lace Sleeve Nightgown

This is cute while still being comfortable and modest. Target has some different variations of this including shirts, pants, and other nightgowns.
Sleep Chemise

See, here it is, a different version. This is even cuter.
Boot Slippers

Slippers aren't technically pajamas, but they are definitely necessary to staying cozy on a winter evening. Did you look at all the fuzzies on the inside?
Satin Slippers

Not everyone needs or wants to be really warm and these are great for keeping covered without too much insulation. It's also better than old mismatched socks.
Stop neglecting sleepwear. We spend so much time sleeping and there are so many great options. Please, stop the ugly sleepwear, there is no excuse.