Disclosure of Material Connection: Some of the links in this post may be "affiliate links." This means if you click on the link and purchase an item, I will receive an affiliate commission. Disclosure in accordance with the Federal Trade Commission's 16 CFR, Part 255. This site is a participant in the Amazon Services LLC Associates Program, an affiliate advertising program designed to provide a means for sites to earn advertising fees by advertising and linking to Amazon.
Ahhh coffee. The stuff that jumpstarts Monday. The stuff that you sip and savour on Saturday. The stuff that makes the world go 'round.
For most of us, anyway.
You can pull together a beautiful coffee gift basket using these gift ideas for the coffee lover… and maybe they will even consider directing some of their love for coffee towards love for you!
1. Jamaican Blue Mountain Coffee (Fair Trade)
When people bring up Jamaica thoughts of beautiful beaches, Bob Marley, and wonderful people comes to mind. Fortunately, Jamaica has also gifted the world with Jamaican Blue Mountain Coffee. Smooth, rich, and delicious.

What a great gift idea for any coffee lover. These mugs are insulated keeping drinks warm longer.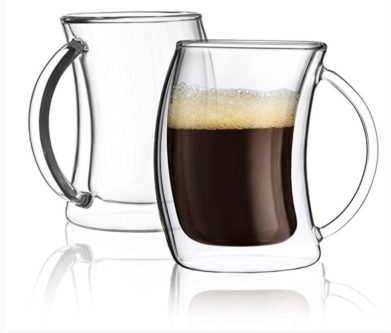 3. Costa Rican Dark Roast Coffee (Fair Trade)
Costa Rica like Jamaica is paradise. For those of you who are lucky enough to visit enjoy exploring tropical jungles, volcanic regions, and the beach. Costa Rica also has a coffee culture as well. If you're not familiar with it give it a try this winter.

4.Ethiopian Yirgacheffe Coffee
Ethiopia remains a country that many people know little about unless they've watched Anthony Bourdain's Parts Unknown traveling cooking show. This bag of unroasted beans offers coffee lovers an opportunity to try their hand at roasting. Brew up a great cup of coffee after you have a great time roasting these beans.

5.Hawaiian Gold Kona Coffee
I was fortunate enough to visit Hawaii this year and made a point of taking several bags of this coffee home with me in my check in luggage. Part of the expense of Kona Coffee is the distance from the Mainland to Hawaii, the other part is the epic quality. Buy a bag for a special treat today!
Editor's Choice Gift Basket Ideas for the Coffee Lover
Include one of these awesome stickers in with a gift basket full of goodies your favorite coffee lover will go nuts for!

6. Marley Coffee
It was just a matter of time until one of the Marley kids decided to try their hand at growing coffee. The company is currently headquartered in Denver, Colorado and has slowly but surely made a cult following with its high quality and chilled out company vibe.

7. Kirkland Sumatra Coffee
The first thing that catches your eye when you get this coffee is the distinctive red bag that it comes in. Then, brew up a dark and delicious cup of coffee.
Buy Now
8. Classic Movie Mug
This black mug has famous movie lines emblazoned across it. Some of the classic lines include "Here's Johnny" "I'm Sorry Dave, I'm Afraid I Can't Do That." Drink up and have fun.
Buy Now
9. Shhh, Almost, Now You May Speak Mug
There are some of us who may, just may be classified as a touch unpleasant until we've had our first complete cup of coffee. This clear glass mug will help you know where in the spectrum the person in your life is before you speak to them!
10. Rock, Paper, Scissors, Lizard Spock Mug
The Big Bang Theory has given pop culture many things including "I Love Coitus" as a catch phrase. Enjoy drinking out of your own Rock, Paper, Scissors, Spock Mug and playing the game with your favorite Big Bang Theory fan.
11. Electric Milk Frother
Whip up your next cappuccino using this great milk frother. Relive your coffee making years with this great device.
12. Mug Warmer
Keep your hot cocoa, coffee, or tea warm with this inexpensive and easy to use device. Give to your favorite cubicle worker-they will thank you.
13. Coffee Gives Me Super Powers
This book makes it clear why coffee drinkers are the best. Have fun learning all of the best things about coffee.
14. Philadelphia Candies Dark Chocolate Covered Oreos
There is nothing better than coffee. But coffee and dark chocolate covered oreos takes things to a whole different level. What was life like before this coffee and chocolate combination?
15. Coffee Life Heartbeat T-Shirt
This cleverly illustrated t-shirt is for the coffee lover who considers coffee their daily fuel.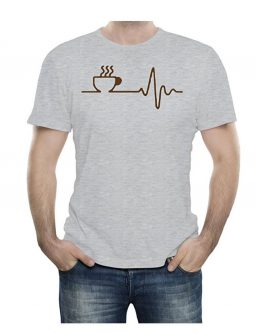 16. Coffee Grinder
Use this stylish manual coffee grinder when you host your next brunch. Your friends and family with be impressed and slightly bemused by your coffee enthusiasm.
17. French Press
After you pick one of your favorite coffee beans and then use the coffee grinder to grind them, brew up an amazingly smooth cup of coffee in this glass French Press. Let your beans steep and the flavor intensify until you have a delicious cup of home brewed coffee.
18. Aeropress Coffee and Espresso Maker
If you've had the opportunity to watch a friend use an Aeropress, it's almost as if there is a mad scientist at work. There is a science to the cool looking device-not just fashion.
19. Bartelli Paperless Coffee Filter (for pour over)
Be kind to the earth by using this paperless coffee filter. It's not only functional-it's also nice to look at when you use it.
20. How to Make Good Coffee The Science Behind the Bean
There is a science to brewing up a phenomenal cup of coffee. This book gives you the science behind the bean and hopefully after you've read it you'll make good coffee every time.
21. Black n Decker Brew n Go (Personal Coffee Maker)
Sometimes you just need your own cup of freshly brewed coffee. The Brew n Go helps you brew up your own delicious cup of coffee everyday. The coffee brews into your mug, once it's brewed you and grab your mug and go!