Disclosure of Material Connection: Some of the links in this post may be "affiliate links." This means if you click on the link and purchase an item, I will receive an affiliate commission. Disclosure in accordance with the Federal Trade Commission's 16 CFR, Part 255. This site is a participant in the Amazon Services LLC Associates Program, an affiliate advertising program designed to provide a means for sites to earn advertising fees by advertising and linking to Amazon.
Do you know any zookeepers or wanna be zookeepers? Stuck on a gift idea? Check out the following ideas that keep their jobs and interests in mind.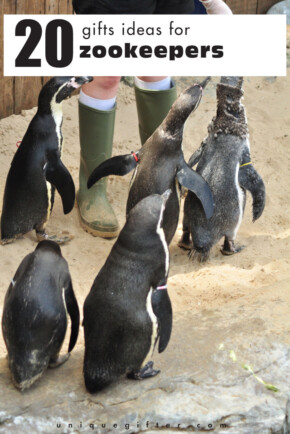 Gift Ideas for Zookeepers
"Zookeeper on board" Decal Sticker

An awesome decal sticker for their vehicle so they can let all the road traffic know how important they are.
Tote Bag

Tote bags are great for the environmentally conscious and are super useful. This one is an adorable design for the zookeeper who loves baked goods.
Lego Figurine

It's hard not to like this cute little lego zookeeper with a pet monkey and a lego banana.
A Zookeeper's Notebook

This notebook is both a journal and a puzzle book with something different to entertain on every page.
Cookie Cutter Set

Does your zookeeper love to bake? Encourage them with this cookie cutter set in the shape of zoo animals.
Inflatable Zoo Animal Balloons

Balloons go a long way to brighten up anyone's day. These zoo animal balloons are cheerful and fun.
Zookeeper Hat

The "this is my zookeeper costume" hat is funny and true!
Giraffe Salt & Pepper Holder

The sitting giraffe salt and pepper shaker is a gorgeous addition to the zookeeper's dining table.
Elephant Key Rack

It's super handy to keep your keys in one place. This elephant key rack will fit right by the door.
Lion Art Poster

This gorgeous lion poster is a great way to add colour to any wall.
Tiger Wine Bottle Holder

A great gift for the zoo-keeping wine connoisseur, make sure to include a bottle of their favourite!
Penguin Cocktail Shaker

For the cocktail fan, this penguin cocktail shaker is absolutely adorable.
Zebra Candy Jar

This ceramic zebra jar awaits filling with the zookeeper's favourite sweet treats.
Crocodile Toilet Paper Holder

Add a bit of zoo flair to their bathroom with this wall mounted crocodile toilet paper holder.
Planet Zoo Animal Wall Decal

This wall decal features a collection of zoo animals wandering the globe. Ready to stick on to any bare wall.
Rhino Book Ends

Decorative rhino book ends will look perfectly at home in a safari themed living room.
Zoo Animal Fondant Mold

This silicone sugar craft mold will help bakers create the best zoo themed decorations for their cakes.
Safari Animal Throw Pillow

An elegant and classy safari pillow is a lovely gift.
Zookeeper Mug

"Have you hugged a zookeeper today?" Incase anyone needed the reminder.
"Trust me, I'm a Zookeeper" Pin

This small zookeeper pin makes a wonderful stocking stuffer or secret santa gift.