Disclosure of Material Connection: Some of the links in this post may be "affiliate links." This means if you click on the link and purchase an item, I will receive an affiliate commission. Disclosure in accordance with the Federal Trade Commission's 16 CFR, Part 255. This site is a participant in the Amazon Services LLC Associates Program, an affiliate advertising program designed to provide a means for sites to earn advertising fees by advertising and linking to Amazon.
Nurses work hard to make patients feel better and at ease. Show the nurse in your life just how much she is appreciated with a gift that she will cherish. We will help you get your brain turning with these 20 awesome gift ideas for nurses.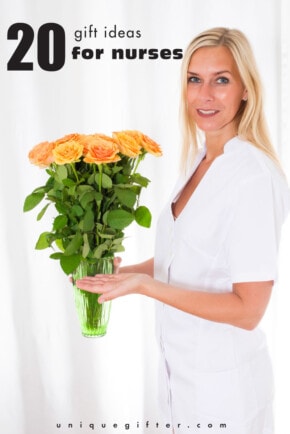 Gift Ideas for Nurses
I'm a Nurse, What's Your Super Power?
This is a great gift for nurses because most days they are super heroes. Show the nurse in your life that you realize this with this mug.
Syringe Highlighter Pens

Nurses need pens on the job to write down different things, especially if their place of employment still charts everything by hand. Your nurse will be pleased to have some pens that will bring a smile to her face on the job.
"The Prescription Coffee Mug"

Because every nurse needs a prescription of coffee.
Spoontiques Nurse Mason Jar

Just in case, she hasn't gotten into the mason jar craze.
Heartbeat Nurse Socks

Nurses can never have too many cool socks…and you can bet she doesn't have these in her sock drawer yet.
Nurses Need Shots Too

After a long day on the job, it's only fair that they get to come home and pour themselves a nice stiff shot.
Sleep All Day, Nurse All Night Shirt

It's the perfect shirt for nurses who work the graveyard shift.
Nurse Practitioner Mug

Nurses will definitely understand the inside joke on this mug. It will be a nice surprise when they find out that you do too.
Nursing Wine Glass

Because everyone knows that if you drink with a nurse, you will be in good hands.
Nurse on the Go Car Charm

Every nurse needs all of their passengers to know about their job…and what would be a better way to do so than with this car charm.
Nurse Butterfly Sun Catcher

Is your nurse also an outdoorsy type? If so, this Nurse Butterfly Sun Catcher will look wonderful on her front porch or even in her garden.
Scrubs Bear Sings "I'll Be There"

You can never go wrong when you give the gift of a singing bear. In addition, you will get bonus points because it is wearing scrubs.
Nurse Appreciation Gift Bracelet

Does your favorite nurse like wearing jewelry? This engraved heart shaped pendant lobster claw bracelet will make her face light up when she sees it.
Nurse Desk Plaque

Any nurse who works in a nursing home will definitely be pleased to receive this desk plaque.
Ballpoint Pen Set

Remember how we mentioned nurses could never have too many pens.
Chicken Soup for the Nurse's Soul

Sometimes they need to know that they are not alone and feel appreciated for the work that they do. The stories shared in this book are sure to warm their hearts up.
Nurse Knee Sock

Funky socks are cool and these socks will keep their legs warm under their scrubs.
Nurse Rubber Duck

These are perfect for nurses who work with children to give out to their patients to give them a little courage to hang in there and recover soon.
"Be Nice, I'm in Charge of the Happy Pills" Mug

She won't be able to help but smile each time she makes a cup of coffee.
World's Greatest Nurse Gift Basket

Gift baskets are a great way to show your nurse that she is appreciated. With the variety of items available in this basket, they are sure to be pleased.