Disclosure of Material Connection: Some of the links in this post may be "affiliate links." This means if you click on the link and purchase an item, I will receive an affiliate commission. Disclosure in accordance with the Federal Trade Commission's 16 CFR, Part 255. This site is a participant in the Amazon Services LLC Associates Program, an affiliate advertising program designed to provide a means for sites to earn advertising fees by advertising and linking to Amazon.
Are you searching for gift ideas for the letter C? It can be seriously hard to find an unusual gift that the receiver will actually enjoy. Especially when you're restricted by the letter!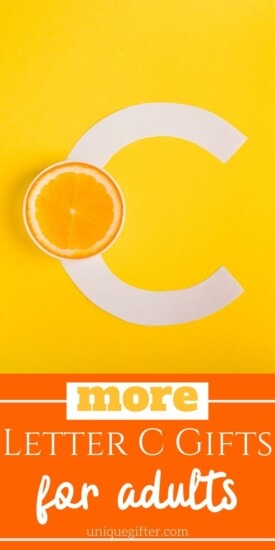 Gift Ideas for the Letter C
Luckily we've put in the hard work for you and created this list of 20 inventive gift ideas for the letter C. Take your pick! (Don't worry, we have other letter guides too.)
Cards Against Humanity
If you haven't played Cards Against Humanity before, you're missing out. It's a seriously funny game but not suitable for anyone that's too sensitive!
Candle
Candles are a classic gift that always go down well. And lucky for you, they begin with the letter C!
Coffee Gift Pack
There are so many great things that begin with the letter C. Coffee is one of them! This indulgent selection will be adored by any coffee lover.
Chocolate Making Kit
Another great thing beginning with the letter C is, of course, chocolate. To make this gift a little more inventive, why not get them this Chocolate Making Kit instead of just another chocolate box?
Cactus Necklace
This Cactus Necklace makes a cool, inventive gift! Give it to someone who'll appreciate carrying a little bit of the desert around with them all day.
Chalkboard Wall Sticker
Give the gift of a Chalkboard Wall Sticker and you'll be giving your friend an awesome new feature for their house! It's so fun for jotting down notes, writing messages or even having a huge visitor book for everyone to see!
Camping Survival Kit
Die-hard campers will see the value in this wrist band Survival Kit. With everything they'd need to start a fire and get attention, it'll see them through even the most stressful of outdoor situations.
Camera Lens Mug
This Camera Lens Mug is a cute gift for any budding photographer!
Captain America Apron
Marvel Comic fans will be so excited when they receive this Captain America Apron. Just don't be surprised it they do more pretend shield throwing than cooking while wearing it!
Cajun Hot Sauce Gift
This Zombie Cajun Hot Sauce is a great gift for anyone who loves keeping their food hot and spicy!
Clue Board Game
Clue is a board game that will never get old. If you need to get a letter C gift for a board game addict, you've got to get them this to add to their collection.
Cider Kit
This Hard Cider Kit is a great gift for anyone loves to get creative in the kitchen and make their own drinks. Though just be warned, if you get them this, it's all you're going to be offered when you go round to their house!
Coasters
These beautiful Coasters will add a splash of color to any dining table.
Coconut Shell Piano
Take your friend on a journey to central Africa with this Coconut Shell Piano (or Kalimba!) It's great if they love to play music but it would also make an unusual piece of home decor!
Coloring Book
"Maybe swearing will help?" is the title of this coloring book! So if you know someone who gets a little stressed out, this is the letter C gift for them.
Carry On Cocktail
This Carry On Cocktail is such a fantastic idea! Your friend will enjoy creating their own first-class experience in coach with this Old Fashioned cocktail kit.
Coding for Dummies Book
If you have a friend who is into gadgets but has no idea how to code, they'd appreciate this Coding for Dummies book. You never know, they might disappear with it into their room and come out next year as the new Mark Zuckerberg!
Cat Coin Bank
This Cat Coin Bank is too cute! Help your friend save some serious pennies with this unusual gift.
Cubicle Hammock
It can be hard to make your office cubicle a fun place to be. Well, this adjustable hammock has just changed all of that. Help you friend sit back and relax at work with this brilliant foot hammock!
Cookbook
Know someone who loves to cook but needs some help eating their veg? This awesome Thug Kitchen Cookbook will help them to do just that!
More Letter C Gifts
When it comes to finding a gift that begins with the letter "C" it can take a bit of thinking. Fortunately, I've done the brainstorming for you, and have come up with some interesting, fun, useful, and just plain silly gift ideas. Check these out!
Cowardly Lion Socks
Somewhere out there is a Wizard of Oz fanatic. In fact, there are probably multiples out there! Wizard of Oz fans are going to love this pair of Cowardly Lion socks.
Corn Dishes
It's always nice to have a set of "fancy" dishes, when entertaining. Check out this set of 4 corn dishes, made just for those fresh ears of corn, straight off the grill!
Calla Lilly Bouquet
If you want an everlasting gift idea, why not a gorgeous bouquet of artificial flowers? Pop this beautiful bouquet of calla lilies into a nice vase, and voila!
Car Care Kit
A car care kit is something that nearly everyone will be able to use! This kit includes products to help maintain both the interior and exterior of the car. Clever and practical gift ideas for the letter C.
Copy and Paste Shirts
For the recipient who has a kiddo, check out this fun set of copy and paste shirts! There's a shirt for both mom or dad and the kiddo!
Coral Tabletop Fountain
There is something incredibly soothing and relaxing about the sounds of a stream of water cascading down. A coral and seashell tabletop fountain is a super relaxing gift for that stressed-out friend of yours.
Collapsible Colander
Are you looking for a gift for your friend who lives in the kitchen? They are sure to love this collapsible colander that can be stretched out over the sink.
Chiffon Scrunchies
Yes, scrunchies are still a thing, and this set of chiffon scrunchies is super soft. This set includes 30 scrunchies in a vast array of colors.
Custard Dishes
The great thing about custard dishes is that they can be used for more than just custard! These dishes even come with lids, so the custard (or other yummy goods) can be stored easily in the fridge.
Cookbook
Let's admit it. We all have those nights when nothing sounds good to eat. That's when this best selling, Magnolia Table cookbook is sure to come in handy.
Crochet
Crocheting isn't just something to keep retired folks busy, it's a soothing activity that people of any age or gender can enjoy!
Corinthians Wall Sign
There's no better wall hanging than a favorite verse! Take a look at this quality, handmade, wooden sign, that is sure to become a favorite decor piece.
Coffee Mug Holder
I bet you know a coffee fiend who would love to have this coffee mug holder in their life! This galvanized metal container is perfect for storing coffee, tea, or cocoa, and will keep the mugs hanging just above!
Colonel Popper
Bagged, microwave popcorn is just, eh. And stovetop popcorn can be messy. Give the best of both worlds with this super easy, super clean way to pop tasty kernels in the microwave. Don't forget to add a bag of your favorite kernels and popcorn salt with the popper!
Caddy for S'mores
This is the ultimate fall gift, for those chilly nights when last-minute bonfires occur. However, in all honesty, this gift is great year round, because when the craving is there, microwave s'mores are better than no s'mores at all!
Calligraphy Set
It's never too late to learn a new hobby! This calligraphy set has all the right tools for a beginner, including detailed directions.
Camping Lantern
The great thing about camping lanterns is that they don't have to be used just for camping trips! They make for great additional light sources anytime, and anywhere. Even better yet, this lantern is 2 in 1, so it can transform into a flashlight!
Country DVD
A true country music lover is going to love this Pure Country dvd, starring the king of country, himself, George Strait.
Cornhole Bags
If your friend has a cornhole bag, it may be nice to get them a fresh set of cornhole bags. Those things can get pretty filthy after awhile. Check out these customizable bags that can be printed with logos or your photos!
Ceramic Spoon Rest
Nothing beats handmade! These handmade, wheel spun spoon rests come in a variety of colors, and are ready to ship!
Cranium
Cranium is the ultimate party game that is perfect for just about everyone! Teams will take turns sketching, acting, and more, while competing against the clock and their opponents!
Cheetah Print Tumbler
When plane tickets to see cheetahs in Africa just aren't in the budget this fun cheetah print tumbler may just have to suffice!
Chopsticks
How fun would it be to eat a meal with these Star Wars-inspired chopsticks? This set includes both red and blue lightsabers when it just can't be decided which side of the force to join!
Coin Collection Holder
Coin collectors are going to love having a place to store their state quarters with this coin holding map. There's even an option to include a full set of uncirculated coins if they don't enjoy the scavenger hunt.
Cow Soap Dispenser and Vase
This cow soap dispenser and vase is the perfect addition to any country styled kitchen or bathroom!
Which of these inventive gift ideas for the letter C are you going to choose? Which of these inventive gifts for the letter T are you going to choose? If you do buy any of these gifts, we'd love to hear about it! Let us know in the comments or find us at @ugifter on twitter and @uniquegifter on Instagram.
For more inspiration, here is the ultimate list of gifts that start with every letter of the alphabet.