Disclosure of Material Connection: Some of the links in this post may be "affiliate links." This means if you click on the link and purchase an item, I will receive an affiliate commission. Disclosure in accordance with the Federal Trade Commission's 16 CFR, Part 255. This site is a participant in the Amazon Services LLC Associates Program, an affiliate advertising program designed to provide a means for sites to earn advertising fees by advertising and linking to Amazon.
Who among us is human before our first cup of coffee? Not many, I've discovered. One of my earliest childhood memories is getting up early before my parents and carefully, quietly, brewing the perfect cup of coffee for my dad. I wasn't tall enough to safely boil water so it was all done on tiptoes, on a chair, but when it was all done, I'd sit and wait gleefully for him to get up and surprise him. Today, I am what some call a coffee addict. These Christmas gifts for coffee addicts are just what we all need!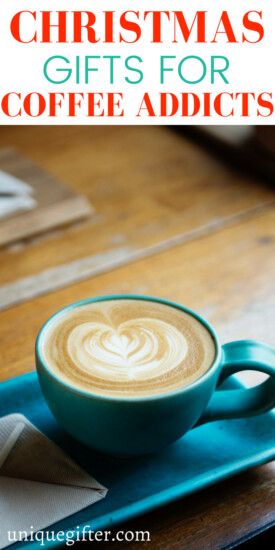 Perfect Christmas Gifts for Coffee Addicts
If you are looking for the perfect Christmas Gifts for Coffee Addicts, you have come to the right place. Check out this list for the coffee addicts in your life.
Coffee Scoop
I once thought precision was most important in the lab. I've since learned the error of my ways and understand that it's most important when preparing a pot of coffee!
The Best Christmas Gift for Coffee Addicts
As a coffee addict myself, I can say this is something I would love to get as a gift. These cute insulated espresso cups are the perfect gift idea.
French Press
Sick of the lack of good hot coffee when we worked in an industrial area, a coworker introduced me to the French Press. It seemed to be a lot of trouble until the first steaming mug was poured, then it was all worth it.
Portable Grind and Brew
Hotel, even nice hotel, brews are tepid and basically awful. They do the job, sure, but it's not a pleasant experience. If there's room in the luggage, this travel
coffeemaker can make each morning start off with much better flavor.
Programmable Coffeemaker
Brews up to 12 cups with the abilities to pause brewing to grab your first cup, or to schedule your next day's pot of coffee – what more does a busy family of coffee lovers need?
Editor's Choice Christmas Gift Ideas for Coffee Lovers
These funny stickers are a fun little way to light up your favorite coffee lover's life! (That is of course, besides using a cup of their favorite brew!)
Espresso Machine
Fast and smart, this single serve brewer heats in seconds and sends up a fabulous cup of coffee or espresso with little more time.
Pour-Over Dripper With Built-In Travel Thermos
When only freshly brewed will do, but you're running out the door to make that morning meeting, this is the carafe for you.
Insulated Wall Travel Mug
A modern and modestly sized (2 cups) thermos, this slips more easily into a satchel or even briefcase than a large thermos.
Stanley Classic Vacuum Bottle
I have such nostalgia for this thermos – it keeps drinks hot or cold for 24 hours. Even after all these years, it continues to be the true workhorse of coffee thermoses and still has a lifetime warranty.
40-ounce Stainless Steel Thermos
Bringing your own 40 takes on another meaning here. For those who need a cup every couple of hours, or who supplies a small group, this jumbo sized thermos keeps you going all day.
Jumbo Mugs
Some of us don't consider the day started until after the 3rd or 4th cup of coffee. Get there twice as fast with these jumbo 16 oz mugs.
Dark Roast
100% arabica speciality grade coffee blend with beans from Colombia, Guatemala, and Sumatra, handroasted by the family business in Florida, this dark roast is like magic in a cup.
Medium Roast
Roasted in Canada, this medium roast coffee is fair trade, organic, and kosher.
Light Roast
This light roast is a combination of beans from the Colombian Huila region's highlands and Ethiopia. Comes pre-ground for a quicker brew.
I Love You
A sweet message is hidden at the bottom of every cup.
Instant Human Just Add Coffee Tee
Sure to elicit a pre-coffee smile. It's funny because it's true.
Greyhound Nutrition Mug
A bit of a niche mug, this, for coffee drinkers who also love greyhounds.
Coffee Cup Earrings
They say not to wear your heart on your sleeve, but there's nothing wrong with declaring your love of coffee with dangly earrings!
Batman Coffee Sleeve
Bat fans who need their coffee hot, but don't want to drop it yelling OW OW OW will make good use of this sleeve.
Black Coffee Candle
Debatably, the best part of the whole coffee experience is the amazing aroma that fills the room. Now you can have that scent even when it's not the right time to drink a cup.
Campfire Mug
Campfire style mugs bring back such nostalgia, even if you're miles away from a campsite.
Other Christmas Gift Ideas
Are you looking for Christmas gift ideas for other people in your life? Check out some of our other gift guides:
What's your favorite coffee or coffee-flavored products that we should share with our coffee-loving friends? Help us add to our Christmas gifts for coffee addicts list.