Disclosure of Material Connection: Some of the links in this post may be "affiliate links." This means if you click on the link and purchase an item, I will receive an affiliate commission. Disclosure in accordance with the Federal Trade Commission's 16 CFR, Part 255. This site is a participant in the Amazon Services LLC Associates Program, an affiliate advertising program designed to provide a means for sites to earn advertising fees by advertising and linking to Amazon.
Not sure what to get your grandma? 80 is a big milestone birthday!
She will appreciate any of these gifts for her 80th birthday. These gifts are unique, fun and personal. Whether your grandma is feisty and independent or making new friends in a nursing home, she'll appreciate the love you show her on her birthday. Grandma's 80th birthday is a cause for celebration!
80th Birthday Gift Ideas for Your Grandma
Cause she knows how to party down!
I'm A Grandma, What's Your Super Power? Coffee Mug
This fun mug has a colorful design that is hand painted. It has a message "I'm a grandma. What's your super power?" Both practical and clever, it is a great birthday gift.
You're My Cup of Tea and Treats Gift Basket
Is your grandma a tea lover? This gift basket has premium teas and gourmet goodies. This basket filled with treats is great for a birthday or special occasion.
Grandma Half Moon and Heart Pendant Necklace
Does your grandma love jewelry? She will appreciate this half moon necklace that is stylish. One plus of this gift is it is an affordable price with a great message.
Petite Rose Music Box / Jewelry Box
This is a great classic gift. Personalize it by adding your own photo. Your grandma will love the added personal touch.
Grandma's Book Of Crosswords: 100 novelty crossword puzzles
This book contains several crossword variants. This will keep your grandma's mind sharp and she will enjoy this gift. Contains at least 15 puzzles.
Knock Knock
What I Love About Grandma Fill in the Love Journal
This clever book is the perfect personal gift. This book contains fill-in-the-blank lines you can complete to describe why your grandma is the greatest. You can be funny, sentimental or use inside jokes to make a cute gift.
Grand Signature Gift Basket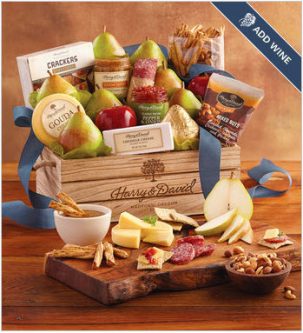 Your grandma will appreciate a gift basket from Harry and David. The collection has pears, apples, gourmet treats and dry salami rounds. It uses a rope handled wooden crate that is reusable and is tied with a beautiful bow.
My Grandkids are Cuter Than Yours Mug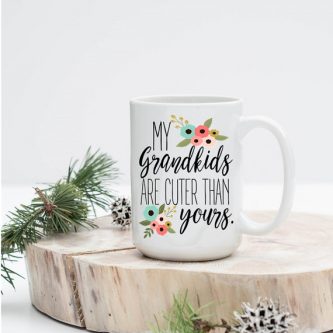 Trendy and clever, your grandma will love this 15 oz coffee mug with a clever saying. Ceramic mugs have a glossy finish. They are dishwasher and microwave safe.
Dear Grandma Favorite Grandchild Custom Made Coffee Mug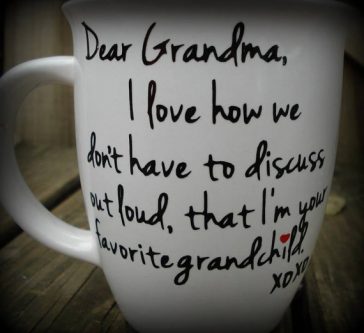 Here is another mug that is both clever and creative. Your grandma will appreciate this gift and use it in her kitchen. Grandchildren can give this gift to their grandmother.
5 Personalized Kitchen Utensils,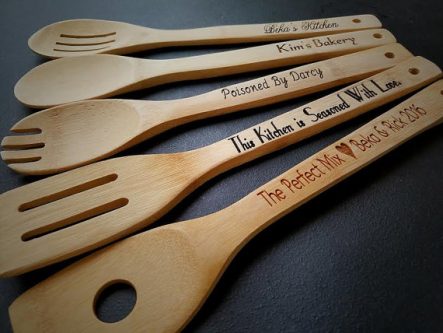 Does your grandma love to cook? She will enjoy this gift. The utensils are 13 inches long and handcrafted from bamboo. If grandma is a whiz in the kitchen, make sure you also check our list for cooks!
Family Nest Art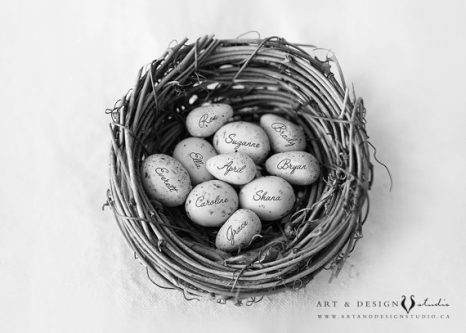 This art print contains an image of a nest with eggs. This grandma gift print can be personalized with your children's or grandchildren's names with up to 20 eggs in the nest. Your grandma will love this.
Best Grandma Ever Tee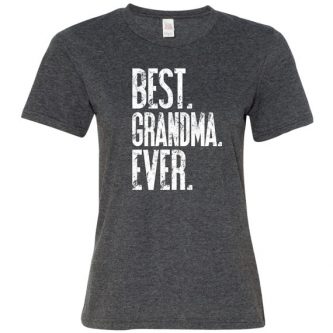 Do you have the best grandma ever? Let her know with this funny t shirt. The shirt is 100% cotton.
Grandma Necklace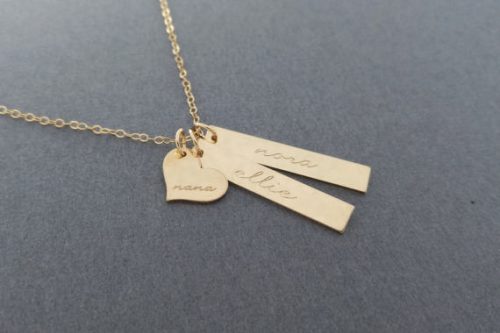 Your grandma will love wearing this personalized necklace. It is 14kt gold-filled and you choose the number of rectangle charms you'd like on your necklace along with the heart charm. Put any message you want on it.
Blurb Photo Book
Do you have photos of your grandmother? Put them together in a unique blurb photo book that will treasure your memories. Choose soft or hard cover.
41 Uses for a Grandma Book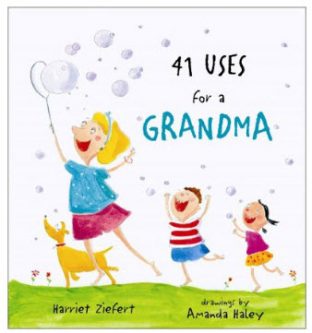 Does your grandma have a sense of humor? She will enjoy this illustrated book. It is great to keep on a coffee table or a bookshelf.
I Love You, Grandma Book by Jillian Harker
Here is another book to give your grandma. This is a cute gift for your grandmother. In the story, Little Bear is getting older and needs help from Grandma Bear to go on adventures.
Grandmother Teddy Bear
This teddy bear is holding a wooden plague that says, "I love that you're my grandma". This fits on a table or shelf in your grandma's home. This is a nice traditional gift.
I Love That You're My Grandma
Here is the same saying on a wooden greeting card. This is a unique card made of wood. This is an affordable way to say you care.
Poetry Gifts
Gift for Grandma From Grandchild
This photo frame contains a poem and a place to add your own photo. It is great to give from kids or grandchildren. It is a simple way to say you care.
Philosophy Birthday Girl
Let her grandma have her cake and eat it too. No need to take her to the spa with this gift. Features vanilla birthday cake shampoo, shower gel and bubble bath in a cake like scent.
Let us know in the comments if you chose any of the gifts and how your grandma liked it. We are sure you will find the perfect gift!