Disclosure of Material Connection: Some of the links in this post may be "affiliate links." This means if you click on the link and purchase an item, I will receive an affiliate commission. Disclosure in accordance with the Federal Trade Commission's 16 CFR, Part 255. This site is a participant in the Amazon Services LLC Associates Program, an affiliate advertising program designed to provide a means for sites to earn advertising fees by advertising and linking to Amazon.
What do you get someone who has the money to buy anything they want? If you're struggling to choose Father's Day gifts for rich dads I'm going to assume you're also not doing so bad yourself. At least hopefully you get some good trust fund money.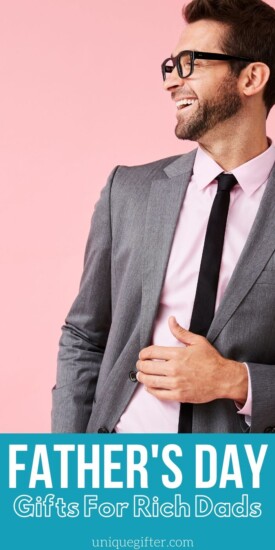 So what kind of Father's Day gifts for rich dads should you buy your rich dad?
Even if your dad isn't rich (like mine) there are still some great suggestions on here. After all, a family is more important than money, even if your dad is rich.
Extra Capacity Wallet
Lots of space to hold all of his cash but still 100% leather so he'll look stylish while paying for all those luxury goods.
Travel Suit Bag
If dad travels a lot, especially for work, this is a great gift. It will keep his expensive suit safe and clean while he flies first class to his destination.
Boat Mug
Does your dad love his yacht more than his children? This is a perfect way to strike up yet another conversation about his real favorite child this Father's Day.
Watch Display Case
Selecting which watch to wear in the morning becomes a lot easier when they're nicely on display. This glass-top box is the perfect solution to keep all those Rolexes safe.
Whiskey Stones
Bar accessories are perfect Father's day gifts for rich dads. He's going to love adding these whiskey stones to his home bar.
Money Throw Blanket
For the rich dad who has everything – well, except a million-dollar bill. This throw blanket will keep him warm and snug while surrounded by all that cold, cold money.
Shaving Accessories
Even rich dads need to shave and unless he has his own barber he will probably love some luxury shaving accessories for Father's Day.
I'm Rich, Bitch T-shirt
This funny shirt is a reference to the Chappelle's Show but also is a great way for your rich dad to brag.
Estate Planning
HINT HINT dad. Pair this with a great gift to make sure you're included.
Family Photo Album
No matter how much money your rich dad has his family is still most important. Give him a photo album filled with family memories for a thoughtful Father's Day gift.
Travel Espresso Machine
A vital accessory for when you're on the go and need an espresso.
Rich Man Mug
Whether or not he is financially wealthy isn't important. What really makes a dad rich is his children.
RFID Blocking Passport Wallet
A good quality passport holder is a must for dads who like to travel. This one is backed by a 100-year warranty which means eventually you'll inherit it!
Anti-Spill Wine Glasses
One of the most unique Father's day gifts for rich dads. These anti-spill glasses are perfect to take on his boat or yacht because they won't spill the champagne!
Racing Helmet
For when dad wants to take his sports car for a day at the racetrack. This is a serious thing rich dads do but it does involve some training before they can play with their high-speed toys.
Globe Bar Cart
Great for your rich dad's study! Remember no matter how much money he has you're still the reason he drinks.
Daddy Keychain
Rich dads still love traditional Father's Day gifts. This sentimental, custom, sterling silver keychain is the perfect addition to his Jag's keys.
Custom Golf Practice Green
Give dad the gift of taking a few strokes off his golf game for Father's Day.
Funny Card
If dad is rich but you're not (yet) you can always give him a funny card for Father's Day. This one clearly states you won't ask to borrow money, something he'll probably appreciate even if it is just for today.
Remember that the best Father's Day gifts for rich dads can't be bought. Take some time to make some memories with your dad alongside a gift this Father's Day.