Disclosure of Material Connection: Some of the links in this post may be "affiliate links." This means if you click on the link and purchase an item, I will receive an affiliate commission. Disclosure in accordance with the Federal Trade Commission's 16 CFR, Part 255. This site is a participant in the Amazon Services LLC Associates Program, an affiliate advertising program designed to provide a means for sites to earn advertising fees by advertising and linking to Amazon.
Originally created for accessibility, this (in)famous font has definitely had an impact on everyone's life. So, it only seems natural that there are so many great Comic Sans gift ideas out there!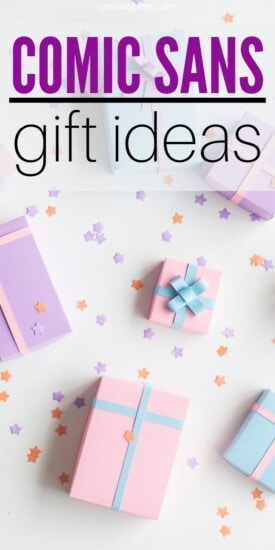 Comic Sans Gift Ideas
Love it or hate it, these are our favorite Comic Sans gifts that will garner some kind of reaction from the recipient. Perfect for graphic designers, white elephant gifts, and all your friends.
Comic Sans Coffee Mug
Perfect for the person who hates Comic Sans! They are sure to get some laughs out of this mug. Besides they will think of all the kittens lost too. :)
If Nobody Hate You Bag
This bag is bold. It's strong. It's inspiring. You do you, Comic Sans.
You Tried Patch
What better way to congratulate someone's loss than by giving them a gold star anyway? Written in Comic Sans you'll find this inspiring message: You tried.
Cries in Comic Sans Print
Did you know you can cry in a font? Now you do. Perfect art for teen bedrooms, dorms, or everywhere.
Comic Sans Temporary Tattoo
When you're not sure if you want to commit to a forever Comic Sans tattoo, or just want to dress up for a night out, this is the perfect solution. A Comic Sans temporary tattoo is one of my favorite Comic Sans Gift ideas.
Graphic Design T-Shirt
We all know Comic Sans is a font well discussed by graphic designers. This shirt really shows off amazing graphic design skills.
Comic Sans Cross Stitch
It seems pretty tricky to fully pull off the artistic mastery that is this Comic Sans cross stitch piece. This is the perfect Comic Sans gift for someone who likes to make crafts – or you can make it for them!
Comic Sans Mug
This one is a bit negative for the Comic Sans haters out there. Choose between Comic Sans and common sense… And choose wisely.
Best Font Ever Art Print
It's simple and bold. This art print says "BEST FONT EVER" in Comic Sans.
Comic Sans Murder Book
Did you know there's an entire series of mystery books dedicated to typography? Now you do.
Used Comic Sans Ribbon
Every want to reward someone for a job well done? Now you can. The possibility to use this ironically isn't lost either.
Comic Sans Forever Pin
Pins are a great way to show off your personality and what you love. This Comic Sans Forever pin can be added to backpacks, clothing, or a growing pin collection.
I heart Comic Sans Shirt
The perfect Comic Sans Gift idea for the Comic Sans lover or hater. You'll either become the best or worst friend with this gift.
Comic Sans Cookie Cutters
Need to spell things out with cookies? These Comic Sans font cookie cutters will have you baking up a typography storm.
Thou Shall Not Use Comic Sans Book
This handy guide is perfect for budding graphic designers or a strong hint for those who need to take their amateur design up a notch above using Comic Sans.
I Love Comic Sans Pin
For the underground Comic Sans lover. A little button to show their love – but not too loudly.
Just My Type Book
Finally, something a bit more serious. This book covers the history and power of fonts – including Comic Sans.
Notebook
This notebook is super funny and great for the person who loves Comic Sans! It's hard not to giggle when you see it.
Shot Glass
Give your favorite Comic Sans lover this hilarious shot glass along with their go-to drink. It's funny and will give them a chuckle while they are taking a shot of whiskey or whatever!
What's Your Type Game
Does your friend think they know it all when it comes to fonts? This game is fantastic and will make you laugh along the way.
But what if Comic Sans isn't your favorite font? You can always check out these Helvetica gift ideas instead!