Disclosure of Material Connection: Some of the links in this post may be "affiliate links." This means if you click on the link and purchase an item, I will receive an affiliate commission. Disclosure in accordance with the Federal Trade Commission's 16 CFR, Part 255. This site is a participant in the Amazon Services LLC Associates Program, an affiliate advertising program designed to provide a means for sites to earn advertising fees by advertising and linking to Amazon.
Have you ever wanted to have a themed gift exchange party? "Gifts for the Letter A" is a wonderful theme to set! There are so many options and of such a wide variety!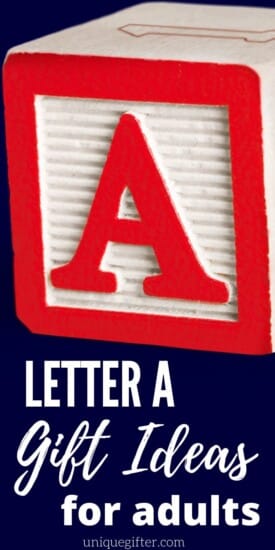 Find more gifts that start with each letter of the alphabet:
How to pick gifts for the Letter A
Look for gift ideas that start with the letter A or otherwise are "A" themed. Be creative! We also have some fun gifts for the letter e and gift ideas for the letter D.
Arrow Light Up Sign
This arrow light-up sign is awesome for home decor or for a business as well. Anyone would be pleased to put this sign up!
Apple Watch Charger
Want to grab them something practical and ingeniously hand picked? This apple watch charger is perfect for when they run out of juice! Better yet, if you're buying them a new watch, this would go great in a gift basket of new accessories.
Audiobook Collection: J.R.R. Tolkien
J.R.R. Tolkien's audiobook collection is the perfect gift for a Tolkien book lover. Not only that, but they can listen to it instead of reading, which means they can enjoy it almost anywhere and anytime!
Editor's Choice How to Pick Gifts for the Letter A
This Argos decanter is the perfect customization letter A gift. It's stylish, and super practical!
Address Book, Hardback
While a majority of our life is in digital form these days, there are still a lot of us who enjoy having physical copies of things. Try this hardback address book as a gift for someone who likes to have things written down, either instead of digital form or in addition to it!
Address labels, custom
Again, a lot of things are digital form these days but we still send snail mail for some things we mail out. These custom address labels are perfect for that person in your life that likes sending things by mail!
Art Set- 82 pieces
Art sets can be used by all ages. Anyone who has a creative streak that involves drawing, coloring, or the like, will enjoy this art set!
Ankle Weights
These ankle weights are a refreshing way to burn some extra calories throughout the day. If your letter A partner is on a fitness journey, new equipment is a thoughtful way of supporting them!
Airplanes Tee Shirt
Do you know someone who likes airplanes, riding in them or their mechanics? Get her this tee shirt with planes on it!
Alice in Wonderland & Alice Through the Looking Glass Bundle
Alice in Wonderland movies are great, get your friend both of the movies at once so they can enjoy them back-to-back!
Airplane Glass Figurine
Airplanes are cool. They make great decorations and are interesting to look at!
Avocado Face Mask
If you know someone who likes to pamper themselves, or who needs to pamper themselves once in awhile, this avocado face mask would be a wonderful addition to their self-care routine!
Assassin's Creed Movie
Movies are always an enjoyable gift. We all love entertainment! Grab up this movie for your friend!
Apple Scented Candle
Candles are a popular gift these days, and a lot of people like the scent of apples. You can give this candle for your friend who loves candles or apples!
Apple Coffee Mug- New York The Big Apple
This coffee mug is so awesome for anyone who loves New York!
Apple Butter
Apple butter is delicious! Is there a foodie in your life that could use some apple butter to try or who already likes it?
Alias- Family Board Game
For the family who has everything but needs to spend more time together, get them this Alias board game to play with each other!
Axe Bodyspray
Axe bodyspray is popular and such a nice gift. Just make sure to write them a little note not to wear too much!
"A" Vintage Scrabble Letter Necklace
Scrabble letter "A" on a necklace, and it's so adorable! It's perfect for your friend whose name starts with A!
Air & Space Magazine Subscription
Is there an airplane or space fan in your life? Get them a year's subscription to this magazine so they can learn more about these topics!
"A" Keychain Letter
Another perfect gift for that person in your life whose name starts with "A." Everyone uses keys and can use a personalized keychain such as this!
Action Video Game Tee Shirt
What a wonderful gift for that friend who is playing video games, constantly! They are so proud of their achievements!
"A" Ring Letter
Is your friend not a fan of necklaces or keychains, get them this ring with the letter "A" on it!
There you go, twenty choices for the letter "A" for a themed party or someone who would appreciate any of these gifts! In this list, there are so many great ideas for those people in your life who have varying interests and hobbies!
More Letter A Gifts For Adults
Are you obsessed with the letter A? Perhaps you want to buy something a gift that starts with the letter A. NOW YOU CAN! There are tons of gifts out there that start with A. You don't even have to do any of the hard work as these gifts are already outlines for you. The big question is …which of these letter A gifts for adults are you going to buy first?
Apple Watch
I mean, what adult in the world would say no to getting an Apple Watch? Apple Watches are so versatile and work wonders when you want to stay connected electronically. You can buy a variety of colors and designs.
Editor's Choice Letter A Gift Ideas
Alpinist (4 Issues) – $49.95

Alpinist Magazine is an archival-quality, quarterly publication dedicated to world alpinism and adventure climbing. The pages of Alpinist capture the art of ascent in its most powerful manifestations, presenting a detailed description of climbing and its lifestyle that matches the intensity of the pursuit itself.
Vintage Alien Shirt
Have an alien lover in your life? This Alien Shirt is awesome on so many levels! Make sure you grab this shirt for the person who can't get enough of aliens. Who knows, they may be able to strike up a conversation with other alien lovers.
Pink Alien Sweatshirt
Have a girl in your life that loves pink? I'm pretty sure this alien sweatshirt is amazing and rocks! You can wear this sweatshirt anywhere you want to go. Cool summer nights and freezing winter days just got a whole lot easier.
Adult Abacus
Is there anything more fun than an adult abacus? You could play for hours with this! If you know someone that is in love with these types of things, purchasing one makes a lot of sense.
A Star is Born
When someone loves the movie A Star is Born, then you know they are going to love this A gift. I love that this movie is the original too! If you want to make their day, you can buy both versions.
Airpod Case
Who has a set of airpods and needs an awesome case to go with it? This airpod case is inexpensive and easy to use.
Alexa
Who doesn't have an Alexa yet? It may be time to get the person in your life an Alexa. This can help keep your house technologically advanced.
Amazon Gift Cards
I know tons of people who shop on Amazon. You can get an Amazon gift card for them and I know they will love it. Amazon gift cards make perfect gifts for baby showers, birthdays, and holidays.
Apron – Cute & Fun!
If you know someone who loves to cook, then perhaps getting them an apron is the best thing to buy them. If you're looking for an "A" gift to make them happy, then this is it.
Editor's Choice Gift Ideas for Letter A Adults

Authentic Pink Ladies Jacket Costume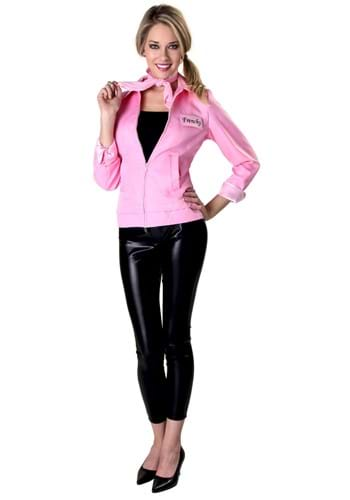 from: Fun.com
Costumes are great for anything from Halloween to, parties and just about any other occasion! This authentic pink lady's jacket makes for a stylish and practical letter A themed gift idea!
Ankle Bracelets
Don't you remember wearing these as a kid? You can totally wear ankle bracelets and look fabulous.
Almond Oil
Do you know someone that is trying to eat healthier? Almond oil is the way to go! Almond Oil can also be super sweet, which is always delicious when you're cooking in the kitchen.
Alarm Clock
Sometimes a phone just isn't going to work as an alarm clock. If you know someone that is struggling to wake up in the morning, they may just need an alarm clock in their lives, as a gift.
Ancestry DNA Kit
I know some people who have been dying to do these ancestry kits. This makes the perfect "A" gift! Pretty soon, you'll know exactly where your ancestors are from. You may have a lot of questions answered!
Android Charger
Need a new Android charger? Grab one for the person that needs an "A" gift in your life. Hey, there are people out there who use Android phones and they need charges too.
Amazon Fire Stick
Bored? An Amazon Fire Stick is easy to install and can help you watch your favorite television shows.
Apple Headphones
Everyone needs a pair of Apple Headphones. I mean, you don't want everyone to hear what raunchy music you're listening to.
Applebee's Gift Card
Last, but not least, why not an Applebee's gift card? It is perfect for the person who loves eating. Grab a gift card for the person in your life and they will be super happy.