Disclosure of Material Connection: Some of the links in this post may be "affiliate links." This means if you click on the link and purchase an item, I will receive an affiliate commission. Disclosure in accordance with the Federal Trade Commission's 16 CFR, Part 255. This site is a participant in the Amazon Services LLC Associates Program, an affiliate advertising program designed to provide a means for sites to earn advertising fees by advertising and linking to Amazon.
With a little bit of planning, treats and activities Valentine's Day prep is nothing to worry about! Today we've got a fabulous and fun activity to share with your kids in the form of this Valentine's Day scavenger hunt! It comes complete with printable PDF printouts of clues that you can place all over the house.
Valentines Day Scavenger Hunt for Kids With FREE Printable Clues!
Now this one is really something special. Our free included PDF you'll find at the bottom of the post comes with a whole bunch of adorable Valentine's Day themed clues for your little ones to keep themselves busy with before finding whatever Cupid's hidden!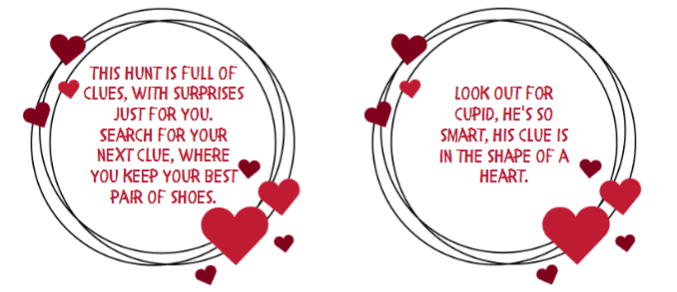 What Age Group Is This Scavenger Hunt For?
All of the clues for this scavenger hunt involve reading. Although, 4-5 year old kids could have the clues read out to them aloud. While they are written in rhyme they feature simple and distinctive places to go hunting after each clue.
What's great about this adorable scavenger hunt is that the rhyme scheme worked into each of the thematic clues makes it fun for the whole family to participate! Yank your older kids and teenagers off of their games and phones to dive into the fun, too.
(That shouldn't be challenging if there's the promise of chocolates, candies or any other goodies you can dream up at the end of the trail!)
How to Set Up These Clues Around the House
Like any good Valentine's Day Scavenger Hunt, there's got to be some clever plotting ahead of time. The beauty of these clues is that they tell you exactly where they need to go. If for whatever reason your house or apartment doesn't have a suitable place for one of them, use it as a chance to get creative!
After all, that's what this holiday is all about. Putting some thoughtful and creative thinking behind the love of whoever you're planning things for.
Here's some extra pointers for what you could do with them:
Use the kid's toys, or art supplies to get creative! Don't have a stove? Place the next clue on a play kitchen, or one that you've drummed up yourself. If all else fails, think of where your kids might think to look for that clue.

Stuffed animals, (or 'stuffies' in our house), are a great way to lead the kids on to the next clue without giving away the goose! Once they see that they're out of place, they'll take the hint.

If you're really out of ideas, a trail of foil-wrapped chocolate hearts can also be a great way to help them find out where the next clue might be hiding!
Thanks for checking out our Valentine's Day themed scavenger hunt! Find our FREE download for a printable .PDF of the Valentine's Day Scavenger Hunt that's perfect for kids, down below!
Valentine's Day Scavenger Hunt
Download our FREE printable .PDF by clicking the link below. It features all of the clues you need to make a fun Valentine's Day Scavenger Hunt for your kids to enjoy!