Disclosure of Material Connection: Some of the links in this post may be "affiliate links." This means if you click on the link and purchase an item, I will receive an affiliate commission. Disclosure in accordance with the Federal Trade Commission's 16 CFR, Part 255. This site is a participant in the Amazon Services LLC Associates Program, an affiliate advertising program designed to provide a means for sites to earn advertising fees by advertising and linking to Amazon.
If you're looking for a unique party theme, this is it. Murder mystery parties are not only a tonne of fun, but they also work for a lot of different party occasions. So if you've ever wondered how to host a murder mystery party, we've got you covered.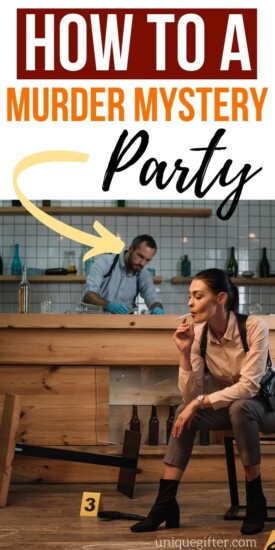 How to Host a Murder Mystery Party
Believe it or not, hosting a murder mystery party isn't as complicated as you'd think. Your party's success really comes down to some planning and preparation on your part, and some great attitude and participation from your guests.
What is a murder mystery party?
It's a type of party where during the evening, someone gets "murdered." Usually, it's one of the guests (but they don't get taken out of play). In many games, the murderer doesn't know if they're actually guilty until later in the game, so everyone gets to play together.
You can either design your own clues, find a free murder mystery package online, or purchase a kit. Kits are available in multiple formats, including a digital download, a package that's mailed to you, or as a boxed kit in stores.
Does the host play?
Sometimes. Depending on the kit you choose, there are options to keep the murderer (and solution) hidden from the host so they can join in on the fun. If you opt not to play, then do you best to keep everyone in character and having fun.
Some places have "party-ready" kits where you don't have to do any prep, and, therefore, can play a character as a host. Just keep in mind when playing and hosting that you have to do certain things as a host to move the evening along.
If you really want to play, consider asking someone who doesn't want to participate but still wants to attend to do the typical "host" stuff.
How much work goes into hosting a murder mystery party?
That's the great thing about these types of parties! You can decide exactly how much or how little time, effort, preparation, and money you want to invest into one. You can get kits that host a short 30-minute mystery, or something that's designed to be held over a several hour dinner party. The kits typically come with everything you need, so it's really up to you how much additional work you want to put into the decorating, food, and props.
Types of murder mystery parties
The first step to hosting a murder mystery party is figuring out exactly what kind of party you're planning.
Murder mystery dinner party
This is anything but a boring dinner party. When you host a murder mystery dinner party, you'll be inviting all the guests over to dinner. The murder and activities will take place either before and after the meal (leaving dinner to be just a standard dinner party) or during the meal, depending on the type of murder mystery you plan. You can put variations on this one like making it a murder mystery brunch, for example.
Best for:
Birthday parties
Anniversaries
Retirement party
Engagement or other family celebration
Murder mystery cocktail party
With this party, you won't be sitting down to a formal dinner. Instead, guests will come for an afternoon or evening social gathering. Serve hors d'oeuvres and cocktails while everyone gets together and mingles. It doesn't require as much work or preparation as a formal dinner party but still gives you a chance to host a murder mystery party for your guests.
Best for:
Girl's night out
Birthday parties
Celebrations (e.g., promotion, new job, etc.)
Holiday parties (New Year's Eve, Halloween, etc.)
Just because or icebreakers
Murder mystery party for kids
Adults aren't the only ones who can get in on the murder mystery party fun! There are tons of murder mystery party kits for kids available for different age groups and skill levels. Just like other problem-solving games like escape rooms, kids really enjoy solving murder mysteries with their friends or family.
Best for:
Kids' birthday parties
Holiday events (especially Halloween)
Sports wind-ups or youth groups
End of the school year parties
Decide on the guest list
You want to invite guests who are actually going to participate. The fun of these types of parties is that everyone gets in on it, and in character! It would be like inviting someone to an escape room who doesn't want to help solve the puzzles.
You should aim to invite between 8 and 15 guests to your murder mystery party.
Choose a theme or package
Although you can design your own, usually, people purchase a murder mystery kit. Choose a theme or story that you think your guests will find interesting. There are kits created for different numbers (and sometimes genders if there's characters) of guests, so keep your guest list in mind when choosing your party kit.
This is also where you'd determine if you're hosting a full dinner party, cocktail party, or kid's party because you'll have to choose a kit tailored to that type of murder mystery. Some kits also allow for couples, while others don't.
Designing your own murder mystery
If you're designing your own murder mystery, you can look online for free templates to help get you started. Usually, you'll need the following:
Choose a theme! You can pick anything, but having the invitations and decor match the theme goes a long way. For example, a Harry Potter murder mystery might have parchment invitations, lighting by candlelight, and a request for everyone to come in their best robes.
Invitations that include RSVP information and characters.
Created a backstory to share with your guests that will help set up the evening.
Characters and backstories for them, including how they know the party host.

Each character should have information that they share with others and keep to themselves.
Character descriptions can be listed for everyone to read or shared by the characters themselves, but they should include red herrings.

Clues that get revealed throughout the evening or evidence cards.

Either present secret clues to each character as the evening progresses or have clues around the house alongside props. For example: A candlestick with a scuff. All evidence should relate to the solution to make the game run more smoothly.
A police or forensic report helps after the murder happens.

Create guessing sheets so the attendees can submit their solutions at the end.
A solution that makes sense with the characters and evidence, and isn't too complicated.
You can design the game as complex or simple as you want. Some murder mysteries have a lot of individual clues and scripted events; others are mostly "free play" with more improvisation.
Pick a venue
Are you going to host your murder mystery party at home or somewhere else? If it's a dinner party, you might want to consider hosting it in a private banquet room with catering; that way, all you have to take care of is the decorations and theme. If you host at home, though, you can prepare and decorate in advance.
Decide who will play which character
Usually, murder mysteries come with character roles that you have to assign to your guests. This might be one of the toughest choices you're going to face after deciding on a package! You can pick characters that you think will suit each guest's personality, or assign them randomly. If there are characters who are meant to be couples, typically, you'd assign those to real couples, but not always. It all depends on the personalities of your guests!
Send out invitations
The invitations are a vital part of hosting a murder mystery. They give important information that sets up the story, and are often a clue to solving the mystery. Some invitations might also detail the person's character so they can come dressed appropriately to add to the fun. You'll want to make sure everyone gets the character you assigned and make sure your guests know to keep it a secret!
Alternative idea: Hosting a surprise murder mystery party
Instead of letting your guests know it's going to be a murder mystery party, invite them like you would any other event. Then when guests arrive, assign their characters and give them a few moments to read through the story. Make sure you have a few props and costume items on hand so they can dress up and really get in character!
The menu and decorations
Once you have your RSVPs back, it's time to plan the actual party. All your typical party planning rules apply here, but you can roll with the whole "murder" theme.
For decorations, try and make the venue as thematic as possible based on the kit you purchased or your party plans. For example, if it's a historical theme, you might want to serve dinner by candlelight or with your best dishes.
With the menu, you could also plan it with your party theme. But, a lot of themes aren't always easy to choose food for, so you could also do some fun "murder" themed dishes. Think things like Bloody Marys or weapon shaped cocktail picks.
How a murder mystery party works
Typical murder mystery parties are played in multiple parts or rounds. These vary in number depending on the format of the game kit, but this is the typical flow:
Part 1
In the first round, everyone arrives and is introduced. It's nice to go around the room and have players introduce themselves, or you can always introduce the "guests" to each other as well. (You know like a host typically would at a party.) Some kits also include a video that should be shown to your guests.
During this round, guests mingle and interact with each other in character. Guests will have been given clues on their cards that they will need to bring up during this round too. For example, each character will have a backstory that they will share, and secret information each guest knows about their character but doesn't share.
As the game progresses, more secret information that each character knows is revealed.
The murder
The murder occurs, and a victim is revealed. Sometime during part 1, or between the two parts, is where you would sit down to dinner if you were hosting a murder mystery dinner party.
Part 2
This is the investigation portion of the evening. Players will receive secret envelopes with more clues and information and have to mingle with the other guests to try and collect information. Some games have a forensic report or police report to draw information from and compare stories too.
As a host, you should make sure guests interview everyone in the group to try and determine who the murderer is. You can also provide everyone with a pen and notepad for this portion. Sometimes the murderer knows who they are; sometimes they don't; it depends on the game design.
Usually, the guests are also racing against the clock with some kind of deadline in place, so they'll also want to keep conversations on task during this round. (This helps make sure the party doesn't go on too long.)
Guessing and revealing
Once the clock runs out, it's time for everyone to fill out their guessing sheets and see if they figured out the murderer. You can also have guests fill out optional awards alike "most in character" or "best costume."
Tips for hosting a fabulous murder mystery party
Once all the guests arrive snap a group photo of everyone
Encourage people to mingle and interact with everyone, even if they're nervous
Plan your guest list, characters, and seating plan (if hosting dinner) based on everyone's personality and comfort level
Have additional themed props and accessories on hand
Compliment your guests (on their costumes, their acting, etc.)
Spread out and let everyone know which rooms are "in play."
As a host, really get to know the characters and story beforehand so you can help the guests play
Ban cell phones (or put them in a "jail" in case of parents who need to be available to babysitters)
Don't forget to make up name tags for all of the characters and have the guests wear them throughout the party
How to encourage your guests to stay in character
This is probably one of the most difficult parts of hosting a murder mystery! Ideally, you've invited a group of people who are more than willing to pretend to be someone else for a couple of hours. But even people with acting experience can struggle to stay in character for an entire evening!
Set the mood
A few well-placed props go a long way to set up the venue. It might be some printed out posters hung up on the wall based on the party theme or a specific centerpiece. The dollar store is an excellent resource for budget-friendly touches.
The other way to get the mood right is by having everyone in costume. Instruct everyone to dress for their character, but also have some accessories on hand in case they forget or arrive underdressed. Think things link hats or costume jewelry.
Have a reward
You can offer prizes at the end for everyone who doesn't break character. Or, as mentioned before, have everyone vote on the best "in character" guest during the guessing portion of the evening. Either way, an incentive can go a long way.
Create a consequence
You could do a couple of things to help your guests avoid breaking character. One is to have them put some cash into a "broken character" jar (maybe donate it to charity after). Another could be to have them wear a sign or hat to tease them. (Think of it like a dunce hat.)
Have specific areas that are not in play
If someone does need to break character, have them leave the "play area" and go into a different room. That way, they can discuss whatever they need without it distracting from (or confusing) the evening.
Should you serve alcohol at a murder mystery party?
Although this seems like a simple question, it's really more complicated than just yes or no. First of all, what kind of parties do you usually host with these guests? If they typically include alcohol, then having some at a murder mystery is probably fine. A glass of wine with dinner, for example, would be quite appropriate.
Alcohol, for a lot of people, is a way to "let loose" and open up, which is great when you're self-conscious about acting.
Things get a bit more complicated when you get into multiple drinks. Will everyone is able to continue playing if you serve drinks? Will it be hard for them to stay in character, or solve the murder?
If you do opt for drinks, it's another thing you can include with your party theme. If it's meant to be a fancy Downton Abbey style dinner party, for example, serve wine. A Gatsby-style party; gin. A Halloween party; spooky mixed drinks. You get the idea.
Now that you know how to host a murder mystery party, it's time to get some friends together and get hosting! Either create your own custom party or buy a pre-made kit: either way, it's going to be an evening to die for.