Disclosure of Material Connection: Some of the links in this post may be "affiliate links." This means if you click on the link and purchase an item, I will receive an affiliate commission. Disclosure in accordance with the Federal Trade Commission's 16 CFR, Part 255. This site is a participant in the Amazon Services LLC Associates Program, an affiliate advertising program designed to provide a means for sites to earn advertising fees by advertising and linking to Amazon.
In your 1,000,000th viewing of Finding Nemo? You're not alone. "Just keep swimming!" If you need a break from the movie, consider some of the following gifts to spark imagination and give your kids another opportunity to see their favorite characters. These are some of the best Finding Nemo gift ideas in the sea!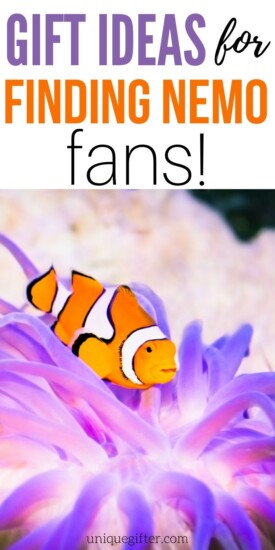 See also: For the die-hard Pixar fans out there, we've also got some incredible Toy Story gift ideas that will bring out the friend in just about anyone!
Our Favorite Finding Nemo Gift Ideas
These adorable gift ideas will give you inspiration for the favorite little Finding Nemo fan in your life! Take them on an adventure they'll never forget with these memorable collectibles and gift ideas.
Winter Hat
Want to potentially end the battle of whether your kid wears a hat in cold weather? This handmade Nemo hat is sure to please your kiddo!
Wall Decal
Looking for a way to decorate your child's room? Try a 3D vinyl decal! This one comes in a variety of sizes, and is a fun way for your kid to feel a part of the Finding Nemo world.
Ornament
Keep your kid's love of Nemo alive year after year with a Christmas ornament! They will love the memories that flood back from their childhood every year when they pull out this sweet little Hallmark ornament.
Flatware
For an everyday Nemo encounter, help your little one improve their eating skills with this adorable spoon and fork set.
Bath Toys
Make bath time even more fun with Nemo, Dory, and Squirt! Your kid will enjoy a little fun imagination time with their favorite characters while getting clean at the same time.
Creativity Set
Have a budding artist at your house? This Crayola creativity set has crayons, markers, and giant coloring pages; everything your child needs to feed their love of both art and Nemo.
Toddler Backpack
Your toddler will be ready for school or even a trip with this preschooler sized backpack! It's a great way to encourage your child to carry their own snacks, crafts, and treasures.
Throw Blanket
Keep your kid warm and snuggly with a Finding Nemo throw blanket! It's a great size for their bed, traveling in the car, camping, or fort building.
Puzzle
Looking for a challenge for your puzzle-lover? The next step up may be this jigsaw puzzle! Kids are more likely to put a puzzle together if their favorite characters are involved. This particular puzzle is a 60 piece floor puzzle, so be sure you have enough space! Ravensburger makes quality puzzles, so they are a worthwhile investment.
Figurine and Cake Topper Play Set
Have your kid's toys pull double duty – to play with and to add to a cake to customize it. This set comes with nine different characters, so plenty of options for imaginative play!
Mini Play Aquarium
If your kid loves Nemo, they will probably love this mini, play aquarium. It also doubles as a nightlight! Just fill it with water, add a few drops of dishwashing liquid, and the fish will come to life. This is a mesmerizing toy for kids and it doesn't require you to keep any fish alive. It runs on an A/C adapter or three AA batteries (not included).
Sunglasses
Does your kid love to dress up? Consider these costume sunglasses that not only protect your child's eyes from the sun, but make them look like Nemo!
Lunch Box
Round out your child's school necessities with a Nemo lunch bag! It goes great with a Nemo backpack.
Clownfish Tail Blanket
Let your kids relax AND stay warm with a plush, clownfish, tail blanket. They will love the way they get to pretend to be a clownfish and stay warm and cuddly at the same time.
Bike Helmet
Safety is important, so instead of fighting your child to wear any old helmet, give them the gift of a 3D helmet that will keep their noggin safe and make them want to wear it.
Rain Boots
Rain boots can feel like a splurge, so they make a fantastic gift! These sweet boots will allow them to keep Nemo close while they splash in the water.
Charm Bracelet
Many kids love to dress up. Give them a way to make their costume a little more fancy with a charm bracelet.
Headphones
Help keep your own sanity and keep your kid's ears safe with volume reduced headphones. Your kids will love their favorite characters on the headphones and you will love the lack of hearing annoying theme songs all day long.
Beach Towel
Beach towels are a necessity for the summer, so grab your kid one they will love!
Little Golden Book
Looking for a good book version of your kid's favorite movie? Always go with a Little Golden Book. Delightful pictures and an unabridged version of the story are sure to captivate your kids!
See also: Still haven't scratched that Disney gifting itch yet? Hang on, these Little Mermaid gift ideas are some fo the greatest under the sea!
Finding Nemo has been around since 2003, but has stood the test of time, especially after Finding Dory debuted in 2016. It will always be a beloved story of finding family in unexpected places, a message we all need to implement and pass along. Enjoy the message of Nemo, Marlin, and Dory and foster a love for their stories with the items from this list!