Disclosure of Material Connection: Some of the links in this post may be "affiliate links." This means if you click on the link and purchase an item, I will receive an affiliate commission. Disclosure in accordance with the Federal Trade Commission's 16 CFR, Part 255. This site is a participant in the Amazon Services LLC Associates Program, an affiliate advertising program designed to provide a means for sites to earn advertising fees by advertising and linking to Amazon.
Gifts For DC Comic Fans
There's a constant war being waged amidst comic fans and that war is whether your favored label is Marvel or DC. DC definitely has its fair share of awesome superheroes and even cooler villains, so it's safe to say that there is a plethora of cool merchandise out there when it comes to their franchises. These are your must-see gift ideas for DC comic fans!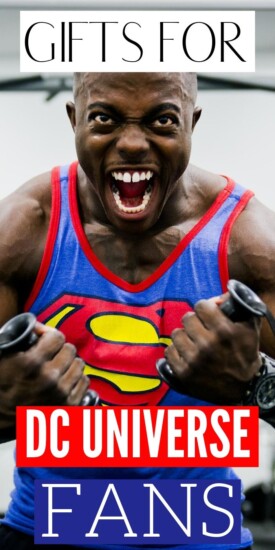 Our Favorite Gift Ideas for DC Comic Fans
You undoubtedly have a DC fan in your social circle and there's always a holiday or event coming up so with this infinite amount of gifts available, what are you to do? That's where we come in! We've scoured the internet to find the greatest gifts imaginable for these fans and we've compiled the best 40 of them in this list. Batman? Wonder Woman? Or even Aquaman? These are the heroes that inspire these must-see gift ideas. Check it out!
DC Comics Encyclopedia (Hardcover)
Why not start things out right with this encyclopedia? This handy guide here references over 1,100 characters and is something every fan should definitely have in their arsenal.
Batman Stainless Steel Water Bottle
Even the Caped Crusader gets thirsty, right? This water bottle is perfect for quenching that fan's thirst while simultaneously displaying their love for the comic label!
DC Baby Bodysuits
You've gotta get those superheroes started early! This pack of five bodysuits features the characters from the Justice League and is perfect for getting the baby to start loving the franchises early in life!
Flash Windbreaker Jacket
With this jacket, the fan in your life is gonna be decked out with a nerdish style. While the jacket is stylish and looks like Flash's costume, we can't promise that they'll be able to zip around like him!
Justice League Magnets
The gang is all here with these Justice League magnets. While they don't entirely resemble their comic counterparts, we do dig the cute makeover!
Justice League Coasters
While it doesn't include all of the Justice League members, this set of four coasters has more than enough to please any DC fan. Colorful and officially licensed, these PVC coasters are sure to be a hit!
Justice League Collectible Figures
This collection of seven members of the Justice League is an awesome addition to a fan's memorabilia! These 7-inch figures are realistically detailed and have multiple points of articulation as well.
Bane/Venom Arm Wrestling Print
DC Vs Marvel! The long rivalry between the two comic companies comes to a head with this print. These two villains go at it in a time-honored test of strength: Arm wrestling!
The Power Of Shazam! (Hardcover)
Billy Batson has the power of Solomon, Hercules, Atlas, Zeus, Achilles, and Mercury. Being endowed with all these powers, he's more than earned this 400-page book about himself. Shazam!
Harley Quinn Keychain And Magnetic Key Holder
Definitely a cool gift for Harley Quinn fans. The head serves as a keychain and it sticks to the metal harlequin backdrop to store the keys!
Joker Framed Print
This textured print is crafted to appear as a 3D print on canvas material and has some awesome artwork. It also measures out to be a whopping 24×36! Quite the addition to a fan's wall!
Arrow Funko Pop
Every DC fan's favorite archer gets that super-cute Funko makeover! This guy is sure to look awesome while he stands vigilant over fans' shelves across the nation.
Catwoman Sunglasses
Got a fan in your life with a catty sense of style? These sunglasses are a puuuurfect addition to their wardrobe!
The Penguin Coin Bank
Who better than The Penguin to hide away your currency? The dapper-looking supervillain is presented in all of his glory with this plastic coin bank that doubles as an awesome bust!
Harley Quinn Pinup Watercolor
Preferring a more realistic look with this watercolor, this print really nails it! It doesn't have the classic comic look but we really dig what the artist has done with the realism!
Raven Figurine
Many fans forget that before Teen Titans, the sorceress was a part of the Justice League! This figurine presents the daughter of a demon in all of her dark glory on a decorative base!
Superman Coffee Maker
Sure, this coffee maker only makes one cup of coffee at a time but you really can't deny the cool factor, right? Guaranteed to please any DC fan in need of their caffeine fix!
Aquaman (Blu-Ray)
Maybe the DC fan in your life has seen the origin flick of Arthur Curry's alter-ego Aquaman but do they own it on Blu-Ray? We think that you need to fix that and fix it quick!
Green Lantern Ring
For cosplay or everyday casual wear! When an item has a lifetime guarantee, you can rest assured that you're buying a quality gift for a friend. It even glows in the dark!
Bane Mask
Let's be honest: Who doesn't want to wander around looking like Bane? His mask has always looked cool and this item is no exception. What an awesome gift!
Mr. Freeze Ice Attack Lego Set
Coming straight out of the Lego Batman movie, this set is really cool! We say that because it's Mr. Freeze himself in his exosuit. A sweet scene for a bookshelf or coffee table!
Two Face Replica Coin
Harvey Dent makes his own luck with a coin like this. You should help the fan in your life do the same! A perfect replica of Two-Face's coin, this double-sided coin is always guaranteed to land on heads! Awesome replicas like this make perfect gift ideas for DC comic fans, bringing them one step closer to the characters they love!
Batman Arkham: Scarecrow (Paperback)
Over 60 years of storytelling involving this iconic supervillain from the Batman comics! This paperback contains over 250 pages of Jonathan Crane's fear-inducing alter-ego: Scarecrow!
Rorschach "No" Poster
Anyone who has seen the Watchmen film is very likely a film of Rorschach and even if you aren't, you definitely have to admit that his monologues are awesome. This poster commemorates one of the most memorable!
Krypto Funko Pop
The superdog gets a super-cute makeover! Funko works its magic on another iconic figure with this adorable Krypto bobble. Awesome!
Robin Stuffed Bear Plush
The Boy Wonder becomes the Bear Wonder with this DC teddy bear! Officially licensed by Gund (The oldest manufacturer of stuffed toys in America), this plush is sure to be adorable on any fan's bed or couch!
Freaks Coffee Mug
In an obvious nod towards the sitcom "Friends", this mug is sure to delight any DC fan. Featuring the best known DC villains, they are crowded together happily with the word "Freaks" in happily colored font!
Flash Backpack
This Flash backpack is definitely leading the pack in style! Featuring the colors of the iconic superhero, the only thing quicker than the hero himself is going to be the smile that crosses your fan's face when they open their gift!
Batgirl Pin
Batgirl is looking her cutest with this cool pin! Handmade with high-quality enamel and measuring in at 1.5 inches, this is definitely a cool accessory for any fan!
Zombie Batman Bust
Zombies. Batman. You can't get much cooler than that, right? Any person who is a fan of the DC series is undoubtedly going to cherish this awesome piece.
Superman Eye Mask
Superhero or not, everyone needs sleep. If you've got a daysleeper in your life that just happens to be a DC fan as well? We've got just the gift!
Injustice 2
This DC based fighting game gets an awesome sequel! Well received by fans and critics alike, the second installment is just as explosive as the first and is available on nearly every gaming platform!
Custom Superman Nike Roshe Ones
The last item on our list is a doozy! These sweet looking kicks are custom made and available in different colors. Featuring the Man Of Steel himself, these sneakers are guaranteed to please even the most hardcore DC fan!
We've gathered the greatest gifts from Metropolis and beyond with this list and we're pretty certain that we've nailed it. If you're looking out for gift ideas for Dc comic fans, what inspires your gifting? How many gifts did you find for that certain someone in your life? Did you come across an awesome DC gift for yourself that you couldn't live without? If you're hungry for more, check out some of these superhero shirts for her for some more inspiration! Let us know on Twitter (@ugifter) or Instagram (@uniquegifter) and thanks for checking out these Gifts For DC Comics Fans!