Disclosure of Material Connection: Some of the links in this post may be "affiliate links." This means if you click on the link and purchase an item, I will receive an affiliate commission. Disclosure in accordance with the Federal Trade Commission's 16 CFR, Part 255. This site is a participant in the Amazon Services LLC Associates Program, an affiliate advertising program designed to provide a means for sites to earn advertising fees by advertising and linking to Amazon.
Even though they're sort of done with the cutesy Easter stuff, tween boys still like to play with toys and participate in holidays. They just want to do it in their own way. These gifts find that balance between kid and teen that's so difficult when shopping for tween aged boys.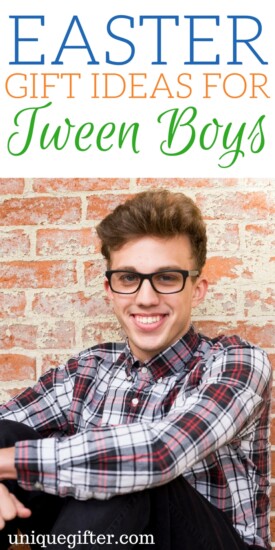 Easter Gift Ideas for Tween Boys
Dabbing Bunny Shirt
Dabbing is kind of the in thing right now. He can put a spin on Easter tradition with this funny bunny shirt.
Dino Taco Holder
If you're looking for a small Easter gifts these dino taco holders are really unique and fun. Most tween boys like tacos and dinosaurs so this is basically a winning combination.
Bunny Creeper
It wouldn't be a gift guide for tween boys if it didn't include something Minecraft in it. This bunny is handmade and looks like a Creeper.
Shark Blanket
Blankets aren't cool, shark blankets that eat you are. Any questions?
Board Game
Tween boys are at an age where you can start getting into more complicated board games, like this Dungeons and Dragons cooperative one. Perfect to play together!
Slime Eggs
Slime is really popular amongst tweens right now so instead of hiding traditional Easter eggs, pick something up like this instead.
Dino Eggs
Or, if you don't want slime in your house, opt for these fun dinosaur Easter eggs instead.
Weapons
If you want to get away from Nerf guns and similar type weapons, this catapult is a great gift idea.
Sidewalk Paint
They're not too old to play outside with sidewalk chalk but they have graduated to something a little bit cooler.
Bunny Emoji Stickers
Let your tween boy express himself with these bunny emoji stickers. They have all kinds of different popular expressions!
Walkie Talkies
Now that it's spring your tween boy will be going outside more. Get him something that he can use with his friends or to keep in contact with you while he adventures in the neighborhood.
3D Puzzle
Puzzles are great for kids to do but flat ones are so boring. Give your tween a cool 3D puzzle with some kind of epic monster like this dragon.
Bubble Science Lab Kit
DIY kits are fun for kids of any age but tween boys will love this science focused one. The cool thing is he'll have some bubbles at the end.
Games on the Go
No more staying "I'm bored" with this games on the go set. It has 50 games your tween can play anywhere.
Action Journal
This is the coolest journal for tween boys out there. Created by National Geographic, it's all about self expression and specially geared towards wild kids.
Break Open Geodes
Geodes are really cool, inside are colored crystals and you never know what you're going to get. Tween boys will love smashing them open.
Zombie Easter Bunny
You could get him a traditional chocolate Easter bunny or you can get him a zombie Easter bunny. You decide.
Personalized Stamp
Writing his name out is so time consuming so help streamline the process with a personalized stamp.
Anatomy Model Kit
These come in all kinds of different styles so there's sure to be something your tween boy will enjoy.
Gift Basket
It's easy, it's theme is perfectly suited to your tween boy, and it's ready to go. Easter made easy!
Don't forget to get him a bunch of his favorite chocolates or candy for Easter too!