Disclosure of Material Connection: Some of the links in this post may be "affiliate links." This means if you click on the link and purchase an item, I will receive an affiliate commission. Disclosure in accordance with the Federal Trade Commission's 16 CFR, Part 255. This site is a participant in the Amazon Services LLC Associates Program, an affiliate advertising program designed to provide a means for sites to earn advertising fees by advertising and linking to Amazon.
Gift Ideas for Marie Kondo Fans
Fans of the life-changing Netflix exclusive, "Tidying up with Marie Kondo" are out to find some of the best ways to conquer their clutter! Swoop in with some truly unique takes on Marie's revolutionary philosophy.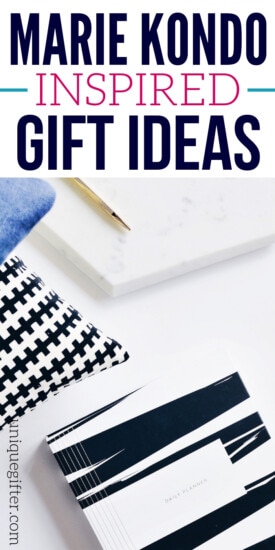 Our Best Gift Ideas for Marie Kondo fans
Spark joy with our top picks that will have you Konmoring up a storm! Grab your garbage bags and shoe boxes, and get ready to thank the old to make way for the new!
Spice Tins
Whoever said the kitchen gets left out? Bring that cluttered and dusty spice cupboard back into your life with this set of steel spice tins! They'll elevate your spice cupboard to a neat, tidy area for all of your favorite seasonings!
Car Garbage Receptacle
There's only one way to konmori garbage, and that's throwing it out! If you're anything like me the car or truck is ground zero for insurmountable and ever-growing masses of unwanted waste! Fear not! This sleek canister will help you take back, and tidy, your vehicle!
Tidying up Manga Version
Grab a copy of the highly acclaimed cleaning up chronicle, but in manga form! Woo your friends with this awesome surprise gift to compliment their favorite Netflix show and book series!
Toy Organizer
When it comes to children's toys, the konmari method isn't as easy as it seems. Organizers like these solve the problem by making your child's toys tidy while also accessible! Perfect for Marie Kondo fans with kids!
Garbage Bags
Let's be perfectly honest; not everything will spark joy. Whether it's for unwanted garbage, or for the donation bin these bags are the perfect solution! A simple necessity goes a long way!
ALEX Drawer Organizer for Makeup
This drawer organizer will have all of your makeup compacts right at your fingertips! Perfect for the amatuer makeup artist, beauty and tidiness go hand in hand!
Brother Label Maker
Konmori often leaves one looking at spaces differently! This label maker is the perfect solution for someone who needs to add new meaning to old space! Keep things tidy with this easy to use handheld labeler!
The Life-Changing Magic of Tidying Up
The book that inspired the Netflix show! This is perfect for any fan new to Marie's life changing methodology who might not have ventured into her published works! Pick one up for a friend or loved one to get the Konmori magic started!
Bamboo Storage Box Organizers
Marie always keeps it simple, but that doesn't mean you can't keep it stylish! Konmori your heart out with these decorative yet practical drawer organizers! Or, surprise your friends with a set after you get them hooked on their new favorite Netflix show.
Cleaning Cloths
Once you start upending drawers, clearing closets and emptying your shelves you're going to need the right tools for the job! Take care of all of that once neglected real estate around the house with some cloths! Combine them with a caddy and some cleaning supplies to make for an awesome tidying up care package for a friend or loved one!
3 Tier Shelving Unit
Take back your garage, closet or basement with these neat and adjustable Amazon chrome shelves! These could really make or break your organizing plans, so make sure you've got the right gear. Grab a kit for your friends or family and help them tidy up as well!
Paper Shredder
Loose, unorganized papers are the enemies of organization! Your office, junk drawer and countertops are begging to be cleared! This paper shredder is the perfect guy for the job, complete your konmori destiny with this paper shredder!
Kitchen Drawer Organizers
The kitchen requires a practical, and most importantly water resistant solution to the konmari method. These durable plastic utensil and kitchen drawer bins solve that problem. Turn that junk drawer into a drawer of endless organizational opportunities and watch the magic happen!
Spark Joy
Another one of Marie Kondo's works, this piece gives an illustrated class on everything konmori. Venture into some of the world's most coveted organizing techniques with Marie Kondo!
Cleaning Caddy
You can be sure that whenever you're tidying, you're going to need to put some cleaning in as well! Conquer dust and vanquish grime with this handy cleaning caddy which will konmori all of your precious cleaning supplies!
Food Organizers
The magic of tidying up doesn't stop at the fridge door! These food organizers hold everything from coffee to popcorn kernels just about everything in the pantry and fridge can be re organized for a cleaner and more space efficient solution!
Hoarders DVD
Need some good old fashioned scare tactics to get that friend or loved one in the organizing spirit? If so, one of the most shocking confessional reality TV shows on DVD ought to do the trick. You'll have them on a cleaning streak in no time!
File Organizer
This simple yet sleek little organizer will give all of your loose files a home! Up your productivity so you've got more time to sort with this folder rack!
Minimalism Book
This guide to decluttering and organizing offers a day by day journey to a new kind of home. The perfect companion to Marie Kondo's teachings, this guide is definitely a must-have for any fan of the movement!
Now that you're in the mood to get up and get your things together, take a moment to let us know which gift ideas inspired you the most!